Here's another entry into the "I thought this would turn out better" files. Generally, I like the colors, and I always like how my gradients turn out, but I kind of expected more from this color combination. The brown is too cool for the nude, and looks purple in direct sunlight. That's not really what I was going for.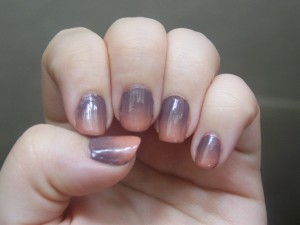 This is another case where the quality of my polish is far lower than the quality of my top coat. I don't even know the name of that Maybelline polish; it lost its labels long ago. I think I got it in that same outlet shopping excursion as last week's old-as-dirt Maybelline polish; it's all goopy and thick and was hard to coax out of the bottle. I used Seche Clear this week because I couldn't get the Bonder bottle open. I bought Seche Clear by accident, thinking it was Seche Vite, but it's not a bad base coat. This is the first time I've used it in a full manicure.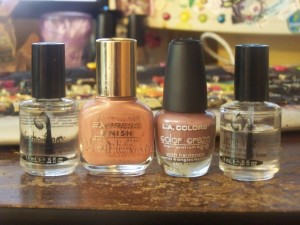 I don't typically do neutral colors like this. They're understated and don't pull much attention, completely the opposite of my personality. I keep telling myself that nudes and neutrals don't have to be boring, and even though it's a nice change from the bright colors I usually wear, it doesn't really feel right. One thing I do like is how shiny they are. I can see myself in them. Thanks, Seche Vite.