Welcome to Manicure Monday! I think you'll be pleasantly surprised to see that I got off my duff, got the dotting tool out, and did some real nail art. I still kind of suck with the dotting tool, but I'm really pleased with my results. For this look, I used Maybelline's Red Relic as my primary color, Ciaté's Gold Digga as the secondary color, and caviar beads in Gleam, also from Ciaté. I also used Seche Vite and Hard Candy's Just Matte top coat.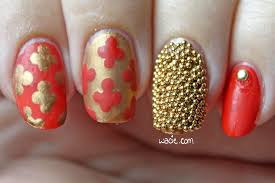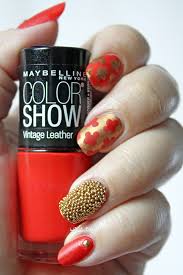 Red Relic is a fun little polish. It's a red jelly with iridescent pink flakies that dries matte. I was a little disappointed when I first tried it out, because I'm not a huge fan of the matte finish. I supposed then that it wasn't anything top coat couldn't fix, so I kept it. The finish has grown on me, though. It's actually the reason I made the whole manicure matte. Gold Digga has a metallic shine, and I needed to even it out with a matte top coat, so the finish you're seeing is actually the matte coat, not the original Red Relic finish.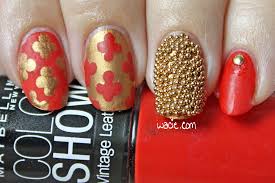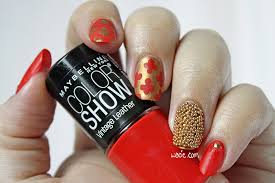 Gold Digga and the Gleam beads came together in a caviar nails set that was in the sale bin at Sephora. Gold Digga is a pretty nice polish; it's a burnished gold with a rich metallic finish. It also looks fantastic mattified. The matte coat hides the brush strokes and evens out the color. It's rare that I think a polish looks better without a glossy finish, but this one definitely does. I feel like it helps emphasize the luxe feel Ciaté was going for.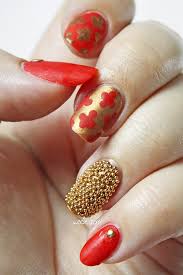 The two colors together are gorgeous. I got the elegant and opulent look I wanted. I'm just a bit unhappy with all the nail art horrors my camera captured. In the photos you can see just how uneven the crosses are, you can see all the gaps in the caviar, you can see the glue spots where I put the studs down. I know nobody probably noticed them until I mentioned them, but when I look at these photos, they're all I see. In person, though, this mani is perfect.
Red Relic was a limited edition and has been discontinued by Maybelline, though you can find it if you look around the internet. Gold Digga and the caviar nail kit are available from Ciaté's website. Hard Candy's matte coat is from Walmart. My studs are from an outlet store.
I bought all of these products myself.