Welcome to another Manicure Monday! Today's manicure accurately sums up my weekend; it was full of bright colors and summer fun! To celebrate the first day of summer, or the fact that a mani I planned ages ago is actually relevant, I'm wearing Julep's Abbie over white polish with Blue-Eyed Girl Lacquer's Watch the Walls, as well as Seche Vite top coat.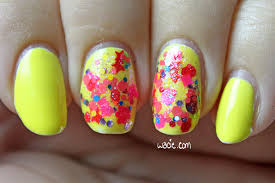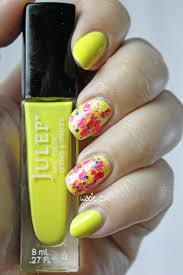 Abbie is the perfect summer yellow; it's bright and gorgeous. It's so bright my hands got a bit of a tan. It's a chameleon, though; in some lighting it's flourescent highlighter yellow, but in others it's closer to lemon. Either way, it's cheerful and a ton of fun to wear. My only complaint is that it never seemed to reach full opacity, even at three coats, so I put on one coat over two coats of white polish. This way, I got boost in opacity and in color.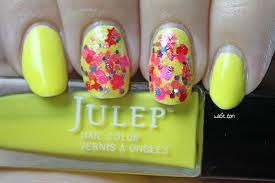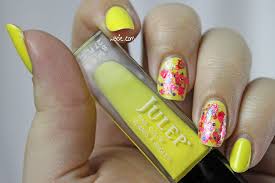 When I picked Abbie out of the Helmer, I knew Watch the Walls would compliment her perfectly. Watch the Walls is the perfect mix of neon pink glitters, along with some other fun colors and shapes and the perfect amount of blue-to-purple shifting shimmers. It's a glitter topper with color, depth, and fun. It absolutely breaks my heart that it's been discontinued and is now out of stock.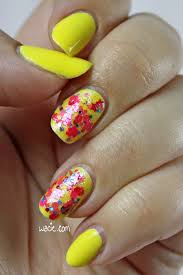 I don't know if I've told you guys, but I probably have, because I've only been writing on this blog for two years, but summer is my favorite part of the year. I seem to handle it better than most people, too; I love to sit out on the porch — better yet, the pool — with a drink and a book and just spend the entire day out there. I'll take sweat and sunburn over shivering and itchy sweaters any day.
Neither Abbie nor watch the Walls are currently in stock on their makers' websites. Julep is available from Sephora and julep.com; Blue-Eyed Girl Lacquer is sold from their BigCartel shop.
I bought these polishes myself.