To begin this post, I must first apologize. My regular camera has decided it wants a vacation and has so far refused to turn on. This is the reason my weekend swatches were not posted, and it's the reason I had to fall back on my — shudder — backup camera. I apologize for the missed posts, and I apologize for the low quality of this one. Until the camera is fixed, my Manicure Monday posts are going to look like this, and I will not do swatches.
Anyway, this mani is gorgeous in real life, and it is an absolute tragedy what this camera did to it. My polishes today are Revlon's Bare Bones and Digital Nails's Timey Wimey, all topped with one coat of Seche Vite top coat.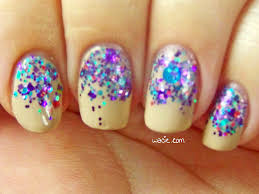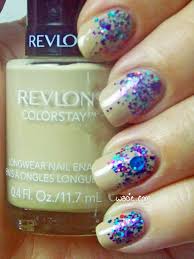 Bare Bones is a pretty run-of-the-mill nude. In person, it's on the cooler side of nude; some of these photos are color-accurate, some are not. The formula is okay; it was on the sheer side and though I did reach full opacity, it still leaves something to be desired. It's not as smooth as it could be. It doesn't quite level itself and some brush-strokes were left behind, though a top coat did help some to resolve that.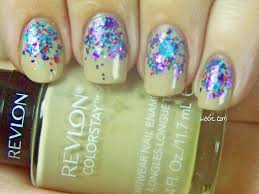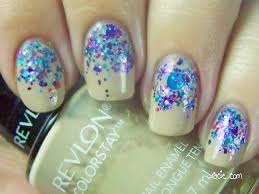 The real star here is Timey Wimey, one of my oldest indie polishes. When I chose a nude as the base, I started combing through the glitter toppers, thinking what this polish needed to carry it through the week was the craziest glitter I had. I found poor Timey Wimey at the bottom of the Helmer and that was that. I used an eyeshadow applicator sponge to apply it to my nail; I brushed the glitter onto the end of the sponge, then dabbed it on. I'm really happy with how it came out. Even when it's a little dense or clumpy, it's still gradual. I'm glad some of the nude base can be seen through it.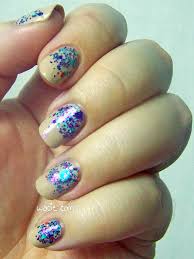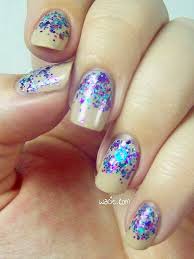 Revlon polishes are sold in stores; I got this one from Big Lots. Timey Wimey and other Digital Nails polishes are available in their etsy shop.
I bought these polishes myself.