I don't like these.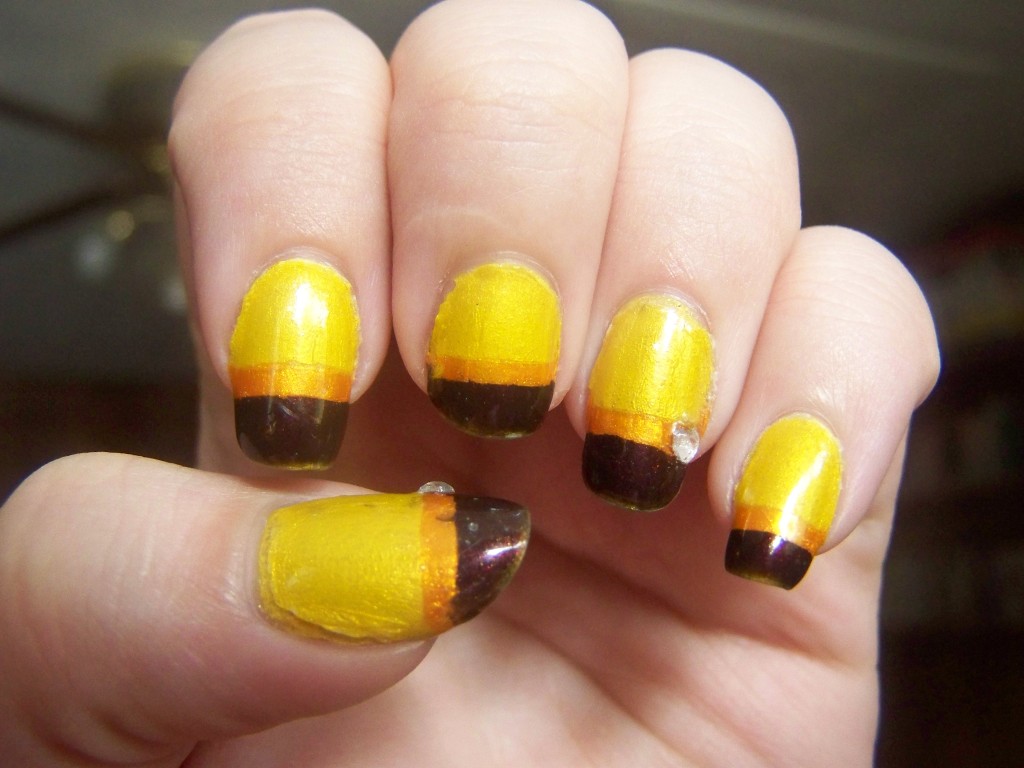 I had this yellow, and I didn't really know what to do with it. I didn't want to do another gradient right away, and I didn't feel like trying dots or anything. My original plan was to use the French manicure guides, but I didn't have enough after last week's manicure, so I used tape.
I was kind of in a rush with this. I had people over this weekend, and they had car trouble and had to stay over an extra day, so I hurried to get them done. I made kind of a mess, and I made the mistake of using polishes that weren't very opaque. I put thick coats of polish on, and it kind of migrated away from the tips and left me with some weird discolorations and stringy bits the tape lifted. The tape also pulled up some of the orange pieces, hence the rhinestones.  Finally, I didn't wait long enough to apply the top coat, so some smudging occurred.  Basically, these nails are like the sad yellow markers from our childhoods that met the black marker a few too many times. They definitely looked better in my head, and could have turned out better if I had been able to take my time with them.
I love the color combination, though. It just came together very easily, and it wasn't until yesterday when I saw this pillow in my living room that had been crocheted or knitted by someone's grandmother using the same colors. I wonder if I was subconsciously influenced by it.
This is the first time I ever used Wet 'n Wild polishes, and they have this really wide brush that wasn't suitable for detail work like this. I bet they get really nice coverage in different situations, but I don't think I'll use them again for this purpose. I put on a lot of top coat to smooth down the rhinestones, and it almost feels like Seche Vite again. I miss it.