So my nail disaster this week was a rare event: I emptied a bottle.
I'd had this bottle for a while, almost ten years probably. I got the whole collection of them when Walgreens had them on sale for two dollars a bottle, once upon a time. I'd been using them occasionally ever since, just wearing them over my naked nails to give them a hint of shimmer. When I got into nail art and multiple colors, I struggled to find a way to preserve that natural, minimal look while still getting some attention. I tried to work it into this gradient, and towards the end, I didn't have enough polish left to finish it. I had my heart set on this gradient, so I took it off and started with another color. I kind of feel like a jerk. Not only did I run out of the polish, I wasted what I had left. Sorry, Satin Sheets. You still had a good run.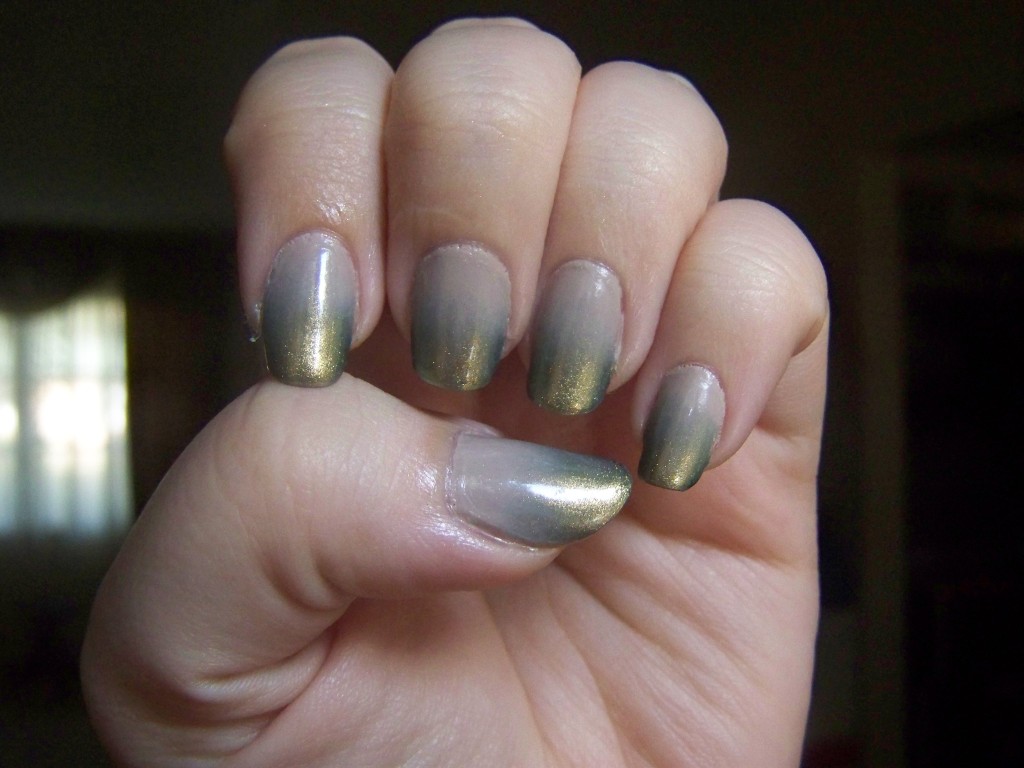 So I started over with a crème nude. I still wonder what it would have looked like with the sheer white, but I think I like what I ended up with. The first coat of Whipped was so sheer that I thought it was a jelly, but turned opaque with another couple of coats. Rare and Radiant has a lovely green color in the bottle, but appears mostly gold on the nails. It also appears I didn't blend my pinky nail very well.
I like gradients. I like them a lot. I feel like it's the best look I can get with minimal effort. I always manage to screw up taping, dotting is tedious and prone to mistakes, I don't have the patience for freehanding anything. With gradients, I just dab a sponge on my nail, and that's it. I still get to try surprising color combinations; I just don't have to work as hard for them.
Now I'm off to recount my polish bottles. I was somewhere around 250 the last time I checked, but I need to make sure that's accurate, especially now since I'm down one.