Swatch Sunday is here again! Today I'm wearing one of the first indie polishes I ever bought, as well as one of my first Literary Lacquers. This is Grey Cat/Grey Fence; I'm wearing three coats with one coat of Seche Vite top coat.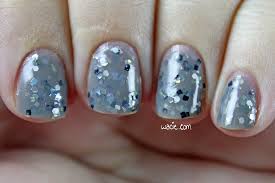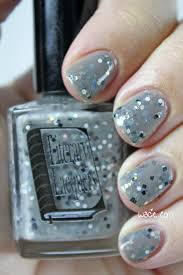 Grey Cat/Grey Fence is a gray crelly with black, white, and iridescent glitters in squares and hexes. Application was easy; though sheer, the crelly goes on evenly and without streaks or patches. The glitters also spread evenly and show nicely through many layers of polish. I had no issues at all with it. The product consistency was perfect; it supports the glitters without being thick or blobby. It dries quickly and to a glossy, somewhat smooth finish. I added top coat for extra shine and smoothness.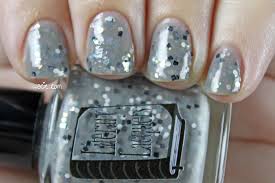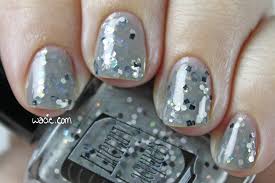 Grey Cat/Grey Fence is inspired by a passage from O. Henry's Gift of the Magi. As quoted by the maker:
"Della finished her cry and attended to her cheeks with the powder rag. She stood by the window and looked out dully at a gray cat walking a gray fence in a gray backyard. Tomorrow would be Christmas Day, and she had only $1.87 with which to buy Jim a present. She had been saving every penny she could for months, with this result. Twenty dollars a week doesn't go far. Expenses had been greater than she had calculated. They always are. Only $1.87 to buy a present for Jim. Her Jim. Many a happy hour she had spent planning for something nice for him."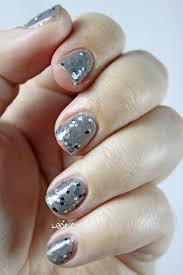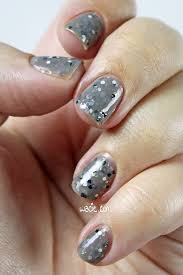 I've had this polish for two years now, and I've only worn it once before. Even though Literary Lacquers makes some breathtaking holo polishes, there's a special place in my heart for this polish, and it might be my favorite LitLacq to date. It's simple by today's indie polish standards, but two years ago, when I was new to indie polish, this was unlike anything I'd ever seen before, and the fact that someone was making polish inspired by books was pretty much the greatest thing I'd ever heard.
Grey Cat/Grey Fence has been discontinued, but other Literary Lacquers are available from their etsy shop.
I bought this polish myself.