I love glitter. I love everything about glitter. I feel that no manicure is complete without it. I love flicking my fingers and watching the light bounce from each shining speck. I love finding loose glitter days after I used it, thinking of it not as the herpes of the craft aisle, but as a reminder that there's no such thing as too much glitter.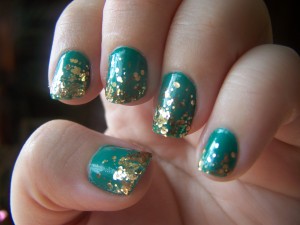 I am in love with this. I can't stop staring. Between the glitter and the three coats of top coat it took to smooth it down, they're really shiny, and it threw light everywhere. Of course, no photo I took could capture both the shine and the detail of the glitter, but this was the one that managed to do some of both.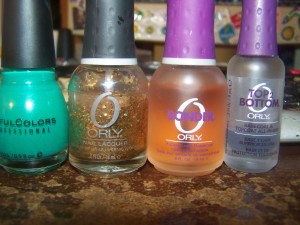 Sorry the photo is off-center, I'm a little ashamed to post it, but I'm having a really hard time with my point-and-shoot camera. It eats batteries like I eat candy and I have maybe thirty seconds to a minute to take a photo before it shuts off and I have to turn it back on and start over. I would use my SLR, but it's really difficult to take photos at close range, or maybe it's just better than I am and I don't know what I'm doing. I could use my phone camera, but it's harder to take stable pictures with. This way, everything is consistent.
Anyway, those are the polishes I worked with this week. The main color is Rise and Shine from Sinful Colors. I believe it's the first time I've ever used it. You can't tell from the photos, but it's got a really subtle blue-green shimmer, and dries with a matte finish. The glitter is Orly's Too Fab, which I found in a Sally Beauty Supply bargain bin last month or so. The bottle was full when I started.
My last attempts at glitter gradients were pretty lousy until now, and I am so surprised this one came out so well.