Happy Manicure Monday! I don't feel like this mani is my best work, but I still rather like it. For this look, I used Essie's She's Picture Perfect, Revlon's Amethyst, and Blue-Eyed Girl Lacquer's Might Not Recover, all with one coat of Seche Vite top coat.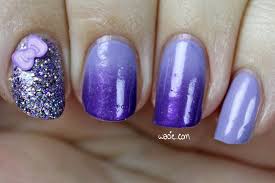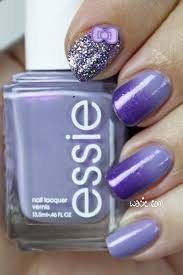 I put She's Picture Perfect and Amethyst together for their similarities: they're both shades of purple and they both have a strong pink/purple flash. I thought it would be great to see that pink/purple flash show up in both colors of the gradient, like this unifying shimmer that really pulls everything together. Unfortunately, it's not easily seen in the gradient, either in photos or in real life. Also, the colors didn't blend as easily as I expected them to; the deep purple just looks so sponged-on, even after three rounds with the sponge. It's still pretty, but it's really not my best work.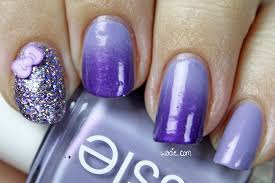 I added Might Not Recover as an accent nail at the last minute, and I gotta tell you, I'm stunned. I just can't believe how much it sparkles. Like it was sparkly in the bottle, but damn. I also chose this polish for its similarities in color, but I like that it stands apart from the rest of the mani while complimenting it. The bling is just a tad bit overwhelming, which means it's just the right amount (like there's a such thing as too much). I always have an issue with microglitters still having some texture after I put down top coat, but this one has stayed nice and smooth, and I love it.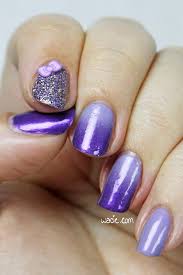 In the end, everthing goes together really well, yeah?
I got She's Picture Perfect from Walgreens and Amethyst from Big Lots, though both brands are sold nationwide. Might Not Recover and other Blue-Eyed Girl Lacquers are available in their shop (which is temporarily closed). The Fimo bow is from Claire's.
I bought these polishes myself.