Hello, reader! This is a special post for the Hobby Polish Bloggers group on Facebook! Every month, we do themed manis, and January's theme is the gradient. It doesn't matter what kind of gradient we do, as long as it's a gradient; we can make it as complex or as simple as we want. I decided to make mine a challenge and use four previously unused polishes. For this look, I used Sittin' Pretty and Topless and Barefoot, both from Essie, as the base; I used Kilimanjaro and Salautay, both from Elevation Polish, as the glitter topper. All nails are topped with one coat of Seche Vite top coat.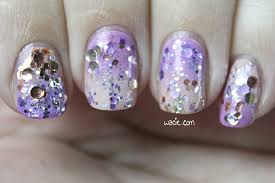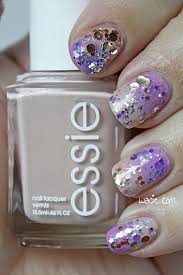 It's been a while since I've done a two-color gradient, so long, in fact, that I started to wonder whether or not I'd lost my touch. This is probably one of the hardest gradients I've ever done. I could not get light purples and nudes — not just these Essie two, I tried OPI as well — and I could just never get them to come together. Either a color would go bald from oversponging, or a color just wouldn't turn opaque, no matter how much of it I used. It did finally come together, and it was amazing.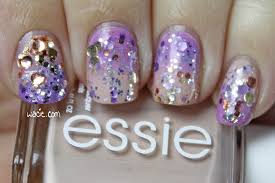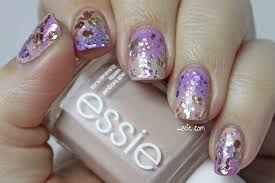 I had to use purple and nude, though, because I had to use Kilimajaro and Salautay. I knew that as soon as I got these polishes that I had to put them together, because they have so many similarities: they both employ the use of round glitters and the color silver. After I finished the base gradient, I made a gradient with the glitters, flipping the colors so that the purple was over the nude and vice versa. Of course, after I sponged it on, they kind of bled into each other, which is actually pretty cool. My index fingernail got a little too much glitter, but aside from that, I totally got the result I wanted and I'm so happy.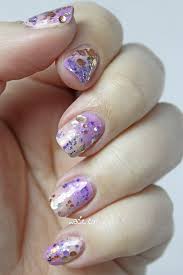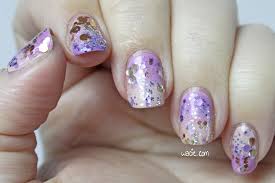 This is the most intensive nail art work I've done in a while, so I'm really proud of it! Also, because this is a group effort, there's an InLinkz widget here with everyone else's gradient manis, so be sure to have a look at them! They're just as proud of their work as I am with mine.
Sittin' Pretty, Topless and Barefoot, and other Essie polishes are sold in most stores; I got mine from Walgreens. Kilimanjaro and Salautay are discontinued by Elevation Polishes, other Elevations are sold in their online shop.
I bought these polishes myself.