Happy Monday, reader! I have to admit, I'm not all that pleased with the way my mani turned out today. Have you ever paired two polishes together thinking they'll look great together, but then they don't? That's exactly what happened today. For this Manicure Monday, I'm wearing Color Club's Fly With Me with The New Black's Textured Gold Leaf Foil. All nails are topped with Seche Vite top coat.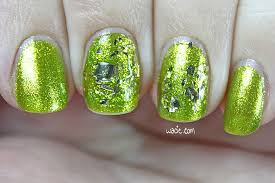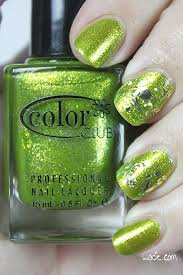 Fly With Me is gorgeous, right? It's a translucent green with green-to-gold shifting flecks. I really loved this collection because the shifty flecks give these polishes a finish all their own. I don't have anything else like them. The end result is part metallic, part shift, all shine and glamour. I love it.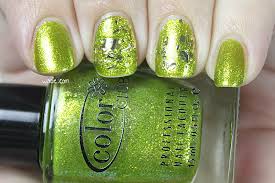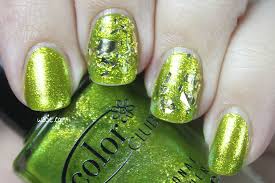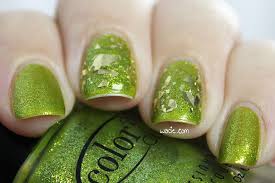 It's the Textured Gold Leaf Foil that I don't love. I mean, there are things about it I love: I really love that the glitter pieces are inconsistent; some are really chunky, some are fine. I love how reflective it is; I can see myself in that really huge piece on my middle nail. However, when it says it's textured, it means the chunky pieces, either due to the pieces piling up on themselves or to just plain being chunky, tend to stick up in places, leaving bumps on the surface of the mostly-smooth nail. Even two coats of Seche Vite wasn't enough to smooth it down. It also doesn't stand out enough from the gold flecks in Fly With Me, that's really the problem I have with it here. It blends in too well and just looks odd. I shouldn't blame the polish for my mistake, I suppose. Not every combination can be a hit, and sometimes we don't learn that until it's too late.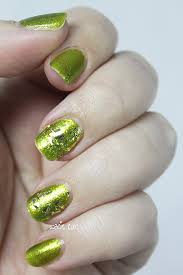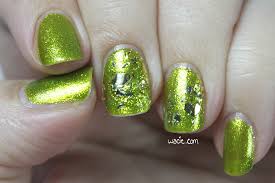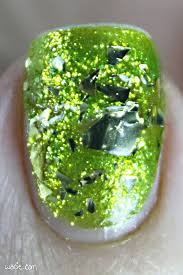 Sunlight photos! You can really see the translucence of Fly With Me here; note the visible nail line on the index finger. Also, the Gold Foil is really shiny here. You can see my striped sweatshirt.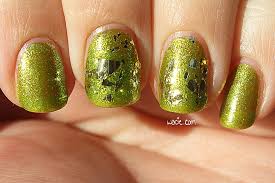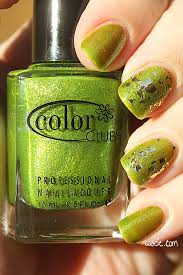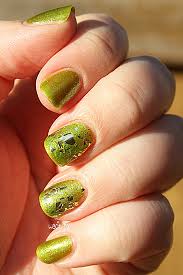 Fly With Me is discontinued by Color Club; other Color Club polishes are sold on colorclub.com. The Textured Gold Leaf Foil is sold as part of the Shattered Demi Lovato set; that's available at the-new-black.com.
I bought these polishes myself.