Hey guys! I've got a few minutes to post my Labor Dabor post before it turns Tuesday. I actually had a post typed up and then my new keyboard, whose CTRL button only works if you mash it so hard your finger turns white, did not work and ate my post. We're also stuck looking at pictures from the backup camera this week, so these photos are not up to my usual standards. For this look, I used OPI's I Vant to Be a Lone Star, Elevation Polish's Pitaraq, Essie's Blue Rhapsody, and Lynderella's Something Blue, all topped with one to two coats of Seche Vite top coat.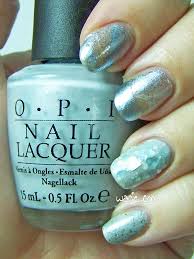 For my watermarble, I used clear polish between drops of Blue Rhapsody and I Vant to Be a Lone Star. My base was two coat of Pitaraq. This was my first time doing a negative space watermarble, and I envisioned frosty silver and blue rings over the icy metallic shimmer. The marbling process, however, wasn't as painless as it could have been. It dried on the water before I could swirl it and tore my design a little. The rings are also so wide it hides the base glitter. I still like it, but it was better in my head.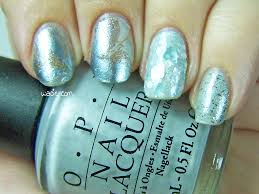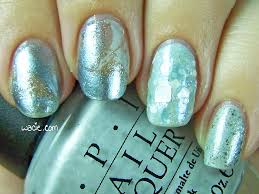 Something Blue as a glitter accent was a bit of an afterthought. I was shopping my stash, found Something Blue, and tried it over I Vant to Be a Lone Star. It was a perfect match; the silvery blues blend in beautifully. Of course, since this camera sucks, you can't see the fine details, but the blue glitters are nearly but not quite the same color, and adds a bit of shimmer as well. I love Lynnderella polishes, even though they're quite new to me, and it's especially satisfying to use one I had to fight on eBay for. It was the last bottle! Shop victoriously, indeed.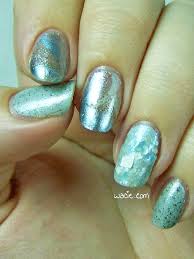 I've really missed doing my weekly swatches. I bought a new battery for my main camera and I hope that fixes it. If not, I'll have it serviced soon so I can get back to them. I have enjoyed my time, though. I've been wear-testing a few new Wacie Nail Company polishes, including the one I hope to release for my birthday. I've also been playing Dragon Age: Inquisition and I'm so absorbed in it I can barely pull myself out. Hope to see you this weekend with new swatches, and if not, see you Monday!
I bought these polishes myself.