Welcome back, reader! Happy Monday! Today's manicure was done with a chunky springtime glitter and a mystery polish. Spring is springing in Florida, and I get closer with every pastel polish I wear. For this look, I used Model City Polish's Breath of Spring and a Sally Hansen mystery pink, as well as a coat of Seche vite top coat.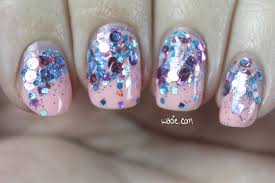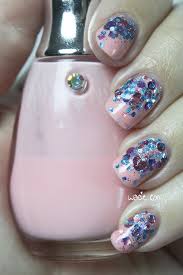 Next to knowing that the mystery polish is from Sally Hansen, I know absolutely nothing about it. This is one of my older polishes, a leftover from when I had a terrible habit of peeling the labels off of things. I really did a number on this one; I've stripped it of anything identifiable. I also remember buying this polish to match a pair of glasses I was wearing at the time. Despite everything, I actually really like this polish, and it's a shame I can't tell you anything about it, because I almost want to recommend it. The product consistency is on the thin side, and it took three coats to reach full opacity, and it took ages to dry… Maybe I don't want to recommend it after all. It had the most gorgeous shine after it dried, though. I feel like that's not very common. Though it was fiddly to apply, it didn't need top coat at all, and I was really impressed. It's kind of a shame I covered so much of it up.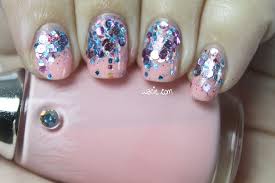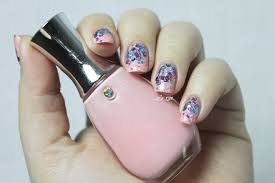 Breath of Spring kind of took over this mani. I wanted just a small but concentrated bit of glitter at the base of each nail, but because of the variety of shapes and colors of glitter, it looked uneven, and by the time I got the look I wanted, it took up half the nail. I think it's still a cool look; the glitter comes in bright but seasonal colors, and there's just a hint of holographic goodness in the base. It's a beautiful topper that would look fantastic over anything. I really enjoy this combination.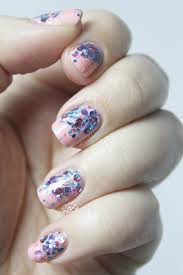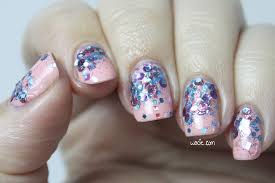 Breath of Spring has been discontinued by Model City; other Model City Polishes can be found in theiretsy shop. Sally Hansen, and maybe even this polish, can be found in stores nationwide.
I bought these polishes myself.