Happy Monday! My post is late tonight because I just got back from a Christmas party, where these wintry nails were a huge hit. I know I said I never do seasonal nails, but I had the opportunity today and I took it. For this look, I'm wearing Indigo Bananas's Klein Trink Wasser as my base and Sinful Colors's Hottie on top. All nails are topped with Seche Vite top coat.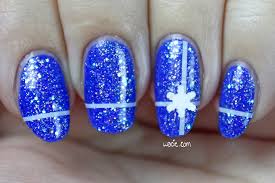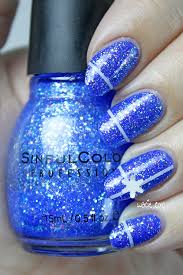 So last week I talked a bit about drugstore glitters as a gateway drug; back in the '90s, Sinful Colors was where it was at. I don't know if you remember, but Walgreens used to sell it, and they came in indie-style bottles, the barrel ones with the black caps. My mother felt uncomfortable buying something "sinful". I wanted every color. It's fun how some things never change; I love these glitter polishes as much as I did when I was younger. The polishes haven't changed much, either; they're the same iridescent glitter mixes they always have been. There's something really nice about that. It might be the same glitter, but it's a ton of fun finding new and grown-up ways to wear it.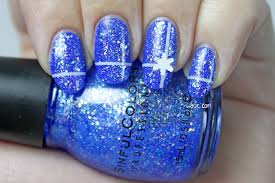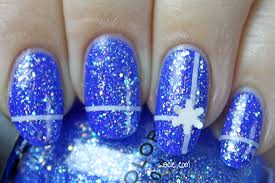 I love that indie cremes are becoming a thing. That's not to say Klein Trink Wasser is a new polish; I actually bought it last year, and this is the first time I'm wearing it. I just mean that, even with a seemingly basic color like this one, you'd think that there'd be no more creme colors left without mass market dupes. As surprising as it seems, I don't have anything like this polish in my collection. All my dark blue cremes are really dark, and all my dark blues are shimmery or glittery. It took me a long time to find a creme in this particular shade. Anyway, I think that the indie creme trend is amazing. Between the Creme a la Mode box and the Pipe Dream neons and brights, there are a ton of exciting cremes without mass market dupes. It's really cool.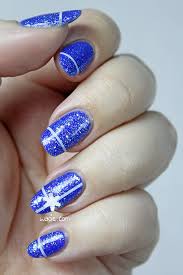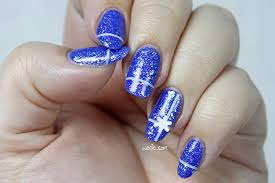 I'm not sure I've ever worn striping tape on its own on the blog; usually I just use it like a vinyl strip. I've definitely never worn loose glitter, and that's fun, too. The snowflakes were bigger than I wanted and they've been getting snagged on things. It also feels a little weird wearing snowflakes on my nails when I'm wearing a tube top and shorts. One more thing: I made a scented top coat to wear with this mani. I had a little vial of winter gardenia fragrance oil, so I made a top coat with it because it seemed appropriate. I'll have these listed in the shop soon, along with a new Wacie Nail Co. collection.
Klein Trink Wasser and other Indigo Bananas polishes are sold on their website. Hottie and Sinful Colors are sold in stores nationwide.
I bought these polishes myself.