Happy Thursday, reader! Today's post would have been this week's Swatch Sunday if I hadn't gone out of town. This is Lavish Polish's Mint to Be. I'm wearing three coats of Mint to Be with one coat of Seche Vite top coat.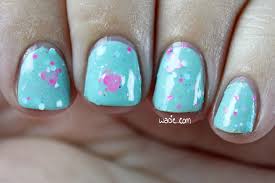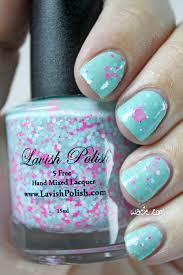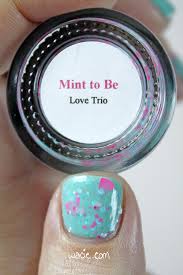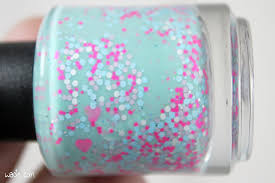 Mint to Be is a mint green crelly with sky blue, fuchsia, white, and baby pink glitters, as well as hot pink and white heart glitters. Application was challenging; the product consistency is quite thin and didn't really stay put on the nail. It also didn't seem to be able to support the glitters, because they didn't distribute well inside the bottle, no matter how much I rolled, shook, or stirred it. This is especially true for the large glitters; I just could not get them out on the brush and really had to dig for them. On a positive note, the crelly looks fabulous with the bright matte glitters; the translucence is perfect for the layered glitter effect. This polish dried pretty quickly, about five minutes per coat, and dried with a semi-glossy finish. I added top coat to smooth out the glitters and add shine.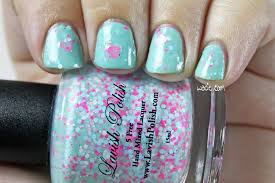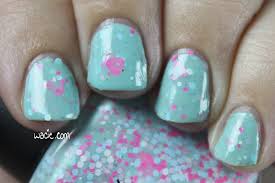 Even though I had a tough time applying it, I really like the look I got. This is part of a Valentine's Day trio, but it's not overtly, obviously lovey-dovey. It's colorful and cheerful, it's perfect for springtime, and it's not mawkish or over the top romantic. It's adorable. This is my first Lavish Polish, and I'm looking forward to trying some new ones.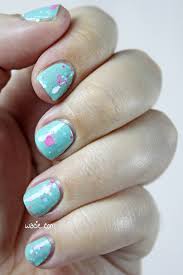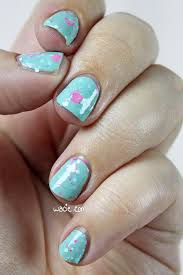 Mint to Be may be discontinued, as it's no longer listed in their inventory. Other Lavish Polishes are available from their shop.
I bought this polish myself.