I'm always afraid of manicures like this. They never turn out the way I want them. Those light, girlish pinks are never opaque enough, and in my experience, crackle polishes won't crackle if you look at them sideways. Thankfully, this one turned out quite well.
The light pink I used this week is Wet 'n Wild's Sugar Coat. After three coats, I still had a visible nail line, but it was very shiny and pretty regardless. The crackle, China Glaze's Luminous Lavender, is more subtle than I expected. It wasn't the glitterbomb the bottle makes it look like. It dries matte is somewhat gritty, so it takes a good top coat to bring out the shine in the glitter. Overall, I like this look. These soft, dainty manicures always make me feel different, like less really is more. I feel like I've gone on that tirade before in another post. I'm not a less is more sort of person, but manicures like these make me feel like it's true, like it's not so bad being feminine and sweet, like I could be that person in the future. Whether I actually want to be that person remains to be seen. Also, you can even really tell I nicked the polish off my middle finger nail while I was chopping vegetables for dinner last night.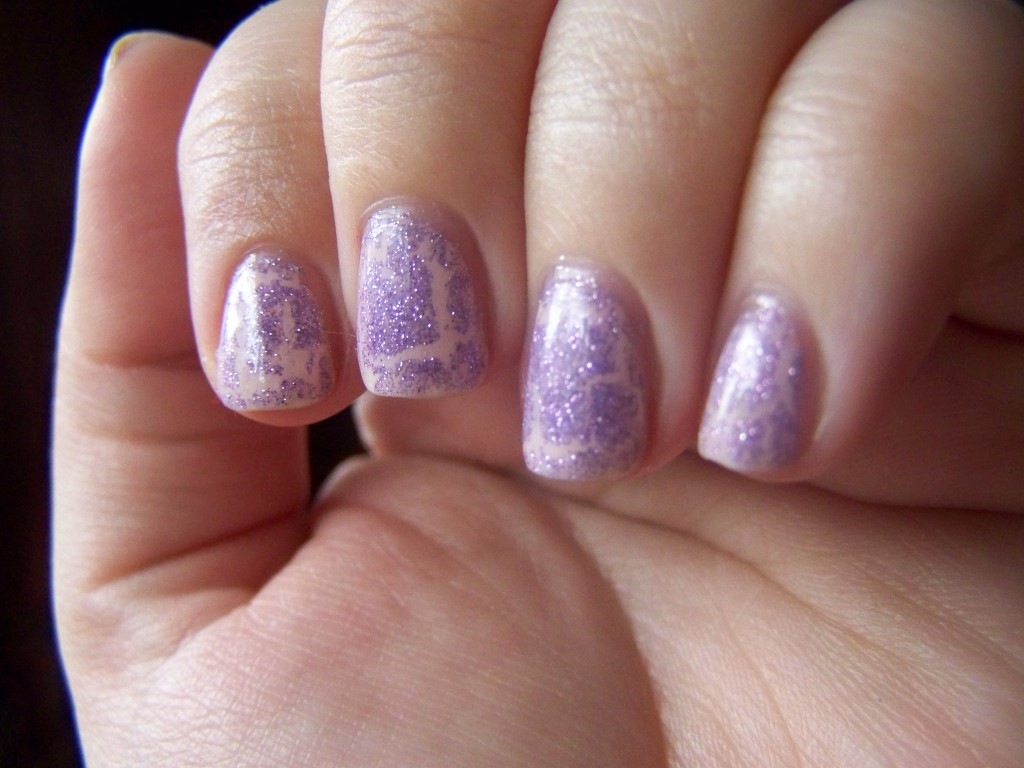 I tried something different this week: using a brush instead of the pointed cotton swabs to clean up my cuticles. After buying four packs of them and blowing through them in two weeks, I decided that investing in a good brush was really a more efficient and less wasteful solution. I settled on an angled eyebrow brush from Nyx. It was thin, flat, and would give me just the right amount of space between my polish and my cuticle. The brush didn't make it past the first cleanup phase. I like to clean up after every step, and so I was cleaning up the three coats of pink before I put on the crackle when it started shedding. Fibers were coming out in the acetone, on my polish, all over the place. I ended up making an emergency trip to Walgreens to find the pointed cotton swabs, only they were out. I bought an eyeliner brush that's a little thicker than the one I had, but it got the job done, for now. I'll probably have to go to the art supplies store to grab a paintbrush that can handle the acetone.