Happy Monday! This Manicure Monday's secret word is dainty. We're like baby princesses over here. My main polish in this mani is Model City's Fairy Godmother; I'm wearing it alone at three coats on my thumb and pinky, as well as in a watermarble with Elevation Polish's Hitsujiyama Park and under MAC's Just Jewels. All nails are topped with one coat of Seche Vite top coat.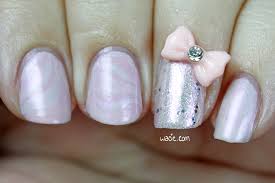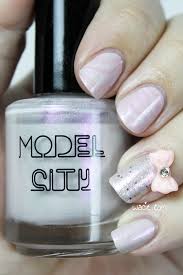 Perhaps the most unique thing about this polish, as well as the most obvious, is the strong pink pearl flash. This is what really sets it apart from the other pale pinks in my collection. There's also a hint of holo; unfortunately it's nasty cloudy outside, so I can't demonstrate the pretty holo effect properly.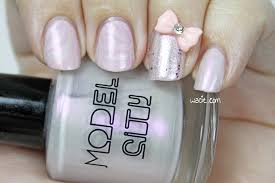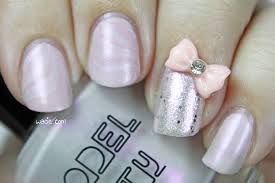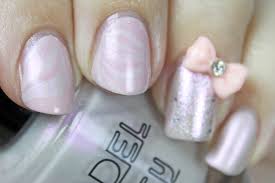 I decided on a water-marble pretty last-minute, and it was hard choosing the right color to contrast with the pale pink. I wanted one that was still pale so as to be dainty (ahhhh!) but dark enough to contrast with what I was already using. Hitsujiyama Park is just a shade or two darker, and has about the same amount of holo and lacks the pink flash, so I went with it. In the end, I wish I'd gone with something just a tad darker, but I really like the result I got. I bet there's a sub-species of unicorn with stripes like these. A Zebracorn, if you will.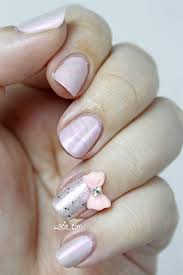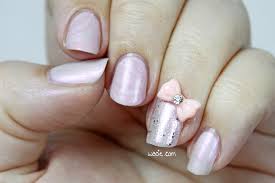 Finally, I used some glitter. MAC's Just Jewels is a sheer but powerful shimmery topper with some multi-colored metallic glitters mixed in. It's a little too strong for the watermarble, but I think it pairs really nicely with Fairy Godmother. The heavy pink shimmer is just what Fairy Godmother needs.
Fairy Godmother is discontinued; you can get other Model City polishes from their shop. Hitsujiyama Park and other Elevation Polishes can be purchased from their shop. Just Jewels is discontinued; other MAC polishes can be found wherever MAC products are sold. My bow charm is from Claire's.
I bought two of these polishes. One polish was sent for review; my opinions are not influenced in any way.