Hello, reader! I've just gotten back from the spontaneous trip my boyfriend and I took this weekend to celebrate the holiday. If you're American, I hope you had a fantastic July 4th, and if you're not, I hope you're enjoying your weekend. Because I was out of town, I only have one weekend swatch for you. This is One Gray-t Year from Blue-Eyed Girl Lacquer; I'm wearing three coats with one coat of Seche Vite top coat.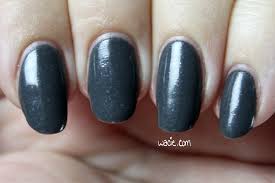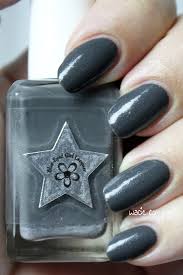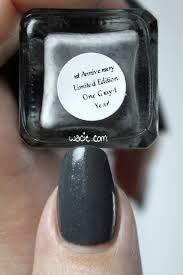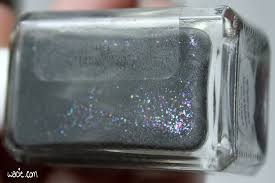 One Gray-t Year is a deep gray creme with an assortment of rainbow flakies. The formula consistency is just right and was super-smooth to apply. The flakies are easily distributed as well. I had full opacity in two coats. My bottle did suffer some settling, but the color isn't affected at all. Drying times were fast, and this polish dries with a matte finish. I used top coat to bring out the color in the flakies and add shine and protection.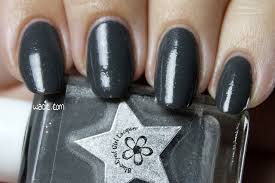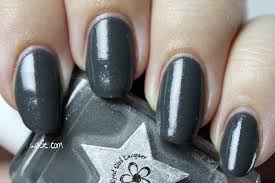 One Gray-t Year was made to commemorate the first anniversary of Blue-Eyed Girl Lacquer in 2014. It was a limited edition polish released with the first Fan Favorites collection. I've been a BEGL fan for a long time, even before the maker started selling polish to the public, so to be able to celebrate this milestone with her, albeit more than a year late, is really exciting. I love this polish; the contrast between the striking base color and the soft pastel flakies is gorgeous. It also wears like iron. I usually do my Swatch Saturday manicure on Wednesday; it's now Sunday, I still have this polish on, and it's barely showing any signs of wear. The tips are a little worn, but the color and shine are still going strong. It's rare that I get this much mileage out of any one manicure. I'm really impressed.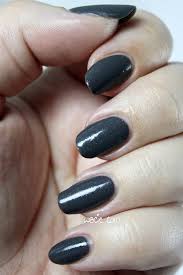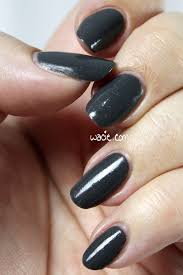 Here are some vacation photos! We spent Friday and Saturday in the Titusville, FL/Cape Canaveral area. I'm very interested in space travel and exploration, and Kennedy Space Center is somewhere I've always wanted to go. It was the greatest! I got to drink a beer in the Rocket Garden.
If you follow me on Instagram, you saw this photo already. On the way home, we stopped a kitschy little wildlife park in Christmas, FL called Jungle Adventures. I never get tired of seeing alligators.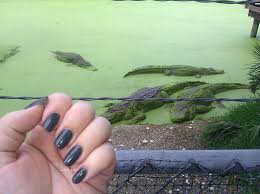 One Gray-t Year was a limited edition and is no longer for sale, but other Blue-Eyed Girl Lacquers are available in their shop.
I bought this polish myself.