I have nothing to say about these nails, except that they look like pizza and I can't get past it.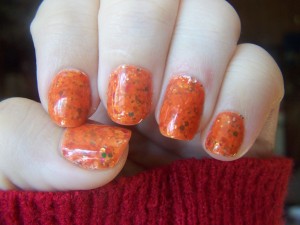 The orange polish is called Y'All Come Back Ya Hear, and it's from OPI's Texas collection from 2011. I got it and a few others from the collection for free some time I had a rewards coupon from Ulta. I was pretty unhappy with them because I didn't expect them to be translucent, which is my own fault for not testing them first. It wasn't until recently that I learned of the jelly sandwich and gained a new appreciation for these sheer colors. I did my first jelly sandwich with Too Hot Pink to Hold 'Em from the same collection, and I loved it. I had the same high hopes for this manicure, but things kind of fell apart when I couldn't find the right glitter.
My test nails started with a coarse holographic glitter that looked okay, but was missing something. I tried almost every glitter I had, and none of them gave me that Eureka! moment I get when I know I've found the right one. At least, not until I saw It's a Trap-eze sitting on the top of my polish box. I picked it up and tried it on my mannequin hand. This was the one.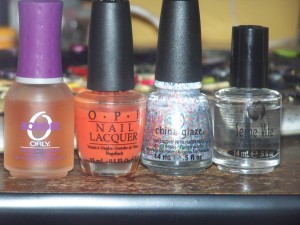 In tests, it looked great. In practice, on my actual nails, it looks like pizza. It looks like vodka sauce. There was more white color in the glitter polish than I thought there would be, which is why the orange looks creamy and tomato-ish. The orange cancels out most of the colors from the glitter, which is why only the greens seem to stand out. I just don't know about these. I mean, I'll live with them for the week, they're not that awful, but I wanted something like the pink ones that got a lot of attention from everybody.
This is the first full manicure I've done with the Seche Vite top coat. I used it instead of the Top 2 Bottom I usually use because the glitter went on kind of thick and I'd wrecked one during my frog hunting adventure yesterday. I knew the Seche would dry faster and prevent any other accidents, so I used it instead. I never want to use another top coat.
So yeah, this week was a nail fail, but it's okay. It was a good experiment.