Happy Monday, reader! This is the last Manicure Monday of 2015. I cannot believe another year has gone by and I'm still blogging. The wacie.com anniversary, as well as the anniversary of Wacie Nail Company, are coming up, and I have some really fun things planned, like new polishes! For now though, let's not get too far ahead of ourselves. For this final post of 2015, I'm wearing Pretty & Polished's Sundown; this is three coats with one coat of Seche Vite.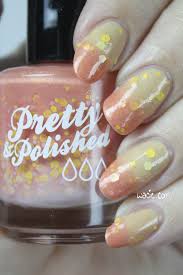 Sundown, as you can see, is an orange-to-yellow thermal creme polish with glitters in orange, yellow, and pink. The polish coverage is on the opaque side, so glitters from previous coats don't show up so well in the finished look. That's especially true for the orange/cold stage; since the yellow/warm stage is much paler, and the darker glitters do actually show through a little. The transition occurs easily. Application was okay; the creme went on beautifully, but the glitters were few and took some manipulating to get them just right. The polish dries with a satin finish.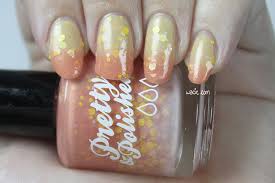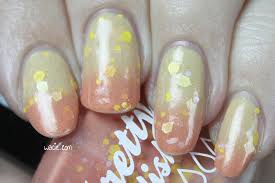 I bought this polish in 2015, and I'm actually surprised it still transitions. I'm thrilled with it, really. A lot of the thermals I've had that long — even a few I bought more recently — have stopped altogether. I was really unsure of what to expect from it. It's beautiful, though, isn't it? It's so strangely appropriate for this post, and in so many ways: obviously the name is appropriate, since the sun is setting on such an exciting year. Today's high was 83 degrees, and so the colors are unseasonally seasonal. It's not a NYE glitterbomb, but it's a really cool polish to see me through the end of the year.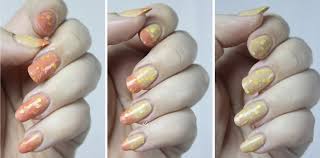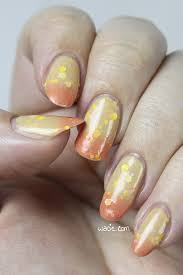 Sundown is no longer made by Pretty & Polished, but you can find other polishes (thermals!) on both their etsy store and their official website.
I bought this polish myself.