Happy Monday, reader! This week has all the hallmarks of being a holiday mani without actually being one, and might just be the closest I get to one all year. For this look, I used Julep's Alexandra as the base color, Octopus Party's Universal Loner as the tip color, and LA Colors's Confetti as the glitter topper, all with one coat of Seche Vite. Here we go!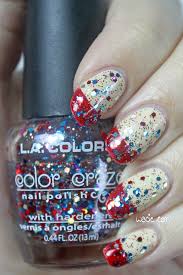 I think that, until this mani, I forgot drugstore glitter toppers were a thing. I mean, how could I; after all, they were my gateway to glitter addiction. Even now, I have tubs of them. It's just that every glitter topper I've worn for the past year or so (at least) has been an indie polish, and I've gotten used to that sort of polish. Indie glitters just have so much going on: big glitters, small glitters, shimmer, flakies, crazy shapes. This one, though it was a pretty cool polish when I bought it, I'm having a hard time finding a word other than quaint to describe it. I'm not trying to say it's bad, I'm really not, it's just that glitter polish has come a long way since this one. This is two coats of glitter, by the way.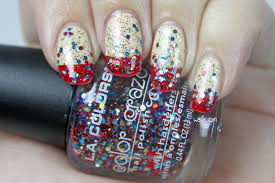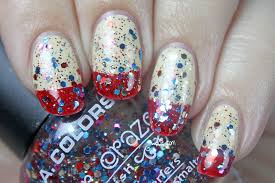 I chose Alexandra for the base because it was neutral, and I needed a color that wouldn't interfere with any of the glitter colors. I ended up adding the red tips as an afterthought, hoping to tie everything together. That, and I already had it out to put on my toes. Both of these polishes performed very well; Alexandria had a bit of streakiness left after two coats, but the glitter hides it well. Universal Loner went on really easily; I didn't have to deal with any coverage problems. It's my first OPNL, too, yay.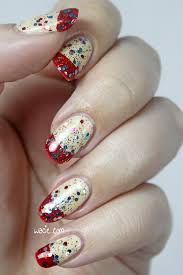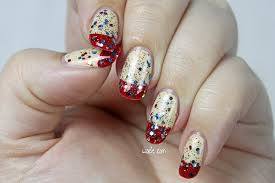 I think it all came together really nicely. Like I said, red and glitter usually means a holiday mani. I actually plan my manicure combinations out way in advance, so it's lucky it landed on a day so as to be seasonal as well as pretty.
LA Colors is sold nationwide, as is Julep. Octopus Party Nail Lacquers are sold from their etsy store.
I bought these polishes myself.