Did I ever tell you guys about how much I love red nails? I love red nails. I love glitter. I love the way this turned out.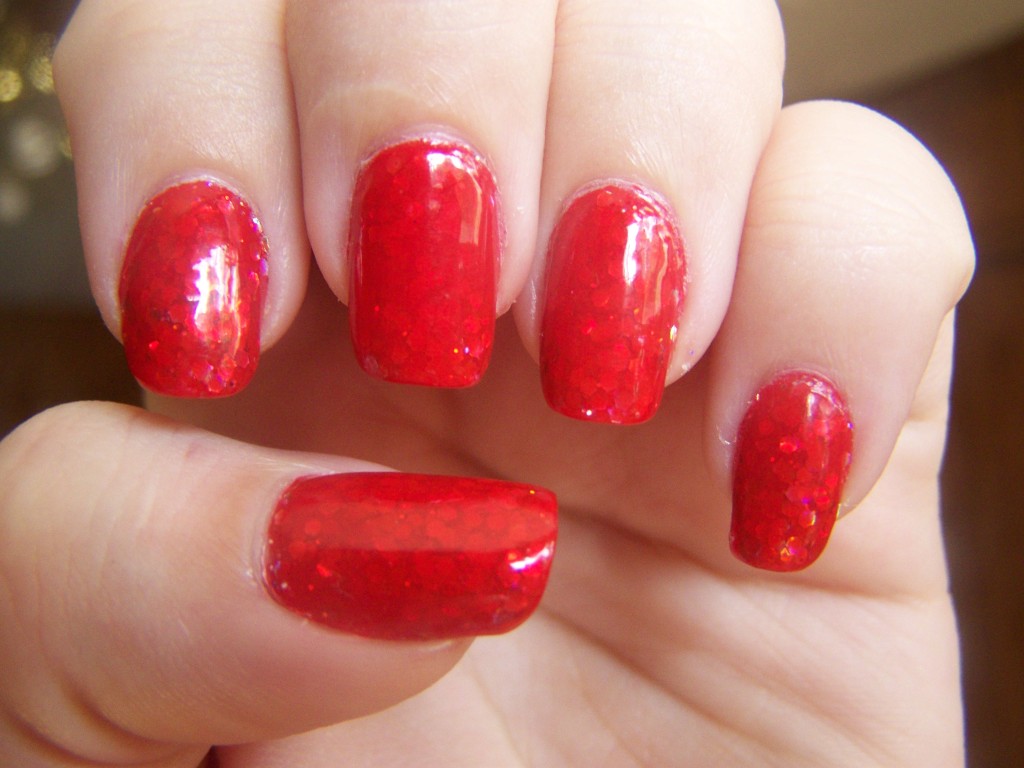 My last attempt at a glitter sandwich was in March, and if you're longtime reader, you'll remember this nail fail that resembles Italian food. When I did that manicure, this was the one I wanted. Pretty much as soon as I discovered Wet 'n Wild's Everybody Loves Redmond was slightly translucent on the first coat, I knew I was going to have to do this. Of course, the coverage seems to build, so had I used a bit more, the glitter would have been totally covered. You can see this on the middle finger, somewhat; I'd uncovered some of the glitter during cleanup, and did a second coat on just that nail. As a result, the glitter is harder to see.
Unfortunately, these labels don't stand up to my haphazard storage method of having everything sitting around in a box. I have a couple bottles of these Wet 'n Wild Fast Dry polishes, and all of the labels are completely rubbed off. Anyway, I like this color a lot. Indoors, it's an orangey red, but outside in the sunlight, it's very red, very bright. I'll go ahead and admit I had pretty low expectations for this color, but I'm very impressed.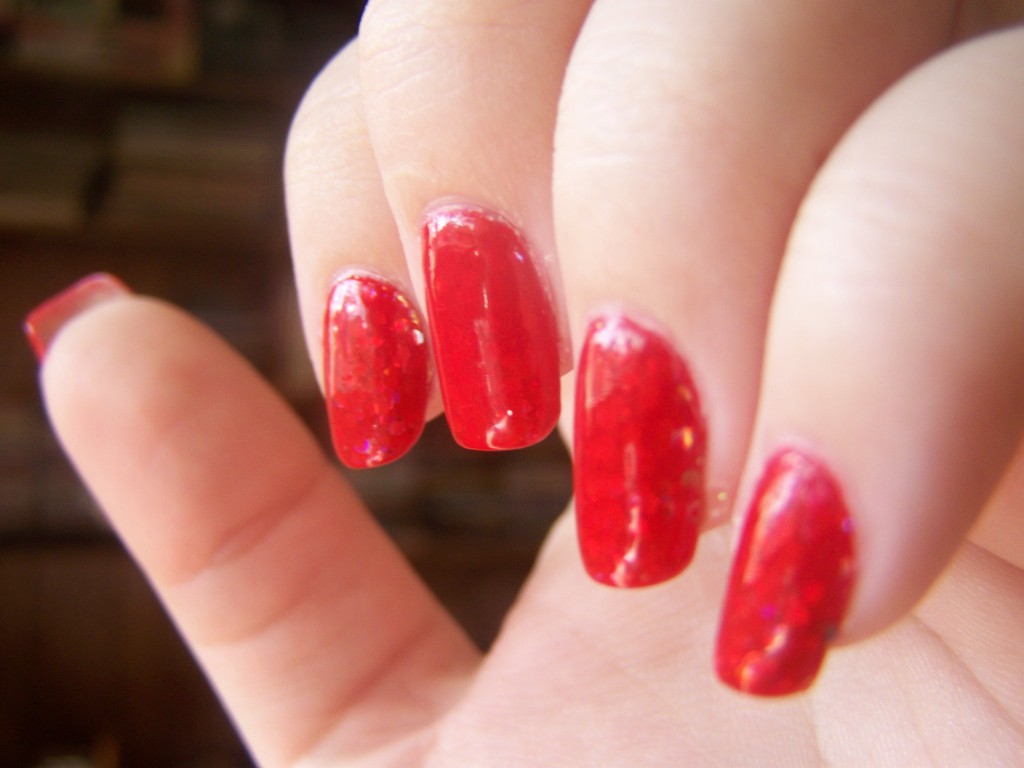 The glitter is Julep's Paris. I got it in a mystery box sometime over the summer, but it's exactly the kind of thing I would have chosen and purchased on my own. Even though there's a ton of glitter in the bottle, it's meant to be used as a top coat, to give a manicure the right amount of sparkle without being over the top. Of course, I don't like things that aren't over the top, so I went crazy with this glitter, adding three thick coats before putting down the last layer of red.  As a result, the bottle is two-thirds empty now.
Also, let me tell you some about the topcoat I used this week. I've been buying a lot of indie products lately. Indie polish is the latest scourge on my wallet. It's so gloriously inventive and completely unlike anything I could ever find in a store that the extra money and shipping fees are totally worth it. After the topcoat issues I had the past couple weeks, I decided to try Digital Nails' topcoat, since I was buying their awesome new color-changing polish anyway. I'm pleased to report that it's awesome. It dries in about the same time as Seche Vite.  I'm really impressed with it. Not that Digital Nails makes bad stuff, but I didn't expect it to work so well. I'm wearing three coats here, and it gives me great shine and makes my nails rigid, which is something I look for in a topcoat. My nails are extremely soft and thin, and I rely on a hard topcoat to not only protect my color, but my whole nail. I would totally recommend it.
The only problem is, it was clear when I started. I don't know if this is an issue with the topcoat itself or the fact that I used it on cheap red nail polish, but now it's an odd pink. It doesn't look like the tint affects it in any way, which is good, but I don't want this to happen every time I use it and having some weird brown topcoat after a few weeks. I guess we'll see.