Happy Sunday, reader! This week I'm wearing an oldie-but-goodie, a first polish from a beloved indie. This was even one of my first-ever indie polishes. All the way from 2013, here's Sheena is a Punk Rocker from Model City Polish; I'm wearing three coats with one coat of Seche Vite.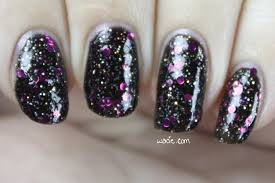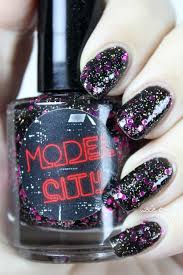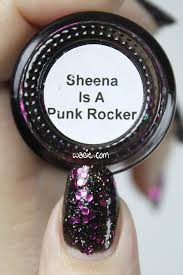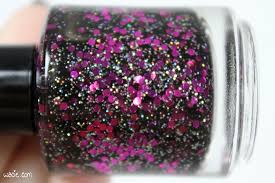 Sheena is a Punk Rocker is a black jelly polish with magenta dots and silver holographic hex glitters. Application was easy; the jelly base was thin at first, but built up to deep black in three coats. The glitters spread evenly and lay flat on the nail. The polish dries quickly with a glossy finish, though with a little bit of texture from the glitters. I used top coat for extra smoothness and shine.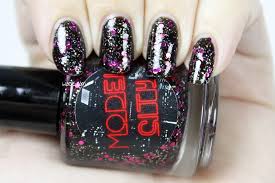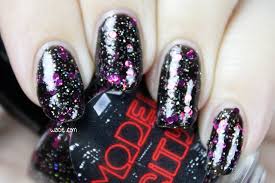 The shine is probably the first thing you noticed about this polish. It is shiny. The shine from both the glitter and the jelly gloss overwhelmed my camera, so the focus is off in a few of these photos. The shine is probably my favorite thing about the glitter jelly polish, especially in black. It's the icing on top of a very glittery cake.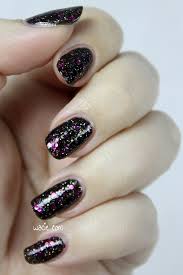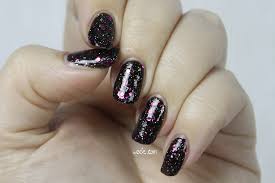 I totally bought this polish because it was named after a Ramones song. Believe it or not, this is actually my second bottle of it. I bought a mini in my very first Model City order, and I loved it so much that I went back for the full size when it was restocked, as well as the other two polishes in the collection. These are very special polishes to me and I'm so sad MCP doesn't make it anymore.
Sheena is a Punk Rocker has been discontinued; other Model City polishes are available from their etsy shop.
I bought this polish myself. The Ramones are awesome.