Welcome to Swatch Sunday! I'm really excited to show you this week's polish. I've been shopping a lot of destash sales lately on Facebook, and about a week ago, I bought my very first mystery bag, which means I got a lot of new polishes I wouldn't normally have bought. It was a really fun experience! Today's polish is one from that set. This is That Boy is a P-I-G Pig from CrowsToes Nail Color; I'm wearing three coats with one coat of Seche Vite top coat.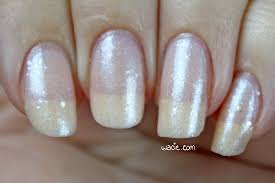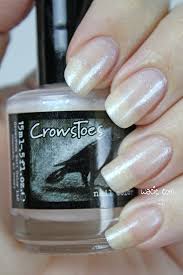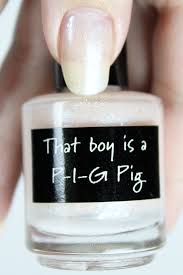 That Boy is a P-I-G Pig is a sheer pale pink with blue-to-pink shifting shimmer and pearly white flakies. Application was easy; the polish went on smoothly and evenly. The product consistency is very easy to work with; it stays on the brush quite well, but isn't thick. The coverage is very sheer; at three coats, you can still my nail bed through the polish. The shimmer is visible in nearly every lighting level, though more powerful in some than others. The polish dries with a smooth finish; I used top coat for shine and protection.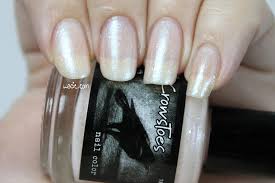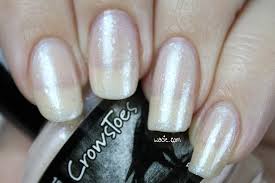 I didn't know anything about this polish when I got it, so I did a little Internet homework; it turns out this was in an A Box Indied box last year. I feel pretty lucky to have gotten a box-exclusive polish on accident, and one this pretty to boot.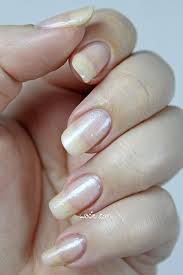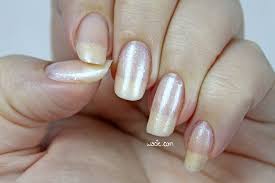 This is the daintiest polish I have ever worn. I think I say that every time I wear a pale pink, but this time I mean it. This is gloriously dainty. It's so pink and soft and girly. The strong blue shimmer and flakies set it apart from every other sheer pale pink in my collection. I feel a little exposed with my visible nail lines for everyone to see, but overall, this polish gives a clean and elegant look to my nails.
That Boy is a P-I-G Pig is no longer in production. Other CrowsToes polishes are available from their shop.
I bought this polish myself.