The Summer of Untrieds Challenge is now over, and I thought I'd present some final numbers and statistics to show how it turned out.
The objective of the challenge was to use at least one untried polish per day that fit the theme, which means that, at minimum, one would use 31 previously untried or unused polishes. I did not adhere to the challenge guidlines every single day; 17 out of the 31 manicures I did this month were done for the challenge. The others were previously scheduled regular posts. However, even on the days I didn't follow the challenge, I still used one untried per day. I used 34 untried polishes total.
The following stats include all the manicures done in July:
Wacie Nail Company was the brand I used most often, and that's because I have those posts scheduled each week. American Apparel and Ciate tied with four, and China Glaze had three.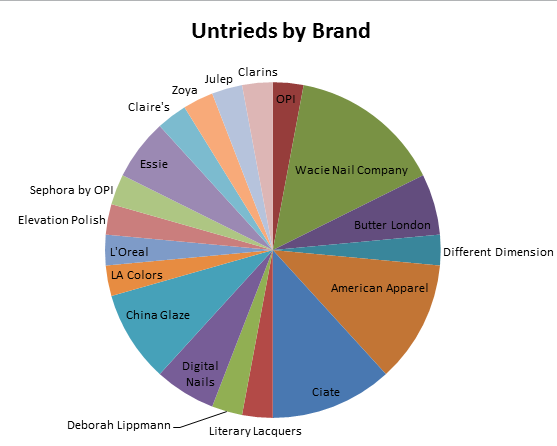 Purple was the most frequently used color with six manicures. Green saw five, Silver and gray had four, red and pink each had three.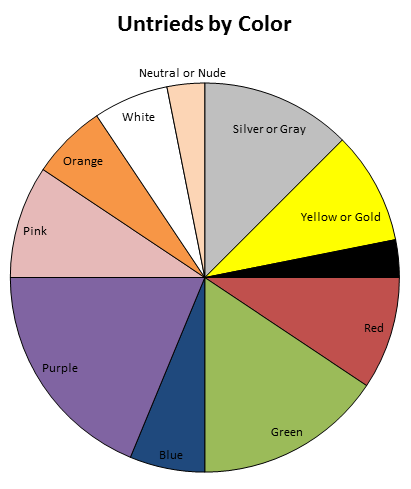 Some other numbers:
Glitter played a part in eight July manicures.
Four polishes were neons. Three were holos. Only one was crackle.
Dinner was late due to the challege about 50% of the time. Boyfriend was annoyed with me 100% of the time.
I would do this challenge again.
A big thanks, again, to Julie at Wishes of a Blue-Eyed Girl. I had so much fun trying out all these amazing polishes, some of which I forgot I even had. Thank you so much for creating this challenge; I hope you do another for fall!