For today's Manicure Monday, I attempted some actual nail art! A couple of weeks ago, Reddit user chill_out_dont_pout did an adorable mani with geometric shapes and negative space, and I'm totally biting her style. For my copycat mani, I used OPI's Metallic 4 Life and Essie's Toggle to the Top for the stripes, Fantasy Makers's Night Glow as the base, and Seche Vite as my top coat.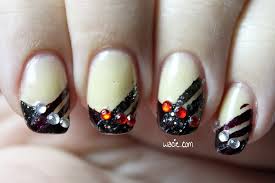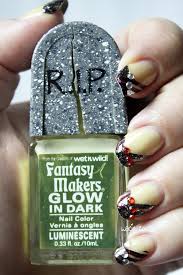 It's been a really long time since I've done anything this intricate and time-consuming. For the past several Manicure Mondays, I've just been laying glitter down on accent nails and calling it a day. Inspired by that Reddit post, I decided I would buckle down and do some real nail art. I had the time, and I wanted to use this glow-in-the-dark polish but had no ideas for it, so it was a perfect coincidence. It was so easy to make this pattern my own; I used two glitter jelly polishes I really loved, made one edge longer than the other (by accident) and added rhinestones to the vertices. In all, I probably spent three hours or more on this look.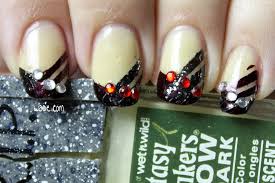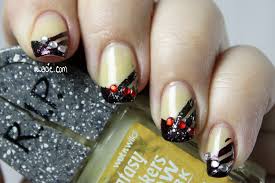 Of course, I could have done a better job. My lines aren't clean or even, and Night Glow was actually a big mess to work with; it was goopy and kind of dried out, so I put some thinner in. It wasn't enough. I put in more. Even though it felt dry to the touch, I guess the under-layers never fully dried, because even though I waited an hour before I started taping, I still pulled up polish. Thankfully, thanks to a stealthy fourth coat of Night Glow and the power of Seche Vite, you can barely tell!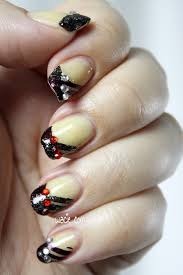 Night Glow, as you might have guessed, glows in the dark. However, I am terrible at glow-in-the-dark nail photography, so here are some glow fails.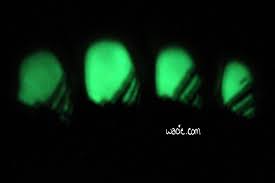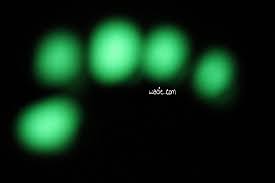 Thanks again to /u/chill_out_dont_pout for the nail inspiration!