Today's Swatch Saturday polish is no stranger! We took a brief look at Blue-Eyed Girl Lacquer's Prototype AG 1.1 on Manicure Monday, when I paired it with China Glaze's Exotic Encounters. Today, it gets its own manicure! I'm wearing AG 1.1 over Raspberry Cordial from Ciate, and Black Out and Hard to Get, both from Sally Hansen. All nails are topped with one coat of Speed Coat Pro, also from Ciate.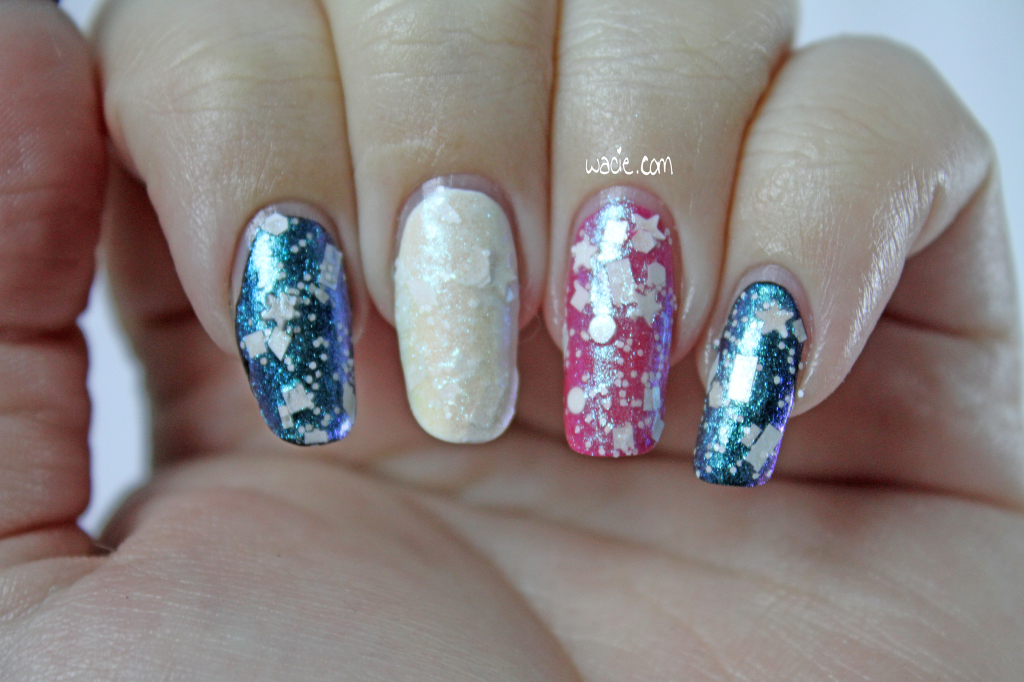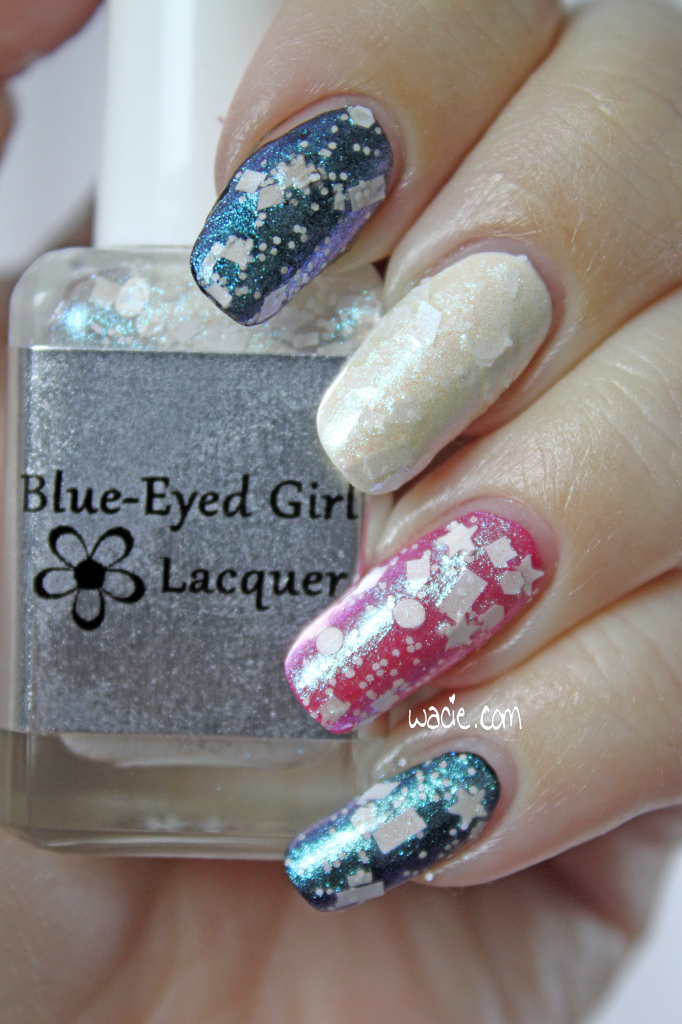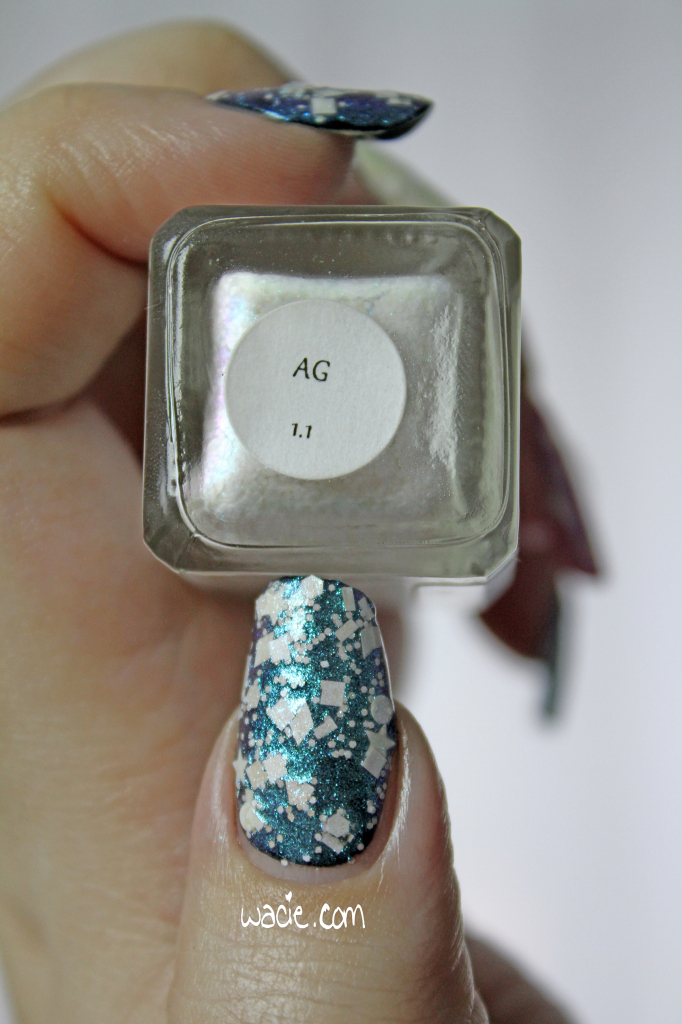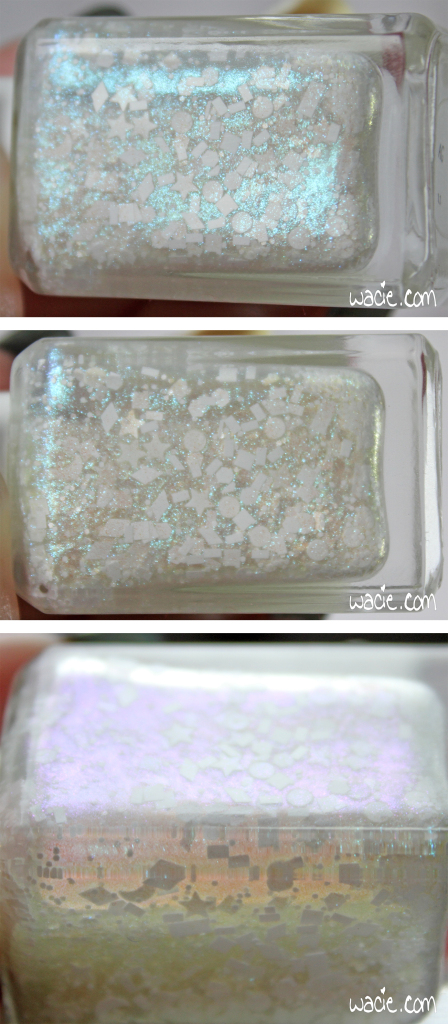 Prototype AG 1.1, as we discussed before, is a glitter topper with blue-to-purple shifting pigment and white hexes, stars, moons, squares, rectangles, dots, and diamonds. As I mentioned before, the consistency is rather thick, but because there's so much stuff in this bottle, it's natural for it to be that way. Despite its viscosity, it does dry quickly, and with a satin finish. The glitter does spread well over the nail, but because the glitters are so large, they do tend to clump a little bit.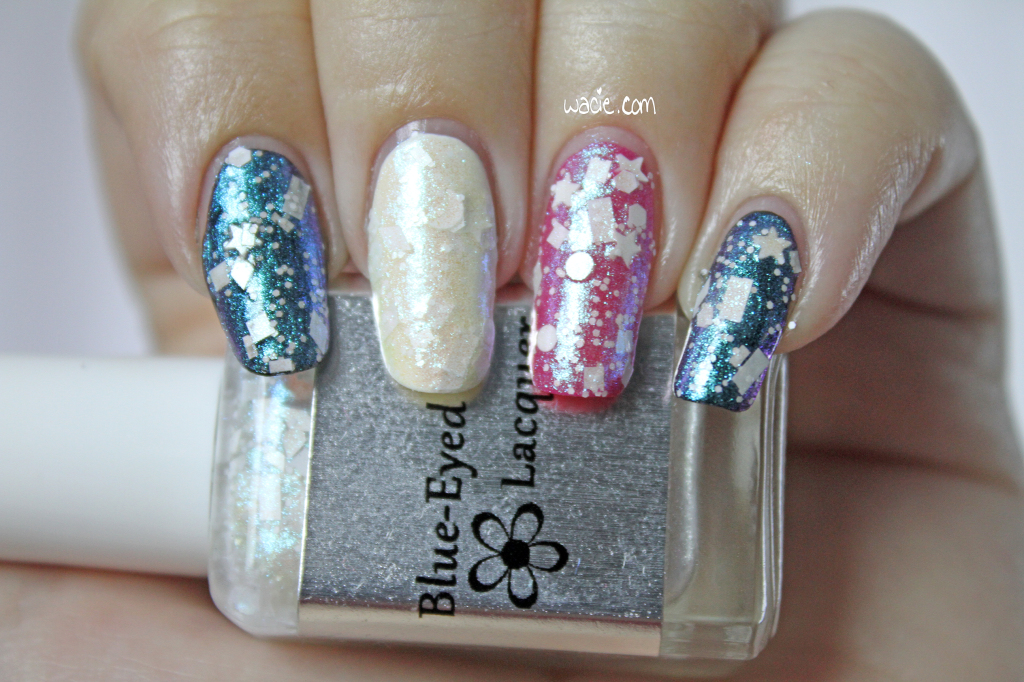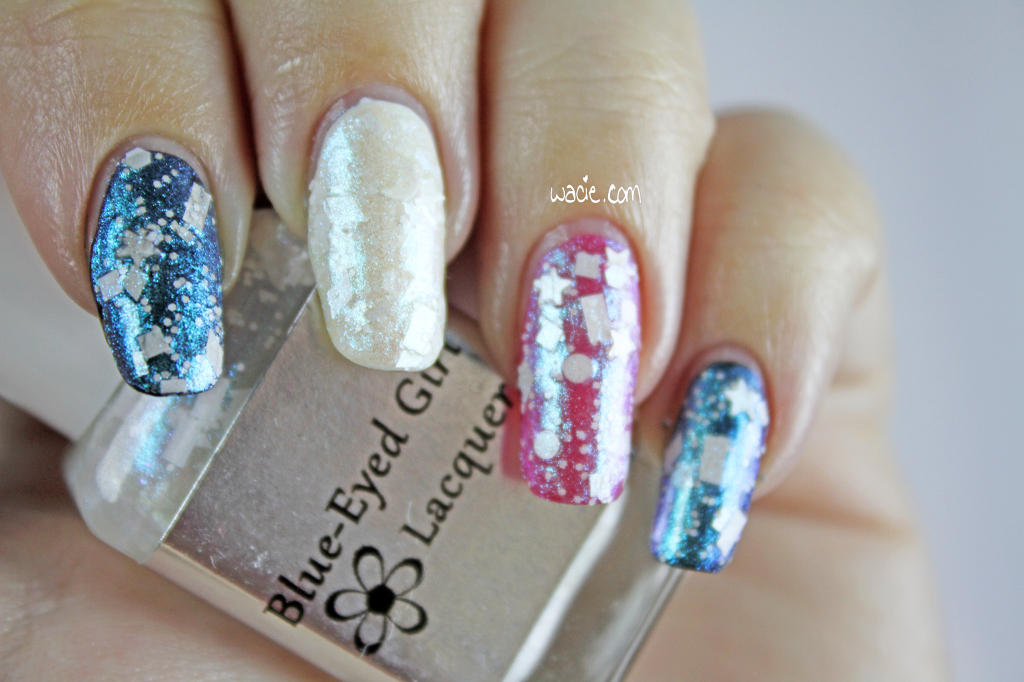 How gorgeous is this! I included a before shot of the black, white, and pink, just so you can see how this polish transforms a color. These are some pretty basic cremes in pretty bold shades. The shifting pigment comes along and softens them, making them pearly and delicate. It's absolutely amazing. It's probably the most beautiful the darker colors; on the black, you can see everything, like looking up at the sky on a dark night. You get the maximum shifting effect as well as glitter contrast.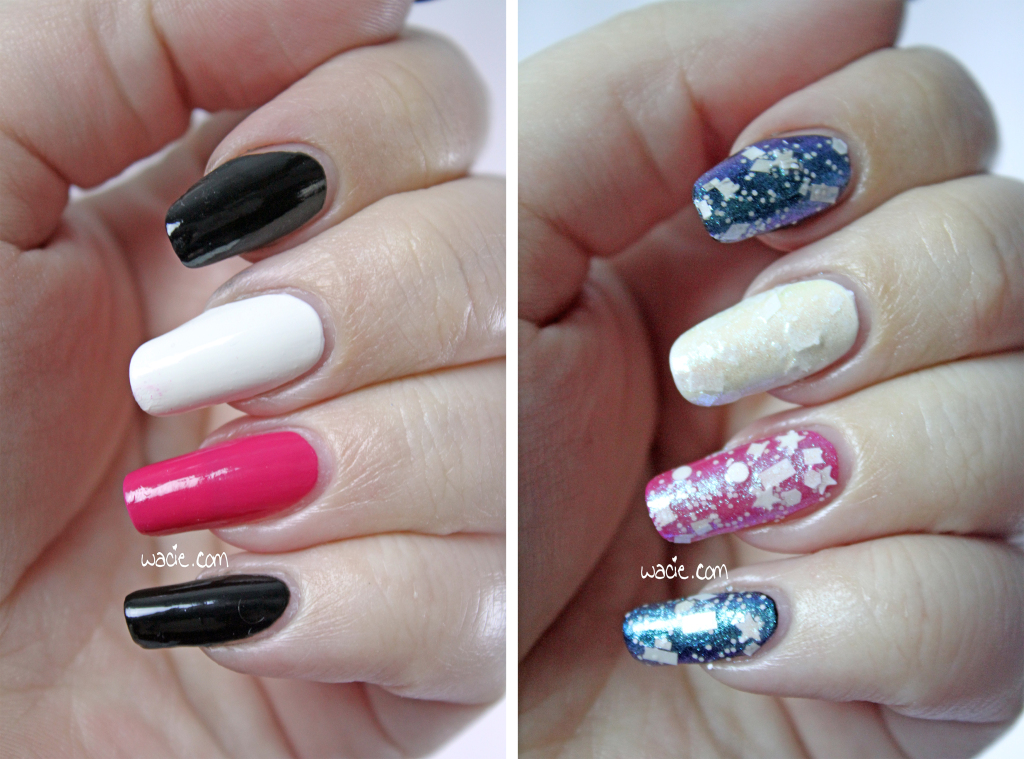 You probably think I'm crazy to put a polish like this over white. Yeah, maybe I am, but I really love the way it turned out. The glitters are not immediately visible, but the shift looks incredible. I am a huge fan of this color-on-color combination. It's intricate and dainty, like tatted lace. I think it's astoundingly beautiful.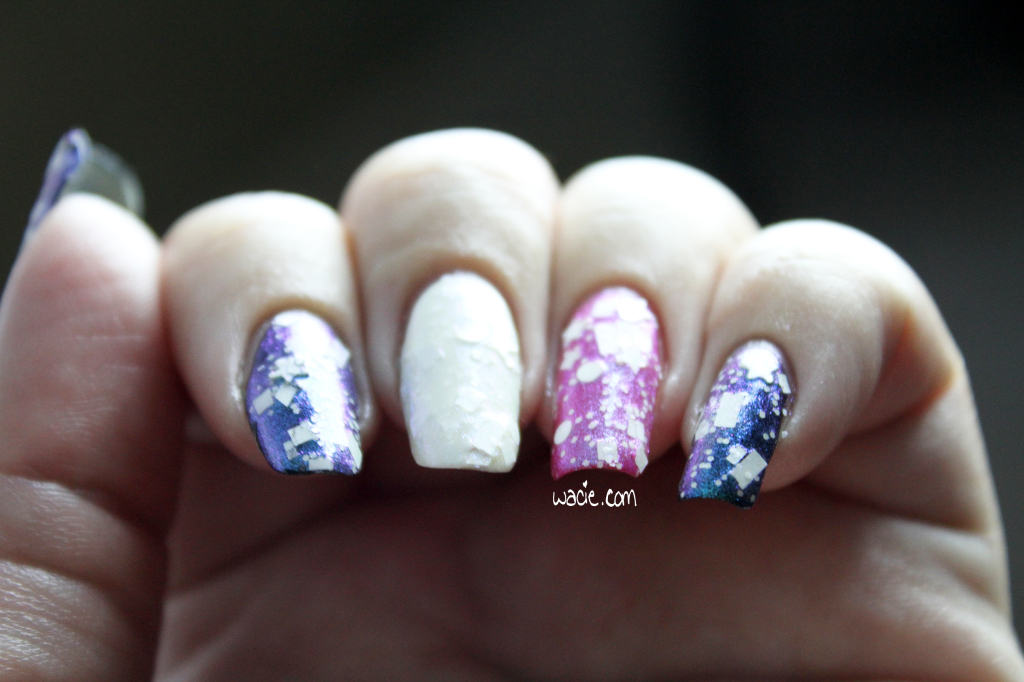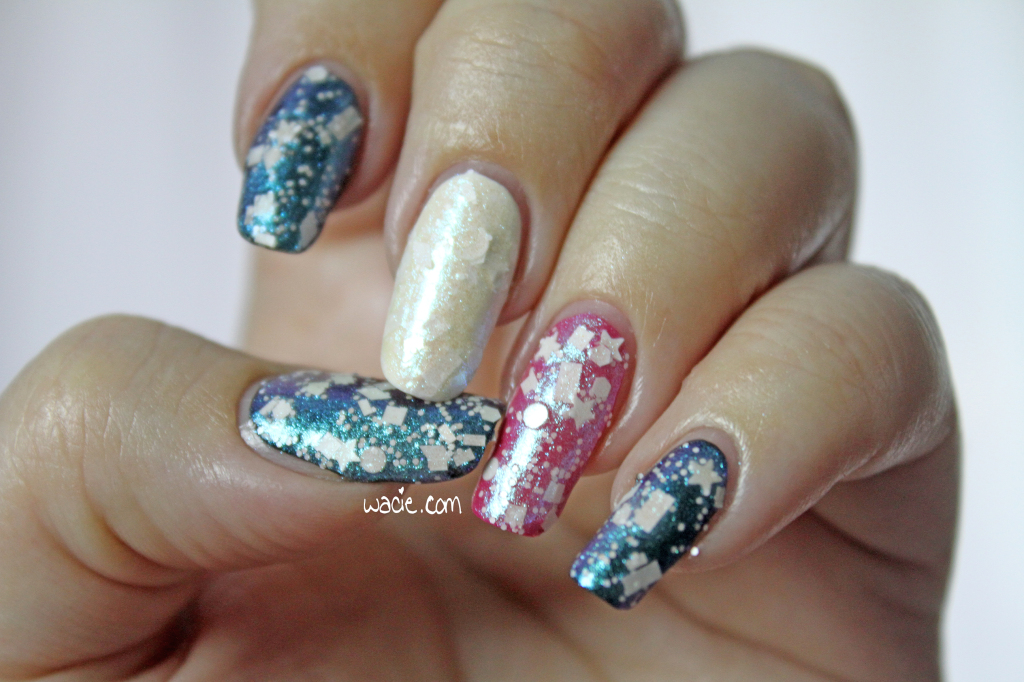 While this is a statement polish for sure, I also feel like it's very simple as well. There aren't a ton of colors competing for attention, there isn't a crazy sparkly melange of glitter. Everything is consistent and and homogeneous, and I like that about it. It's elegant without being over the top; it demands attention but isn't loud or obnoxious. It is truly stunning. Unfortunately, this is a one-of-a-kind polish prototype and is currently unavailable. Sorry! In the BEGL shop, however, there is one OOAK prototype for sale. Grab it before it's gone!