Sorry for two late posts in a row; today relatives were in town. I didn't finish this manicure until like seven o'clock today, and I just now have a chance to actually write about it. Today's polish is one I love a lot, On the 101 from Wet 'n Wild. I have on three coats with one coat of Ciate's Speed Coat Pro.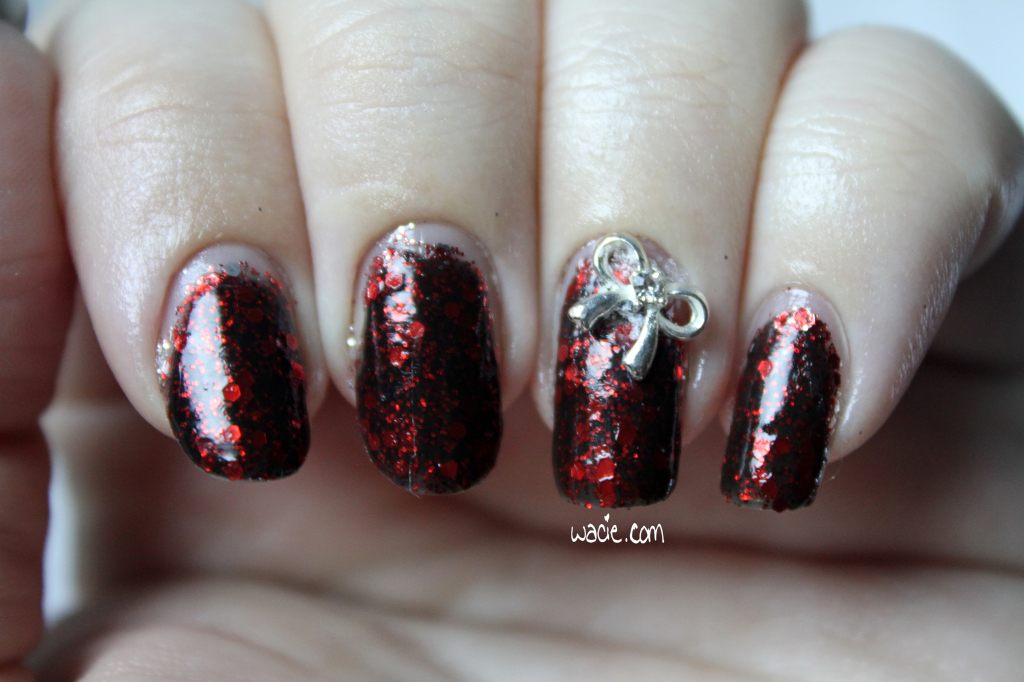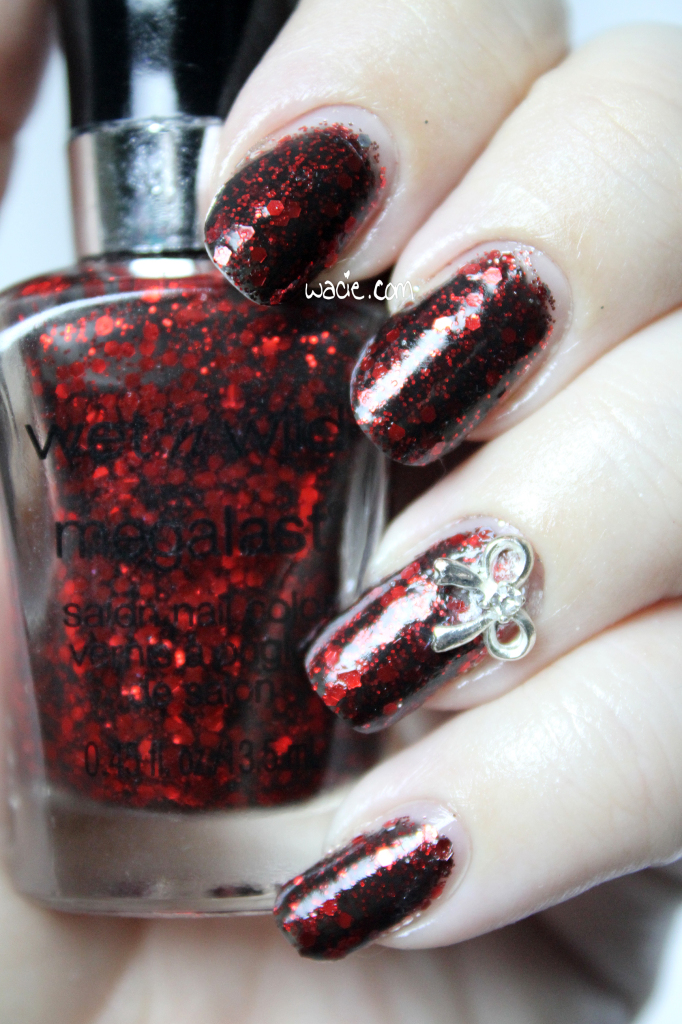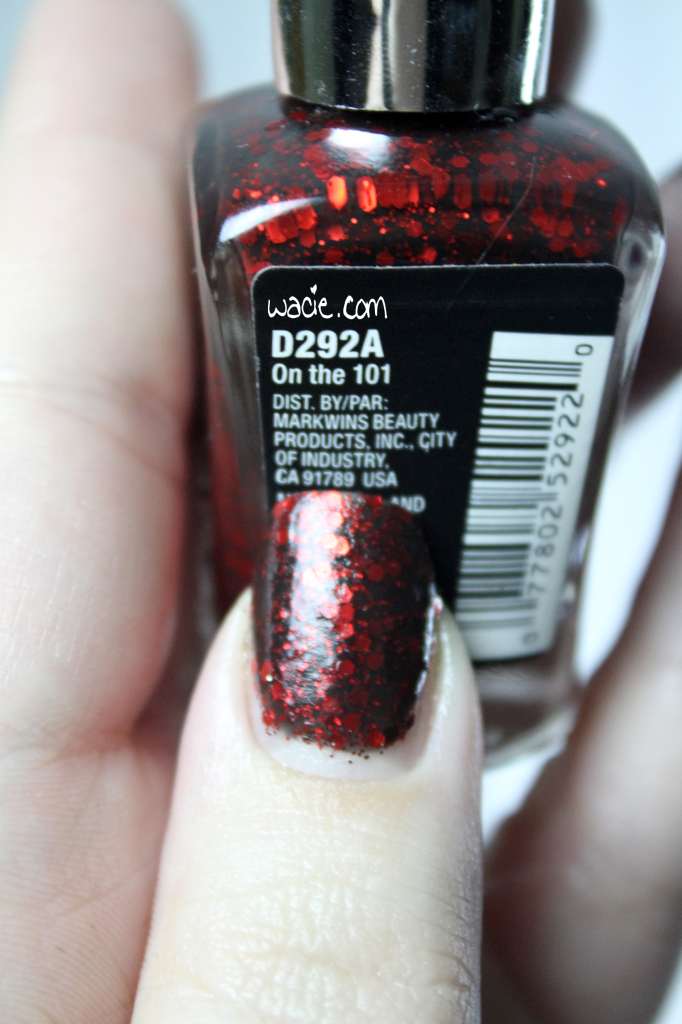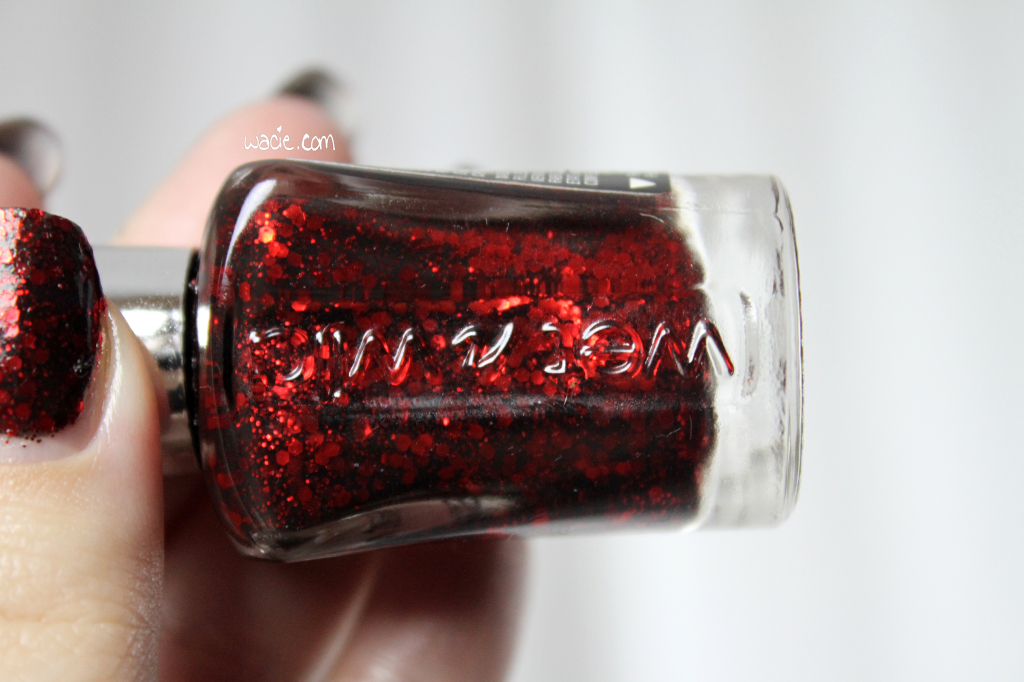 On the 101 is a black jelly with various sizes of metallic red glitter. Application wasn't too bad; Wet 'n Wild have their really wide brush, and I usually have huge problems with it; I get a ton of polish in the cuticle, where I need it the least. I didn't really have that problem today, though. This went on pretty cleanly. The glitters are a little hard to get, so if you want to wear this alone as a glitter jelly, three coats is definitely necessary. Even with black undies, you still may want two coats just to ensure maximum glitter pretty. It also dries somewhat matte, so if you want high shine, you'll need a top coat.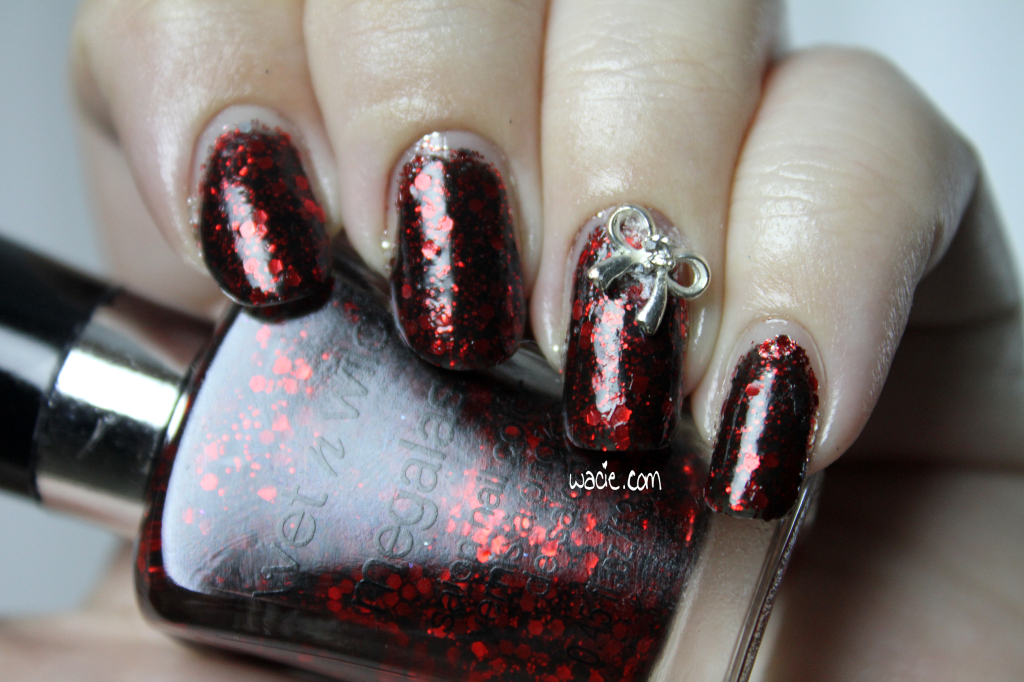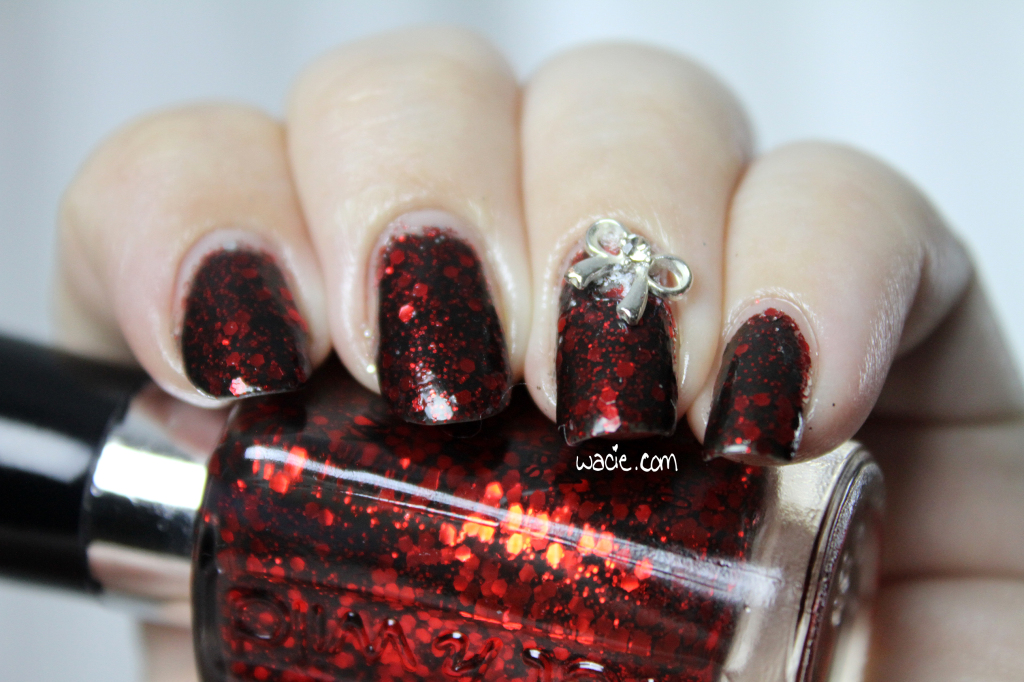 So this is one of my favorites. I can't remember if it was late 2012 or early 2013, but I was living alone, and I was kind of using nail polish as a bribe to get myself to walk the half-mile to Dollar General to get cat food, ramen, cheap wine, and other broke girl necessities. Previously, the only nail polishes they had were many varieties of LA Colors. I'd already bought a ton of those, and wasn't interested. In fact, on the day I found this, it seems like I wasn't even interested in buying polish, I was just passing through the aisle and noticed the new Wet 'n Wild display. This particular bottle was unlike anything I had at the time, and even though I'd seen indies like this, I'd never seen anything like it in a store. I had to have it. I don't think I could have even spared the two dollars it cost me, but I had to have it. I bought it so long ago, but today's the first time I ever used it.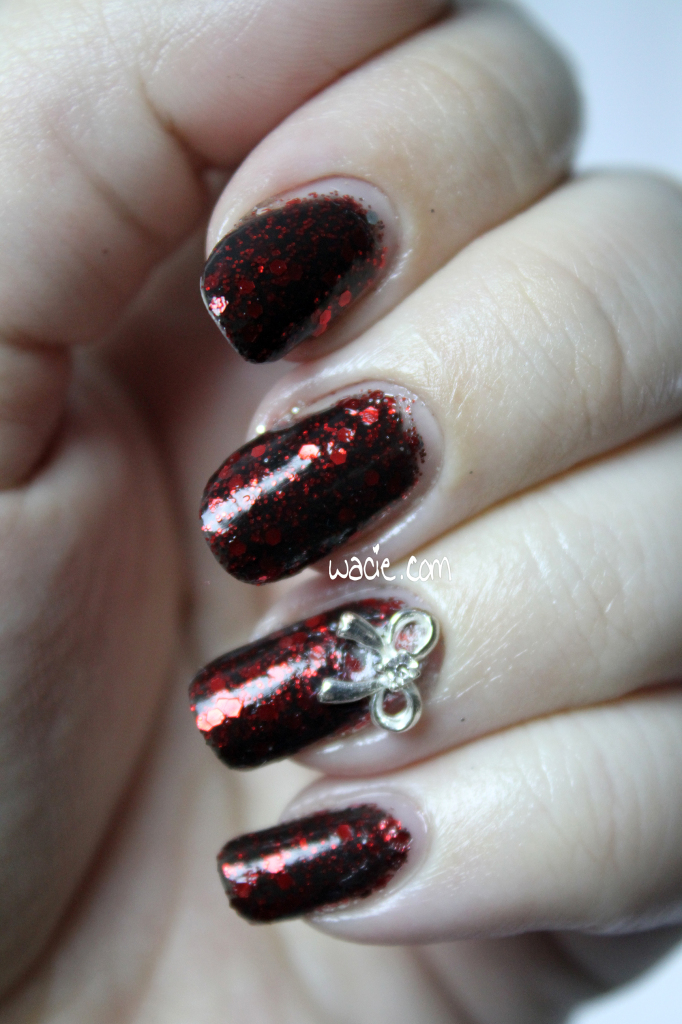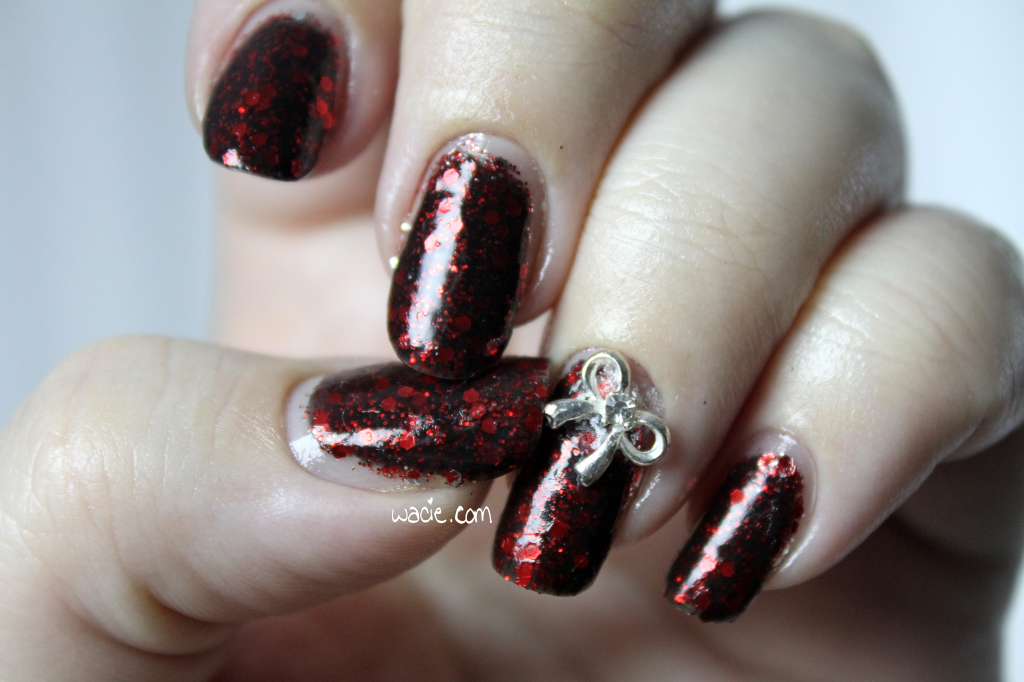 It was late when I took these, so I wasn't able to get sunlight shots of it. I bet this is huge in the sunshine though. It shines really nicely indoors.
Finally, let me apologize about the charm. Since I was using only one polish, I wanted to add something extra, but I don't have any red acrylic bows, like I'd usually use. I had this cute silver bow, so I put it on with a tiny dab of super glue. I don't know if I used too much, or if it's a remnant from the last time I wore it, but there's this dried white unsightly mess all around it. It definitely looks worse in the photos than it does in real life, I really had no idea it was there until I saw the photos. I'm really embarrassed.