Right, so during the month of November, I was insanely busy with starting a new job, starting a volunteer job leading writing groups for National Novel Writing Month, actually writing a novel for National Novel Writing Month, and cooking a Thanksgiving dinner for nine people. Now that novels are finished and Thanksgiving is over, I've finally got the time to share the swatches I've been collecting.
This first one is It's Fall Over Me from Bluebird Lacquer; I'm wearing two coats over e.l.f.'s Smoking Hot (red), Butter London's Tea and Toast (tan), Sally Hansen's Black Out (black), China Glaze's White on White (white), and Blue-Eyed Girl Lacquer's Lighthouse on the Lake (blue), topped with Seche Vite and Essie's Matte About You matte top coat.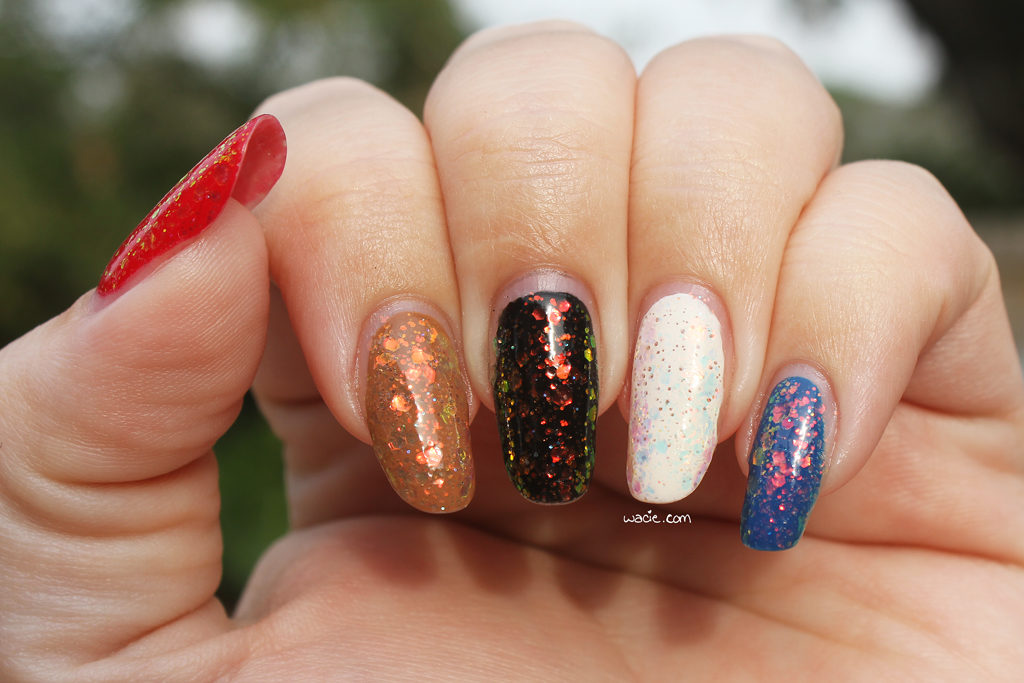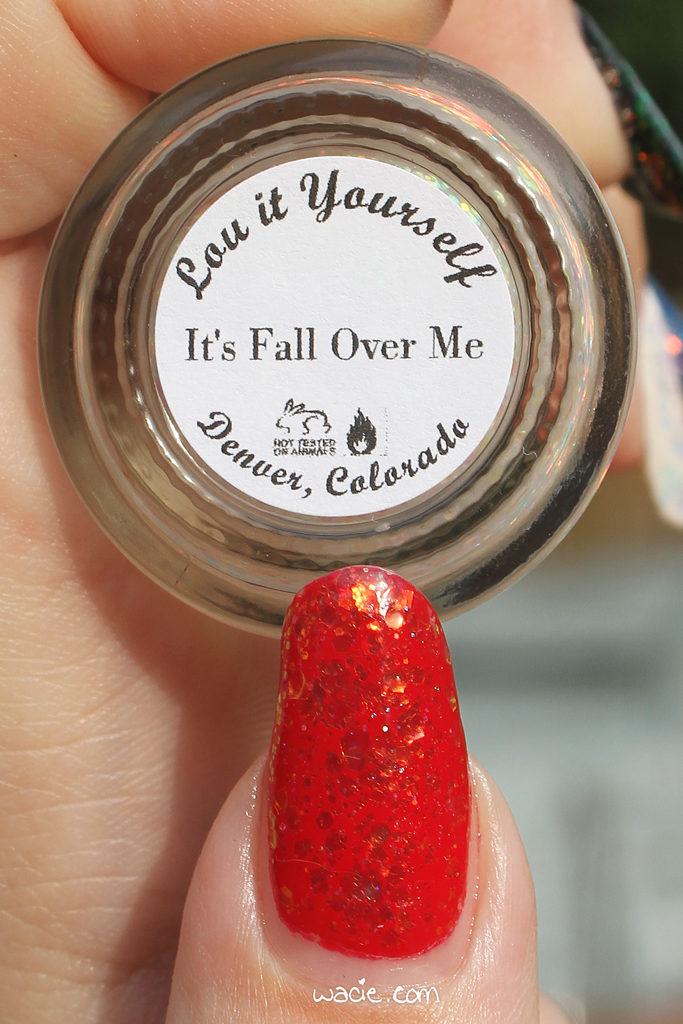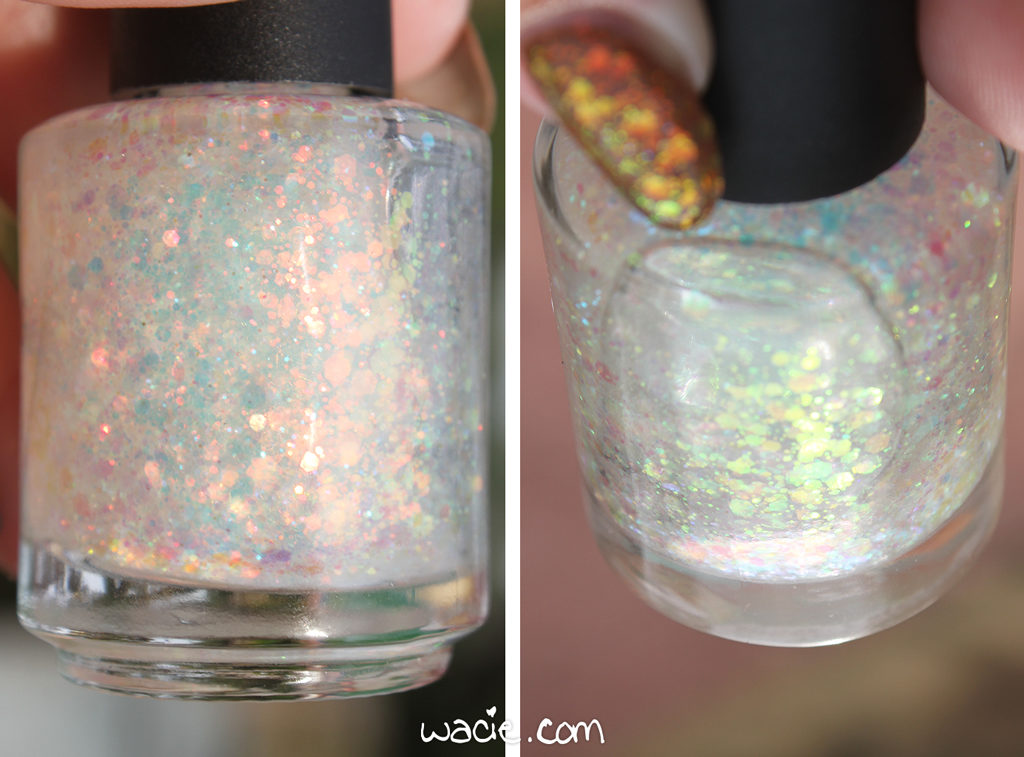 It's Fall Over Me is a clear-based glitter topper with iridescent shifting glitters of various sizes. The shift is definitely reminiscent of the flakies in Essie's famous Shine of the Times. Application was easy; the product consistency is wonderful in that it's not thick enough to be goopy and difficult to use, but it's not thin enough that it drips off the brush. The glitter delivers very easily, but I definitely wanted more than I got on my first coat, so I used two. In the future, I might try sponging it on to get that heavy glitter coverage without the thickness of multiple coats of lacquer. I used two coats of top coat as well, just to smooth down any glitter texture that was left.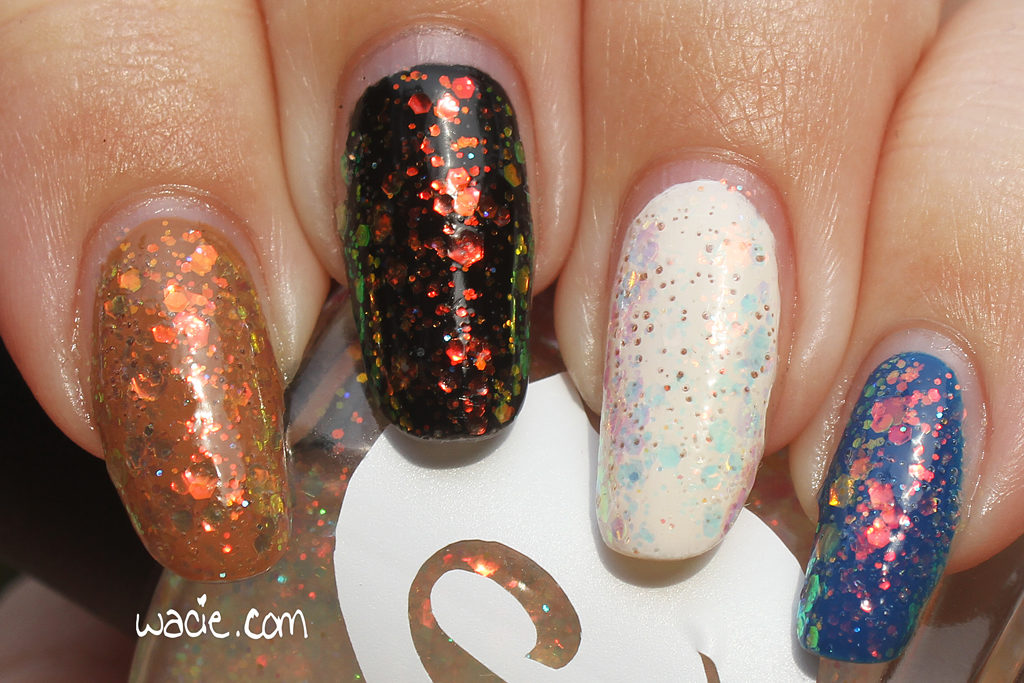 I bought this at the Indie Shop Atlanta, and it had my heart as soon as I saw the bottle. I am such a sucker for these opalescent kinds of glitters, because there's always something going on with it; it's the easiest way to give a look dimension and style without getting knee-deep in nail art. It also looks interesting over any color, even white, which is obviously not the ideal undies for this polish, has a unique effect on it.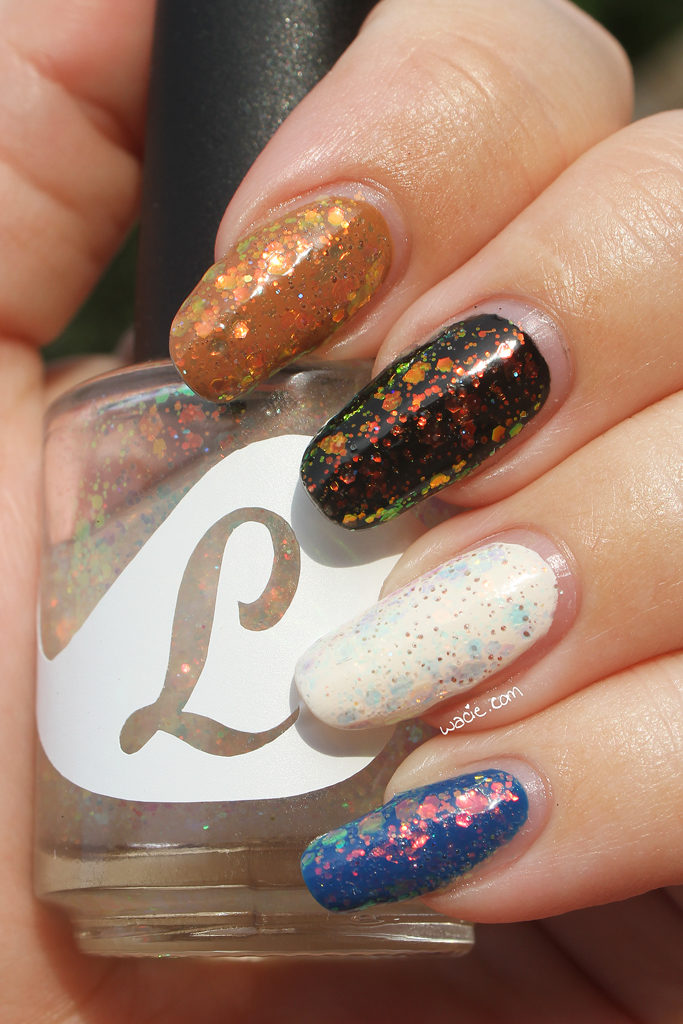 When I was talking to maker Lou at her booth, she told me I had to try it with a matte finish, so I did, and here are the photos of that. I definitely prefer the glossy finish, but I have to admit that the glitter looks pretty cool mattefied. I feel like the matte finish makes the shift a little less dramatic, but it still does happen, and still looks pretty cool.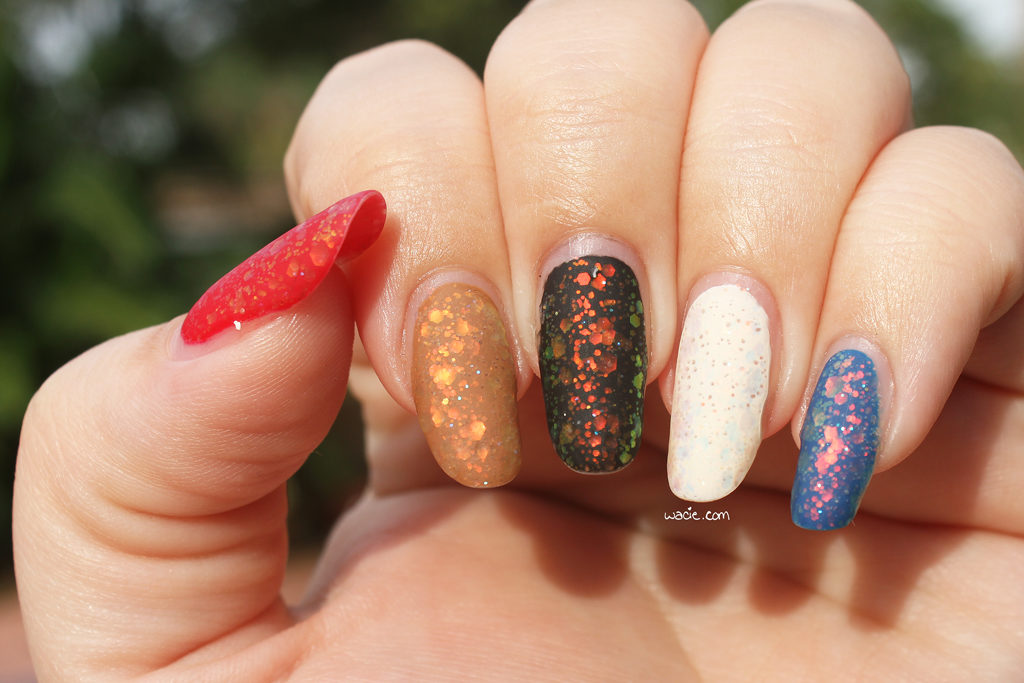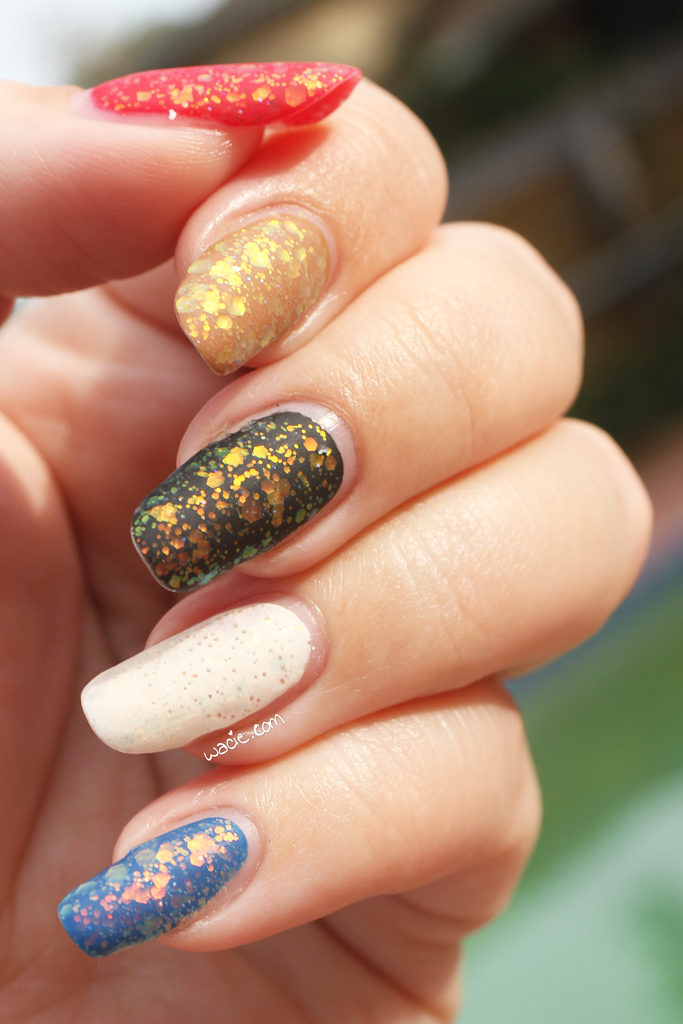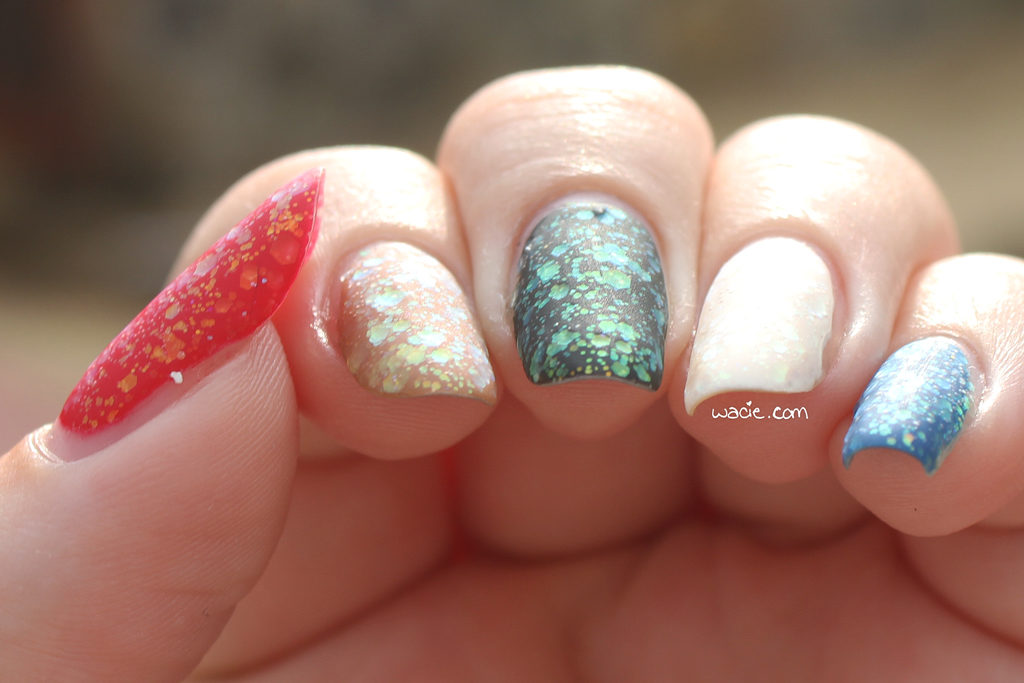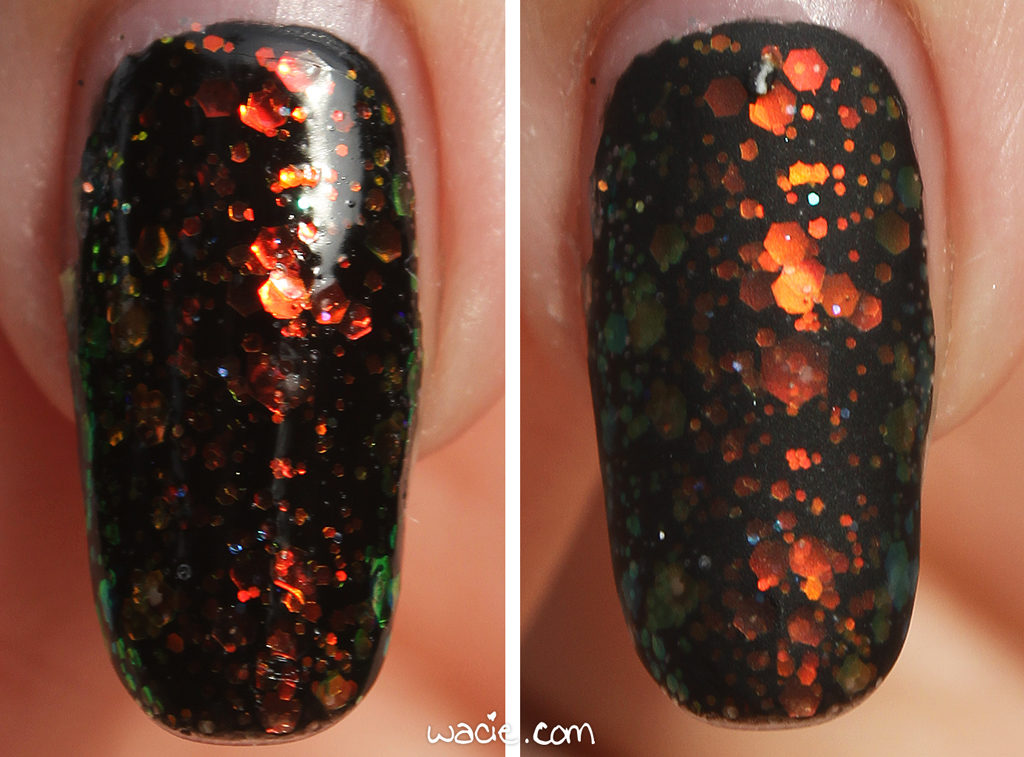 Unlike everything else I've shown you from my Indie Shop Atlanta haul, this is a polish you can actually still buy! As of this writing, It's Fall Over Me is for sale on the Bluebird Lacquer website.
I bought these polishes myself.