This post was originally written for my other blog, but since it's a relevant topic, I'll cross-post it.
I said I was going to get a better skincare routine this year, and I meant it. As I run out of things, I am going to be replacing them with products from Asia. Recently, I found myself running out of facial cleanser and had a gift card burning a hole in my wallet, so I started browsing Korean skincare shops online to see what I could find. My goal was to buy what I needed and then spend whatever I had left on samples. I had $50 and I was going to give it all to Roseroseshop. Explore Korean skincare with me!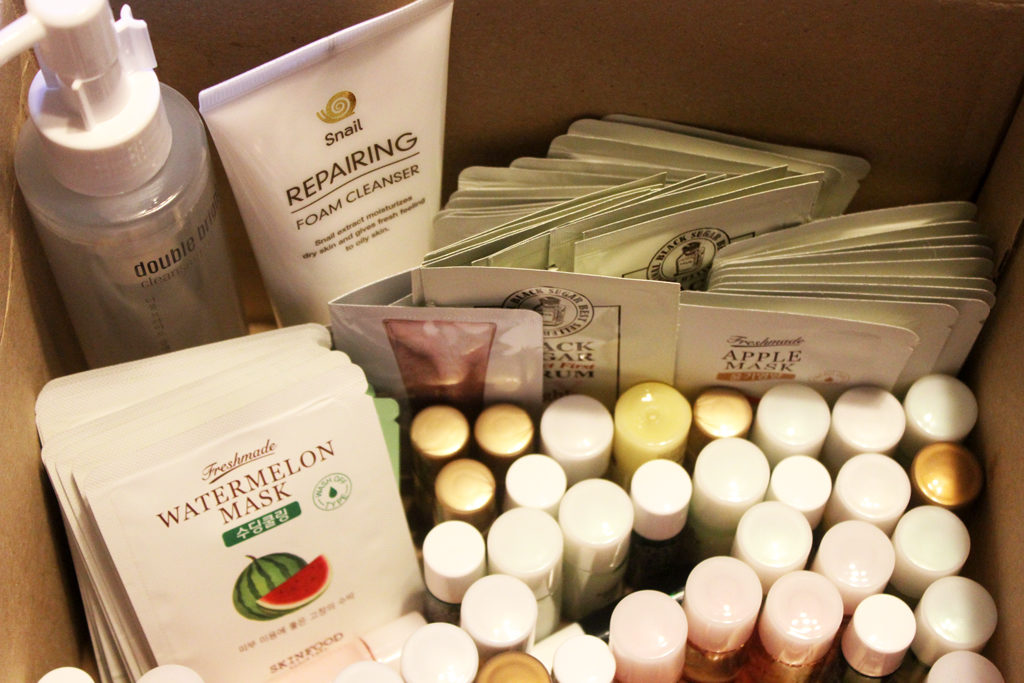 I started by replacing my cleanser. In accordance with the ten step Asian skincare regimen, I decided to buy both an oil cleanser and a foaming cleanser. I chose Goodal's Double Bright Cleansing Oil and Secret Key's Snail Repairing Foam Cleanser. I spent twelve dollars for both.
Now here's the sucky part: shipping. Shipping costs, after all was said and done, ended up being half of my budget and roughly the same amount of my order. I had a $50 budget, as I mentioned before, but I was only able to spend about $20, because shipping was also around $20.
So I spent twelve dollars on the cleansers, and the rest was spent on samples. I'd heard samples were yet another advantage to Asian skincare, but I didn't expect Roseroseshop to have such good deals on them. I got packs of multiples — sometimes packs of ten — for a dollar or less. These samples, of course, were likely the reason my shipping was so exorbitant, but that's life. The samples were most of my order, and I couldn't photograph everything. I'll list it, though.
Etude House
AC Clean Up Toner and Gel Lotion (four bottles of each)
TonyMoly
Timeless Ferment Snail Toner and Emulsion (two bottles of each)
Skinfood
Gold Caviar Emulsion (four bottles)
Premium Lettuce and Cucumber Toner and Emulsion (four bottles of each)
Premium Tomato Whitening Toner and Emulsion (four bottles of each)
Watery Berry Toner and Emulsion (four bottles of each)
Yuja Water C Toner and Emulsion (for bottles of each)
Aloe Watery Sun Water Gel (ten packets)
Black Sugar Perfect First Serum, Light (ten packets)
Fresh Apple Essence (ten packets)
Freshmade Apple Mask (ten packets)
Freshmade Pineapple Mask (ten packets)
Freshmade Watermelon Mask (ten packets)
The following were included as freebie samples:
Missha M Signature Real Complete BB Cream SPF25 PA++
COSRX AHA 7 Whitehead Power Liquid
COSRX BHA Blackhead Power Liquid
The Face Shop Dr. Belmeur Daily Repair Foam Cleanser
The Face Shop Real Blend Rich Cream Soap
I haven't tried everything yet, but I like what I have used. The Goodal cleansing oil melted waterproof Maybelline mascara off very quickly. The Secret Key snail cleanser is very foamy and I feel very clean after. The Skinfood aloe sunscreen had a lovely scent and absorbed well. The Missha BB cream was a bit dark on me, but gave me good coverage.
My first haul isn't perfect, but I'm happy with it. I feel very satisfied with my choices, and I can't wait to really get into using the toners and emulsions. I've also placed a second order from Roseroseshop because I'm running low on eye cream. I can't wait to brag about that, too!
So, have you used any of these products? Are you a K-beauty addict with advice? Let me know!
I bought these products myself.