Today I have two colors: one I absolutely love, one that's kind of meh. I also have a new technique that gave me a result completely unlike what I expected, and not in a good way.
Quite some time ago, cutepolish posted a tutorial for water spotting. It's done much the same way water marbling is; you drop polish onto water, but this time, you spray it with alcohol, which makes holes in the color. You dip your nail in, and like magic, you have this cool effect. Well, I got something completely different. It's not bad, but it's not what I was going for. I think the alcohol product I used may have been the culprit; I used a body spray that had been in the fridge for a while, so it's probably my fault.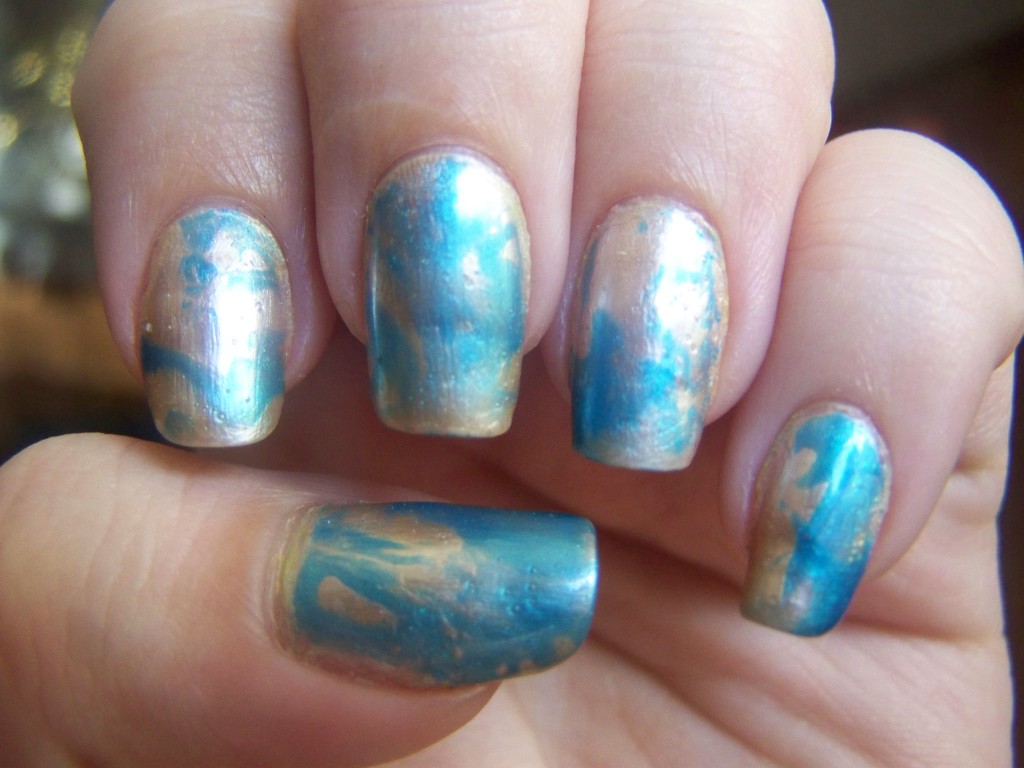 My two colors this week are Teal the Cows Come Home by OPI, and Amelia by Julep. Amelia looks beautiful in the bottle, but is rather sheer; I have on two coats, and you can still see my nail line. Teal the Cows Come Home is gorgeous after two coats, but after the marbling technique, the light color beneath, and whatever effect the alcohol may have had on the polish, the color is thin, barely visible in some places.
Having said all that, I like these colors together. The summer is ending, the last days are fleeting, and I feel that urge to preserve it, to capture it in any way possible. I dislike autumn; I dislike the cooling temperatures, the leaves, having to wear a jacket, the muted colors, all of that. Well, autumn itself isn't so bad, but it's really just a stepping stone to winter, and winter and I aren't friends.