Happy Monday! It's still Monday somewhere, so let's take a look at my mani this week. For this look, I used Color Club's Daisy Does It and Ellagee's Chronic Badass. I'm pretty chuffed with it. I'm also thrilled with the photos, since I'm still on my backup camera; I can't believe this is the same camera that took last week's sad photos.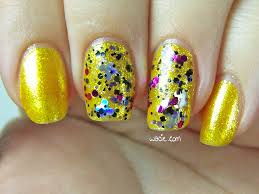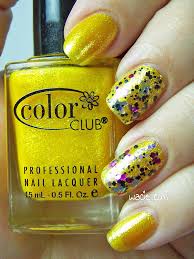 Daisy Does It is gorgeous, and I was afraid I — or the backup camera — would fail to do it justice. It's a sheer yellow with yellow-to-gold shifting flecks, but I couldn't get the shift to show up in the studio. Everything else is accurate, though: the lemon yellow, the barely-there nail line, the tons of shimmer that make it almost metallic. I love this polish and the rest of the collection; the shades are pretty simple but have tons of dimension and personality.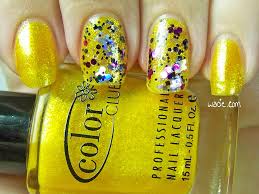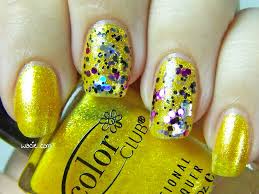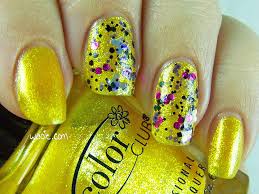 I've loved Chronic Badass ever since I swatched it earlier this year. I picked it to go with Daisy Does It because I just love purple and yellow together. Before I put it on, though, I had my doubts. I didn't want the pink and purple glitters to interfere colorwise with the green shift, but it actually looks pretty cool. The shift only shows up in certain lighting conditions anyway, so I worried over nothing. The shimmer itself is really powerful and seems especially so on the accent nails. The topper makes it seem much glassier than the nails without it. It's gorgeous.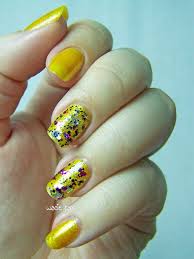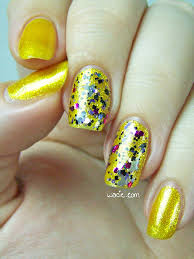 I hope to have the camera fixed in time to start weekend swatches again; the camera place nearest me is only open 8 to 5 Monday through Friday, so finding the time to get there will be a challenge. I've missed my blog, though. I miss my camera.
I bought these polishes myself.