Welcome to Swatch Sunday! Today's polish is Cornwall from Nails Inc. I'm wearing one coat over China Glaze's Pelican Gray, Essie's Good Morning Hope, and Julep's Bess. All nails are topped with one coat of Seche Vite top coat.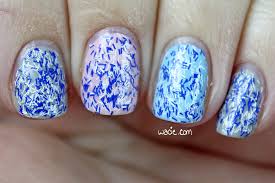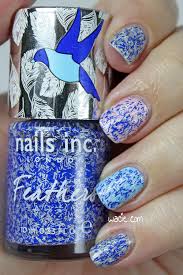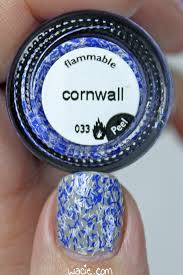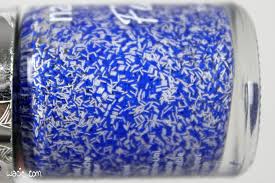 Cornwall is a clear-based glitter topper with matte blue and white short bar glitters. Application was easy enough; the glitters stick to the brush well, and the base consistency is such that the polish doesn't drip off the brush or pool on the nail. However, this means it also doesn't spread evenly, which makes the glitter drag and clump on itself. This can result in a heavy application in some cases. The bar glitters are short, so they don't lean off the edge of the nail like the longer ones do. The polish dries quickly and with a textured finish. I used top coat for smoothness and shine.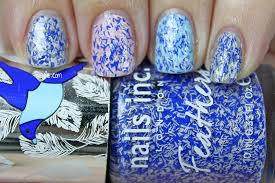 I have to admit, I have a hard time calling this a glitter polish. I think that's what made the feathered topper trend so successful, albeit short-lived. Even though there was nothing new about either glitter toppers or bar glitters, this was still a pretty unique look that anyone could achieve. I still think it's a cool look. It's a shame these polishes didn't really make it past 2013.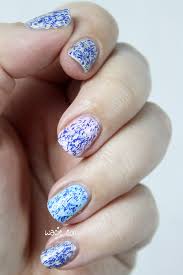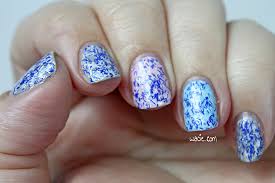 The sun's been good to me; I've been able to get direct sun pictures for the past few posts. These photos were taken outdoors in the late afternoon. I'm grateful; it's helping me improve my macro game.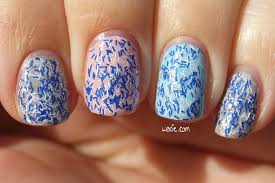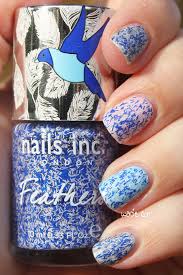 Cornwall and the other Feathers polishes seem to be discontinued by Nails Inc. Other Nails Inc. polishes are available at Sephora, which is where I got this one.
I bought this polish myself.