Hey reader! It's the first Empties Roundup of the year! This was an exceptionally good month for used-up products, and I'm irrationally excited. Let's take a look! I know you want to see all these cut-up tubes.
Carol's Daughter Sacred Tiare Restoring Hair Mask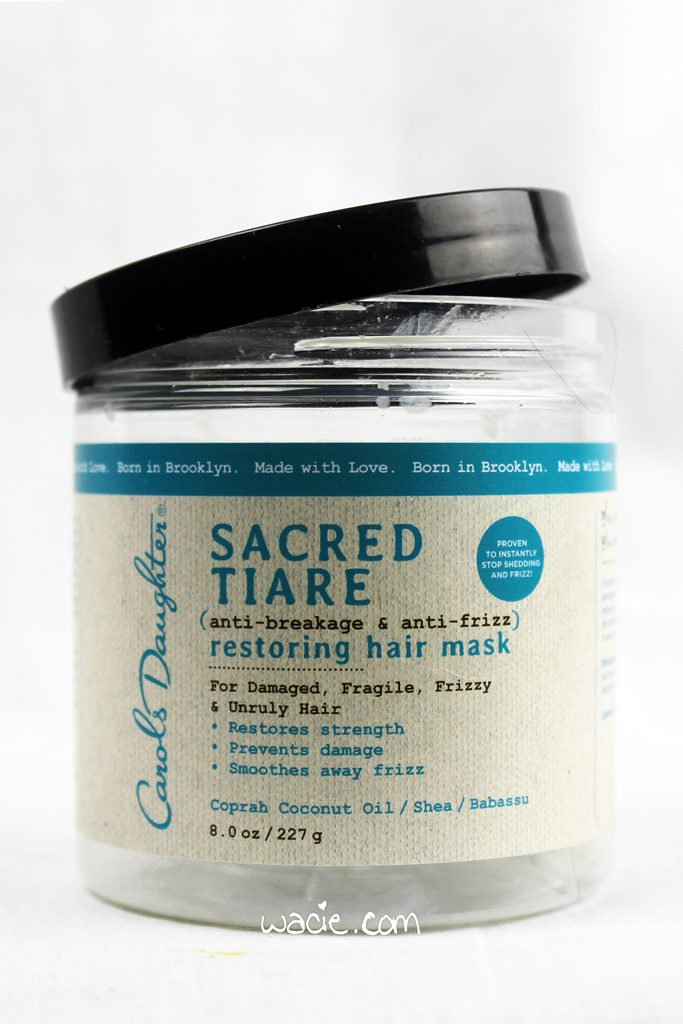 I loved this stuff. It was very rich and really did lovely things for my dry, damaged, all-over-the-place hair. The gardenia fragrance was very strong also, which was probably my favorite thing about it. I've replaced it with the It's a 10 deep conditioner, which I don't like quite as much.
Organix Ever Straight Brazilian Keratin Therapy Shampoo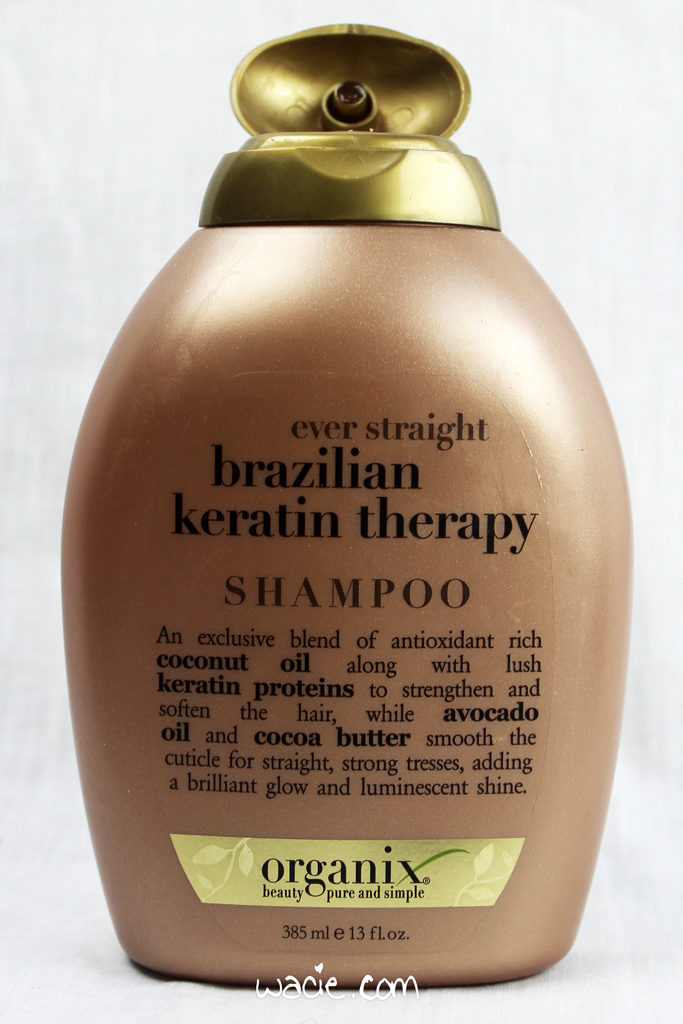 I'd heard good things about Organix's keratin stuff, and I like their stuff in general, so I gave this a shot when I started straightening my hair. The plan was to just keep using my beachy wave shampoo until it was gone, but I'm glad I didn't wait. My hair was a lot smoother after straightening with this shampoo compared to the beachy wave stuff. I might repurchase, but I also might move to that L'Oreal sulfate-free stuff everyone is talking about.
Formula 10.0.6 Best Face Forward Foaming Cleanser, mini size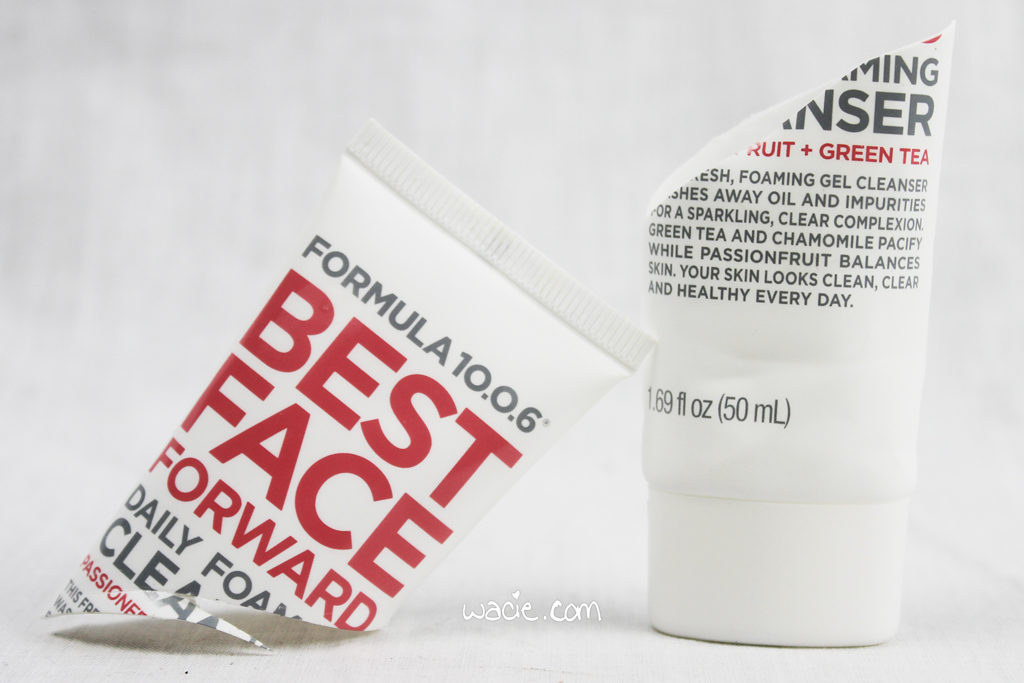 I'd never heard of this brand before, but when I was vacation shopping last year, I found this in a travel set in Old Navy; it came with this cleanser, a small bottle of toner, some cleansing wipes, and a small tube of mud mask, all in a TSA-sized bag. I'd used most of this while I was travelling, and only recently pulled it out to finish it up. I liked it; it foamed, but didn't make my face feel too dry after. I'd consider rebuying.
Evian Brumisateur Facial Spray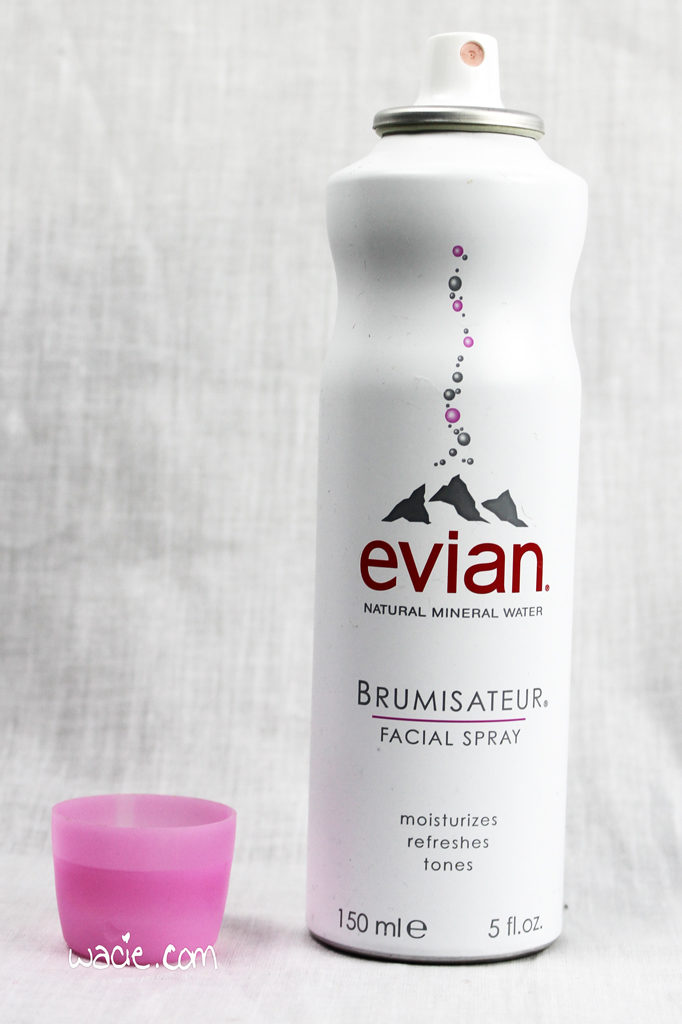 This marks the first time I've ever used up a press sample. I'm a little sad it didn't last me until the summer, when I would like to use it for basic refreshment. In its last days, this spray served as a skincare refresher; I sprayed it on my skin when my skin felt dry, reviving my moisturizer a little. I may repurchase, but I'm also looking into other facial mists, so we'll see.
Estée Lauder Perfectly Clean Foam Cleanser, mini size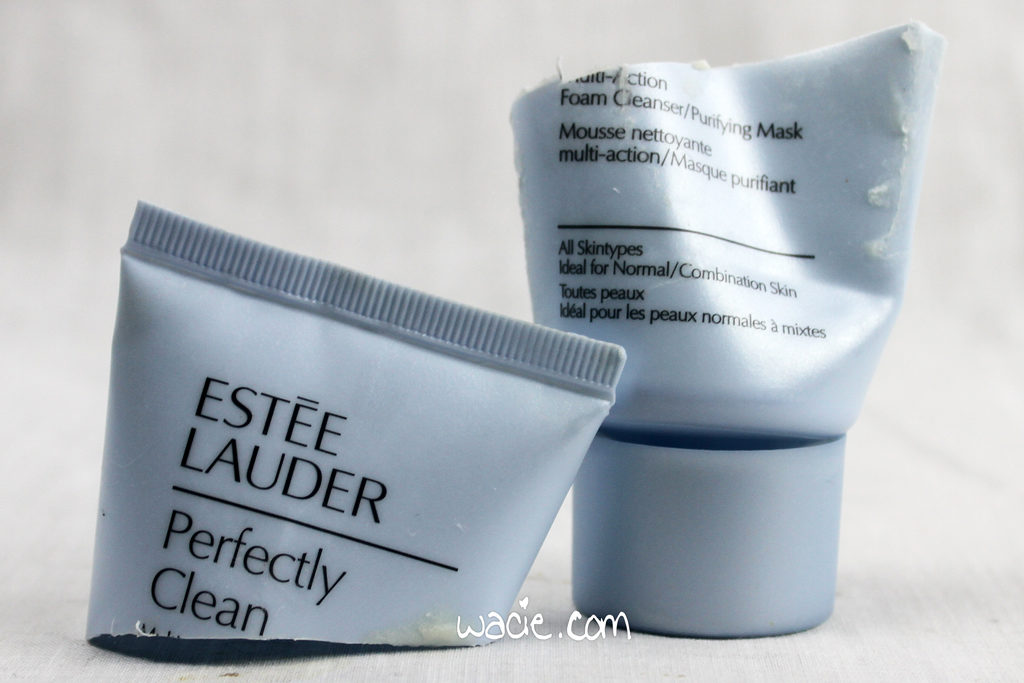 This was another one that was in my travel bag that I just needed to finish up; in this case, the cap broke and the product was going to dry out if I didn't. I like these really dense and foamy cleansers, but this one felt harsh and stripped my skin. No thanks.
LaRoche-Posay Anthelios 60, sample size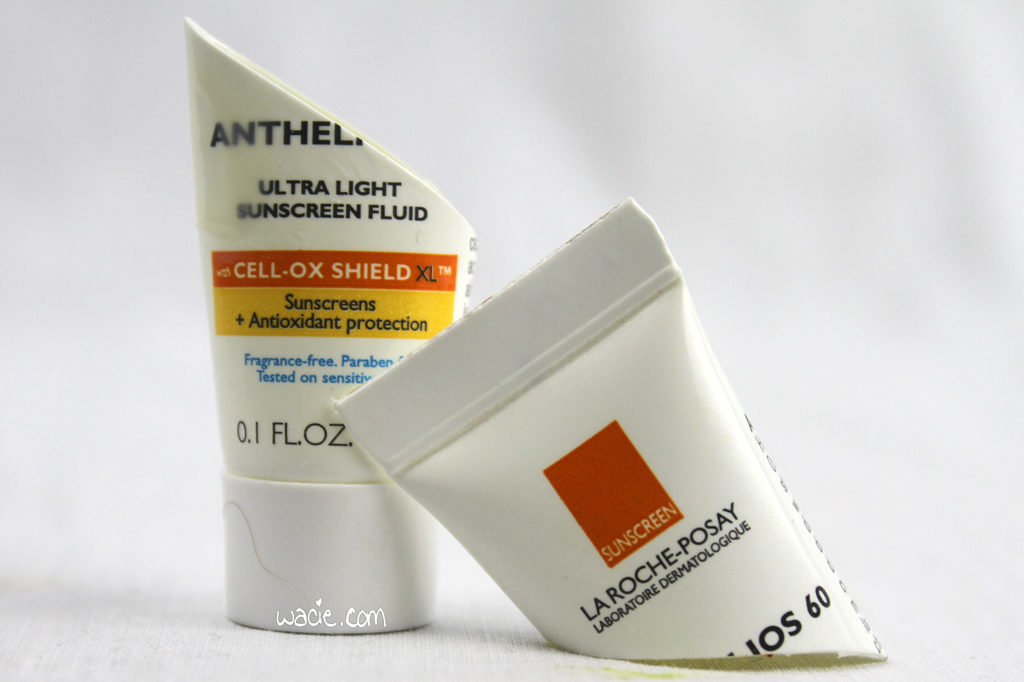 I was about to throw this away because I'd had it for a while and thought it was expired. When I saw it expired in February, I knew I had to use it up. I'm actually really impressed by it. I have bad sunscreen habits because every sunscreen I've used before now is a white, goopy mess, but this one was different. This one was light, had a pleasant smell, and absorbed into my moisturizer very quickly. I may purchase a full size.
GlamGlow ThirstyCleanse Daily Hydrating Cleanser, mini size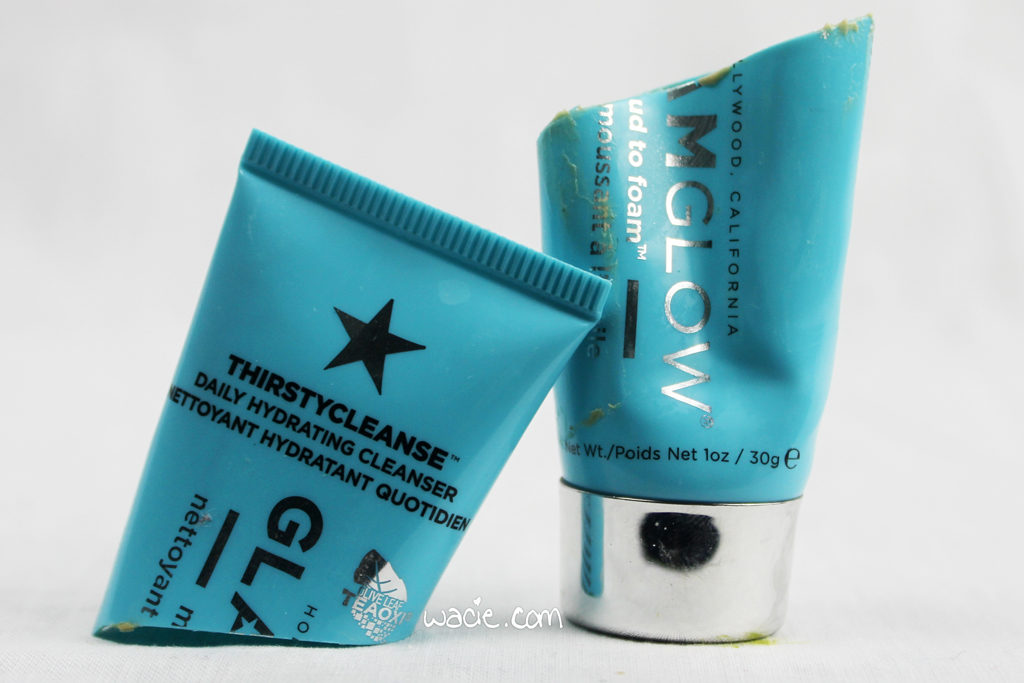 I got this in an ipsy bag, and I kept it in my travel bag until I ran out of cleanser in the shower and had to dig it out. I've heard so many mixed reviews of GlamGlow products that I didn't have high expectations for this, but it wasn't too bad. My skin felt clean but not dry after, which I liked. The tube, though, says it foams, which I did not find to be the case. I wouldn't mind another one of these tubes, but I don't know if I'll actually buy one.
Sheet Masks: Utena Puresa CoQ10 Mask and The Creme Shop Drink Up Skin Hyaluronic Acid Mask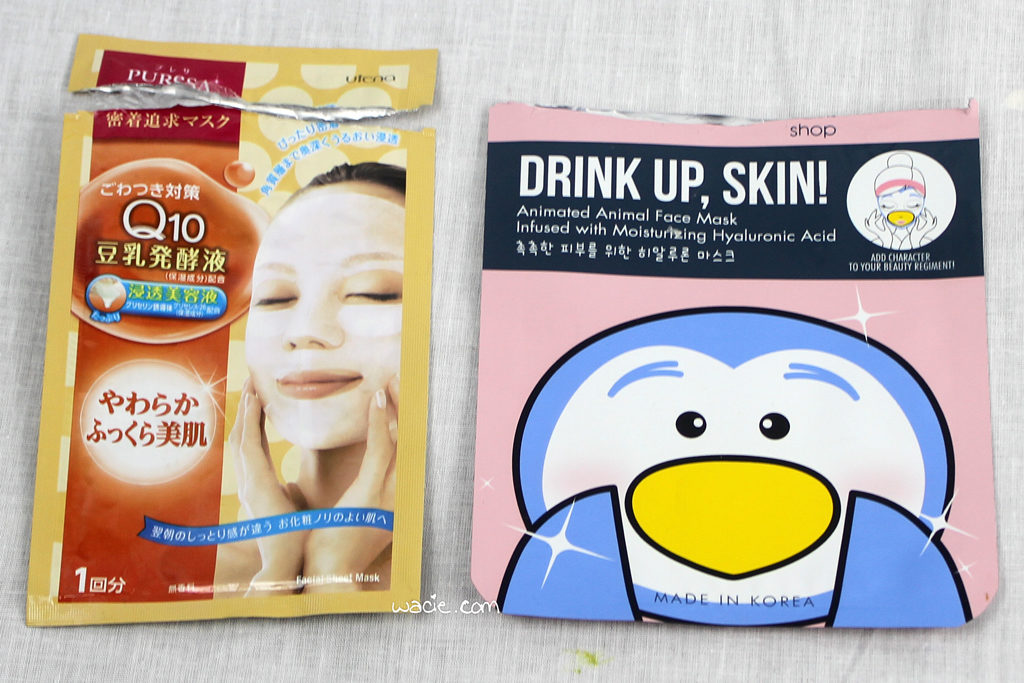 So it's not a secret that I went on a huge sheet mask binge recently. It's time to use some up! The CoQ10 mask was one I already had, and the penguin mask is new. Before I would just rotate all the different masks I had so I used a different one every week, but now I'm trying to listen to my face and give it what it wants. Also, I found out what I look like as a cartoon penguin. Verdict: frightening.
Skinfood Pore Control Fresh Apple Essence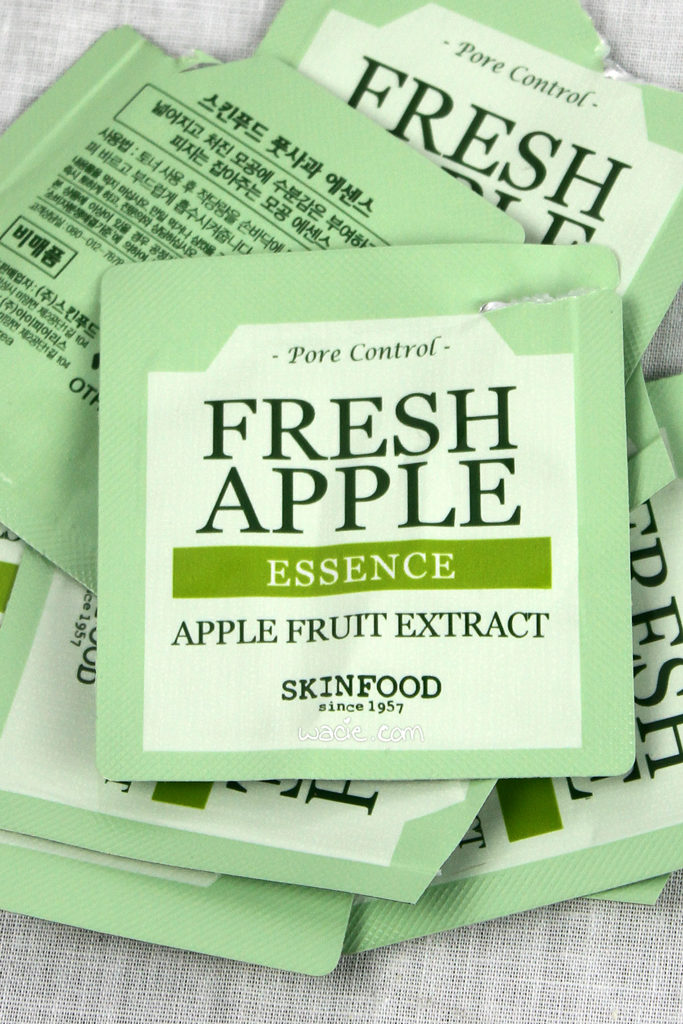 These are from my Roseroseshop haul. Even though they're packets, I'm reviewing them as a single entity. I liked this stuff; it had a nice scent and made my skin feel moisturized and balanced after application. I feel like it did help with my skin's oil production a bit, since I notice a lot more oil since I've run out. I think I will purchase this in a full size in the future, but not this time; I've replaced it with the 3W Clinic's placenta essence.
Miscellaneous Packets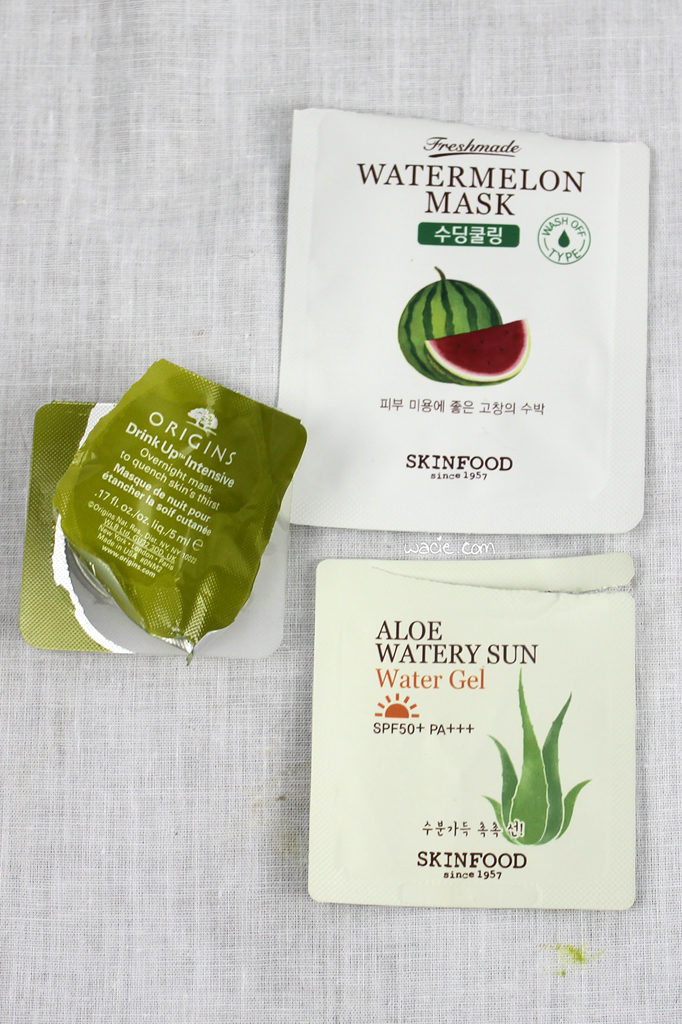 More stuff from the haul! I only have quick notes about these. The Origins Drink Up Intensive mask was really nice to use; you have the choice of washing it off or wearing it overnight, and I chose the latter. It was still moist and sticky when I woke up, though I had some trouble sleeping with it on; I was afraid to roll over and soil my pillowcase with it. The Skinfood watermelon mask pack was awesome; it was strongly scented of watermelon, and made my skin feel soothed and refreshed. The Skinfood aloe sunscreen was also very nice; it was a lightweight sunscreen like the LaRoche-Posay. I've only used this packet, but I look forward to trying the others.
Pacifica Indian Coconut Nectar Hand Cream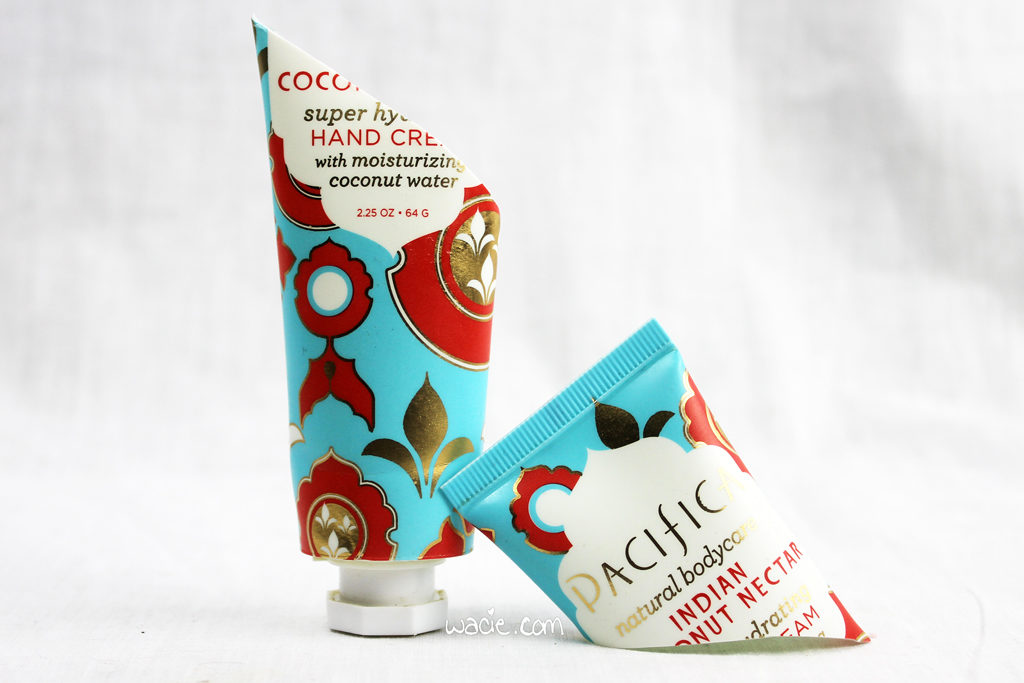 This was good stuff. It was a lightweight lotion that absorbed quickly into skin and had a very nice fragrance. I don't feel like it lasted very long though, because I was constantly reapplying. I replaced with Proclaim's Coconut and Macadamia Oil hand lotion, though this is almost gone as well.
Trader Jacques Savon de France, Oatmeal Exfoliant Ginger Almond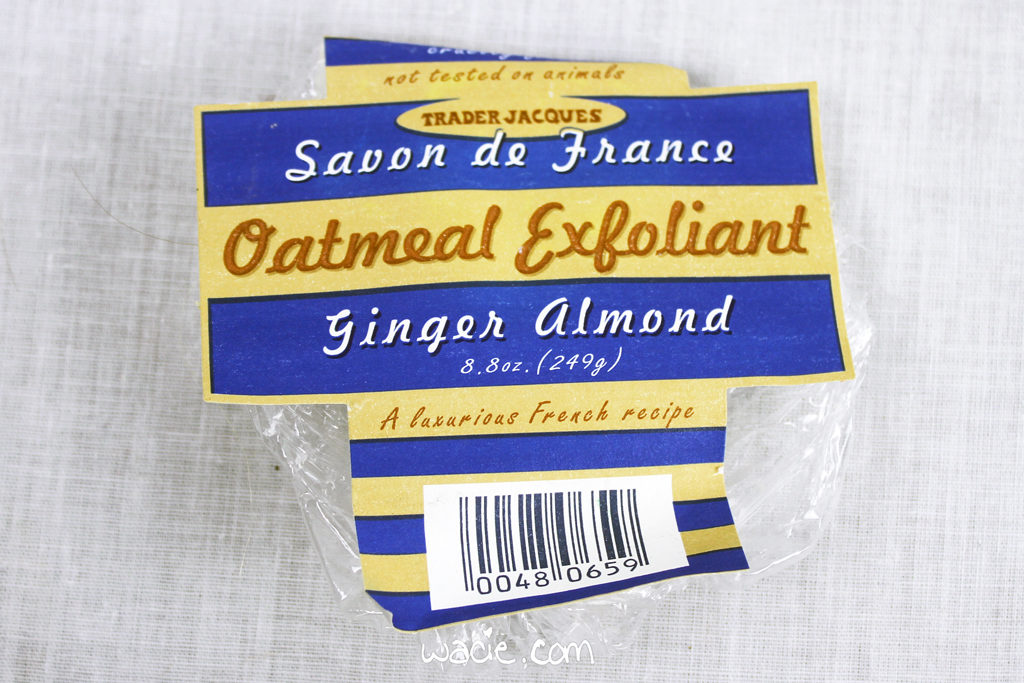 So Trader Joe's is still a bit of a novelty here; there's one store across town. Boyfriend bought this for me on one of his solo trips there. It was a pretty nice soap actually. It was creamy, it foamed well, and lasted a pretty long time. It contained big pieces of oatmeal, which probably isn't effective as an exfoliant, but I liked it anyway. I've replaced it with a tea tree patchouli soap I bought in Hawaii.
SheaMoisture Fruit Fusion Coconut Water Energizing Hand & Body Scrub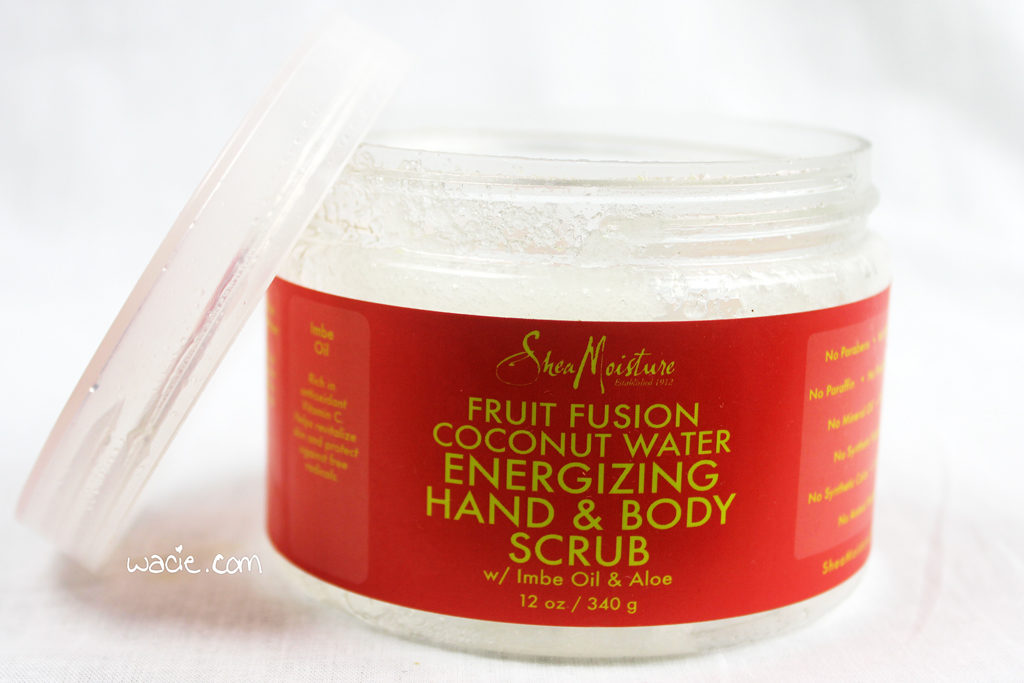 You know I love these scrubs. This was pretty typical of the SheaMoisture sugar scrub; it's abrasive (but feels good) and leaves an oily sheen on my skin. I will always repurchase these.
JĀSÖN Gentle Basics Day Lotion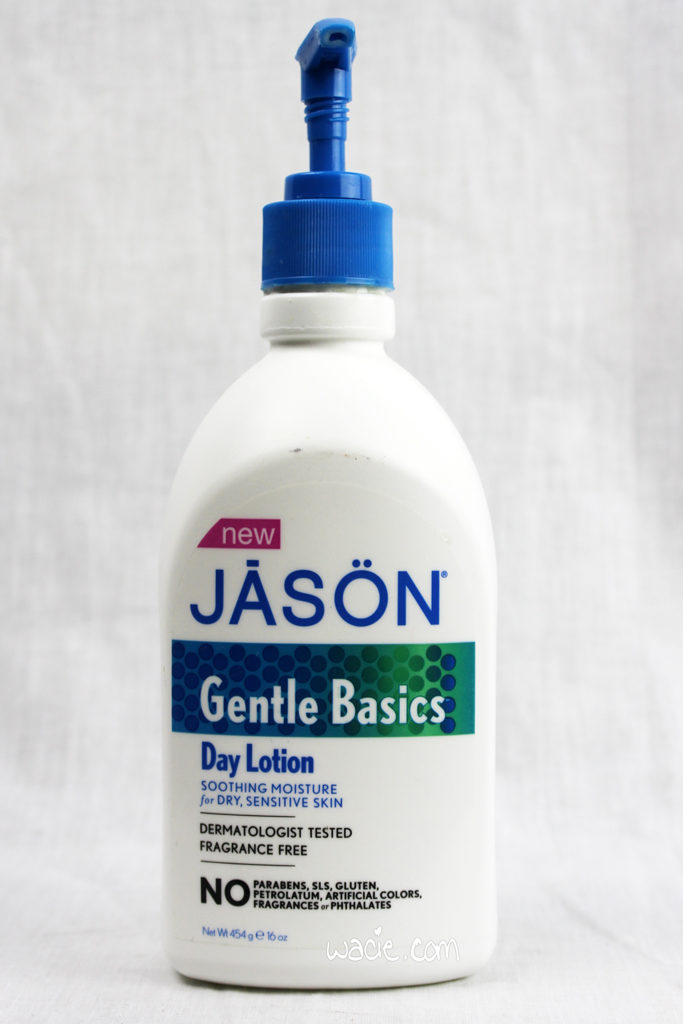 I bought this because it was on sale at Target. The lotion consistency was on the thin side and took a longer time than usual to work into the skin, but I did feel moisturized throughout the day. I'm not sure I'll repurchase this, but it wasn't bad.
NSpa by Nirvana Spa Exotically Creamy Coconut Body Mist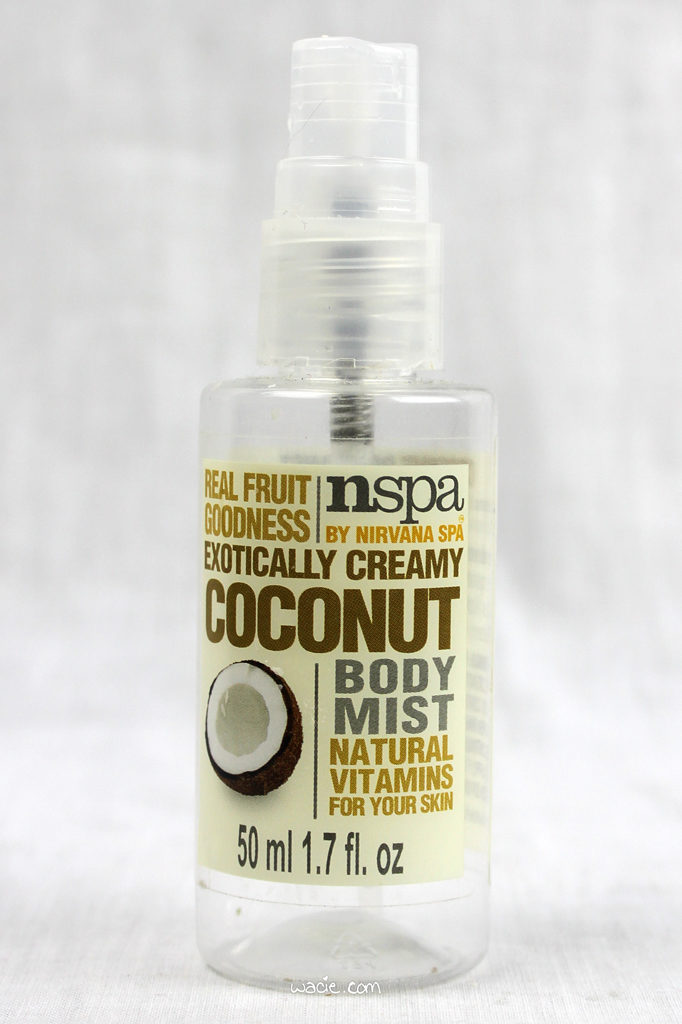 I have compeletely gotten out of the habit of using body spray. I used to be an addict like ten years ago, but I'd always forget about it and it was the last thing I used up in a Bath & Body Works buy — the lotion and shower gel would be gone long before — so I stopped buying it. I got this in a set as a gift; the shower gel is in my shower now, and the spray, when I remembered to use it, didn't last as long as I thought it would.
Grand Hyatt Kauai Anara Spa Cocomango Massage Bar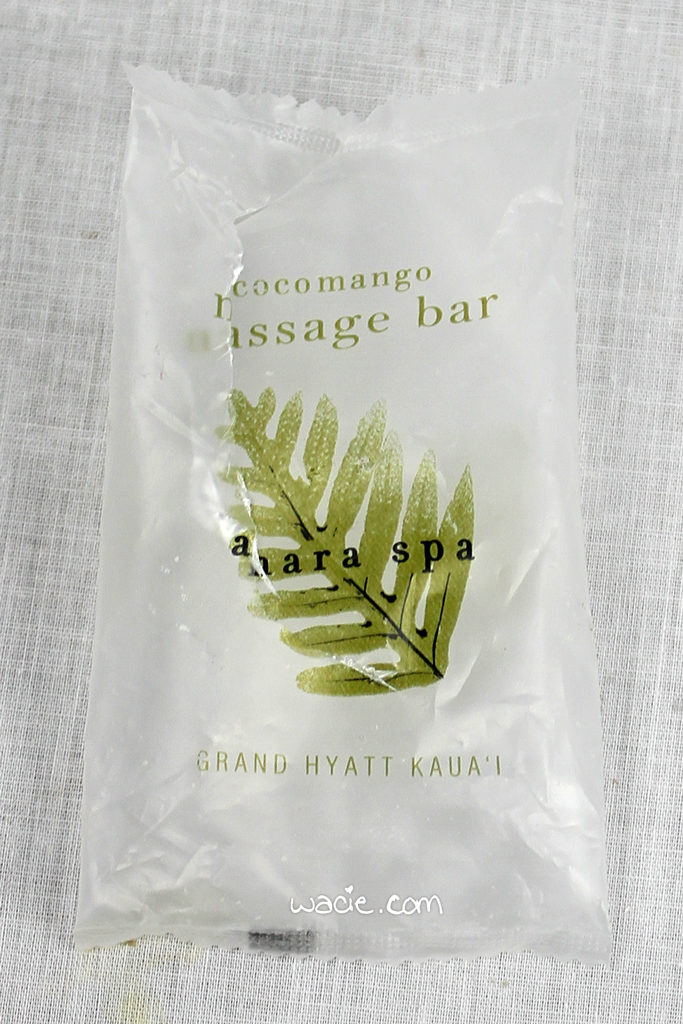 This is the nicest hotel soap I've ever used. It had some dried leaves in it that exfoliated, and had those round nubbies on one side that feel really good when you wash with the bar itself. Those wore down pretty quickly, but the soap quality was very good, the scent was strong, and my only regret is that the hotel did not have more I could have stolen.
That's the roundup for January! Be sure to tell me in the comments what you used up and if you've tried any of the products I emptied out. This was a good month for me and empties, I think next month will be good too!
I bought these products myself, except for the ones that were free samples.
And except the Evian facial spray. That was sent for a review unrelated to this post.
Loading InLinkz ...