Welcome to this week's Manicure Monday! The weekend is over, and we're back to work! My look is week is something simple and fun; I'm wearing Julep's Claire with Finger Paints's Psychedelic Hue, topped with Seche Vite and Hard Candy's Just Matte top coats.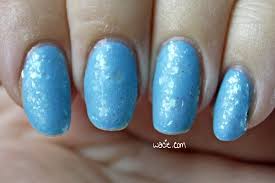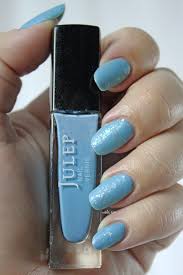 Claire is my first Julep polish, acquired even before the blog started. It may also be the Julep I've used the most, because it's now about three-quarters empty. A couple years ago, when I discovered watermarbling, Claire was one of the few polishes I had that really spread out in the water, so most of it got used for that. I loved the watermarbling process and I would sometimes get out the cup and toothpicks out just to make designs. I'd dip in anything handy — lighters, lip gloss tubes, compacts — just to entertain myself. I quit when I saw how much polish I was wasting. I love Claire a lot; I got away with two coats today instead of the usual Julep three.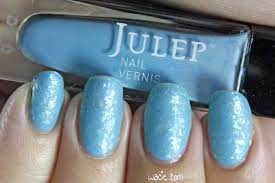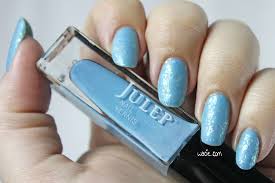 Psychedelic Hue, like the rest of the Finger Paints Kaleidoscope flakie topper collection, is just amazing. The flakies contained are primarily in blues and greens, but I do see some pink and purple at some angles. This topper makes my nails look like priceless blue opals. The flakies were very easily applied; I didn't get too much excess lacquer, and pretty good coverage on one coat. I still used two, just for over-the-top flakie goodness.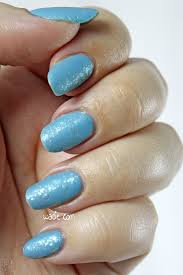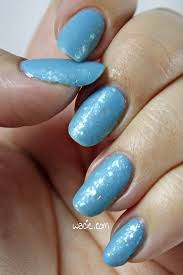 I used the matte coat here — for the second week in a row, how unusual! — for maximum flakies visibility. With just the Seche Vite, the colors from the flakies were pretty obvious, but the definition of the individual flakes were mostly lost. I wanted to see the colors and the detail at the same time.
Overall, I think this is a fun look. It's simple and not very flashy, but it's a ton of fun to look at.
Julep is sold at julep.com, though Claire is out of stock. Finger Paints is sold at Sally Beauty Supply, though Psychedelic Hue has been discontinued.
I bought these polishes myself.