I am really, really late to the magnetic polish party. I bought this one a really long time ago, right when I heard Sinful Colors had a magnetic collection out; they were pretty late to the party, and this was months, if not a year, ago. So here I am, hopelessly chasing a bandwagon that's long since been abandoned for Liquid Sand.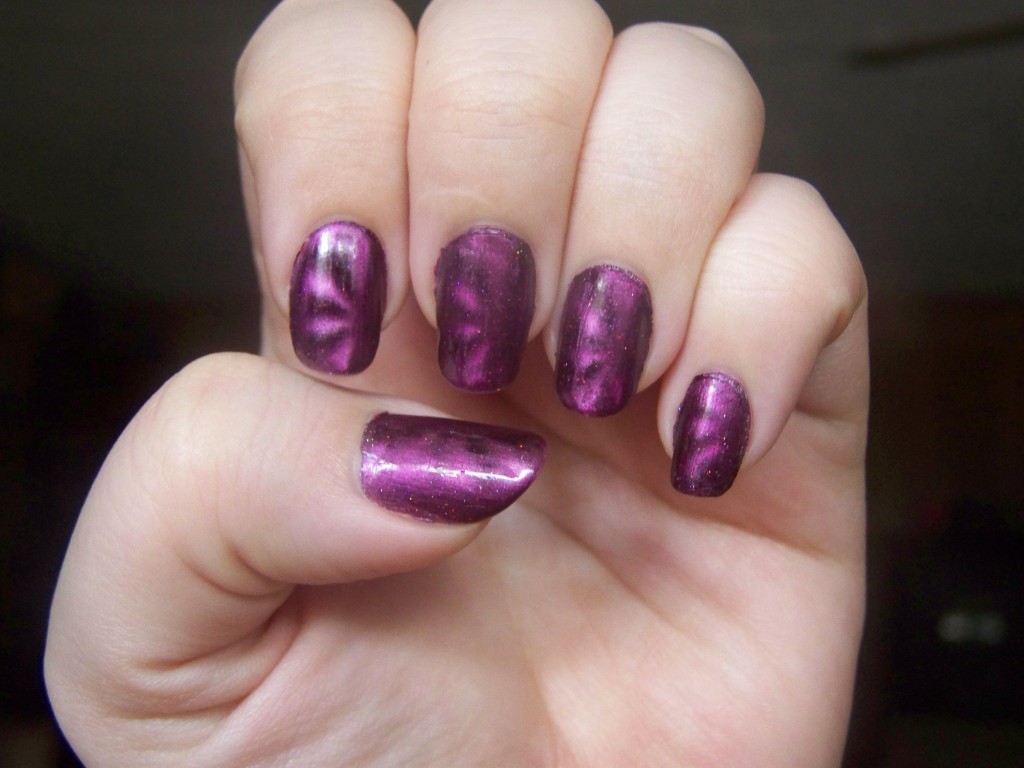 I don't know what went wrong with these, I really don't. On my test nails, it came out perfectly; the starburst design was always sharp and centered. On my own nails, the starburst shape leaned to the left a lot, but I was okay with it; it kind of reminded me of a lens flare, or a Rising Sun flag. The design was clean and visible, at least until I pulled the magnet away and it began to dry. Now it's faint, vague, and easy to overlook.
Despite that, I kind of like it. I like the polish in general; before applying the magnet, it was a deep plum color with a fine rainbow shimmer. Part of me wishes I'd just left it alone. The shimmer's still easy to see, but it looks like many of the colors are missing. I also used the Out the Door top coat on this manicure, and I'm still unsure of how I feel about it. I do miss Seche Vite, somewhat. Out the Door was a bit easier to clean up, but my nails still feel kind of flexible, and I'm worried about breaking them. Seche Vite was so rigid that it was like a suit of armor over my nail polish. I didn't have a break the entire time I used it.
I'm not sure my nails have ever been this long. Maybe one or two have been, and were cut because they were longer than all the others and looked like coke nails. For a few months, I cut them to fingertip length, because they always broke if they got very much longer, but I got tired of having short nails. I started taking biotin, and the difference it has made is amazing. Comparing the first photo I posted with this most recent one, I can't believe they've grown so long so quickly. Of course, I hit them on everything now, and my typing accuracy suffers somewhat, but who cares? They're pretty!