Happy Sunday! My swatch today is a patrotic offering from Julep, simply called America. There's a part of me weirded out by shows of patrotism like this, especially between holidays, but it's so glittery and flashy that I almost don't care. For the post today, I'm wearing three coats of America; the first six photos are taken without top coat. All photos were taken in direct sunlight outdoors.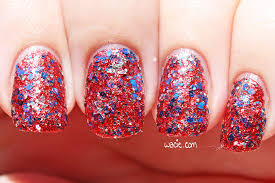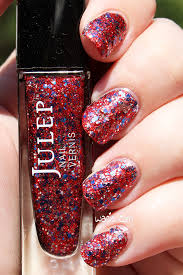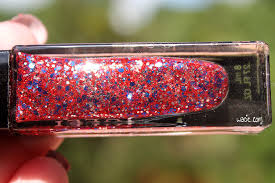 America is a clear-based glitter topper that consists mostly of fine red metallic glitter, but also contains larger blue and silver glitters and silver stars. Application wasn't bad; the product consistency was pretty thick, edging on goopy; three coats of goopy polish isn't fun for anybody. After it dried, which was about five minutes after each coat, it left a finely-textured crust of glitter. I did add two coats of Rica's Glossy Glam to smooth it out, which looked fantastic, but added yet another thick layer of stuff to my nails. The tips shrank up right away.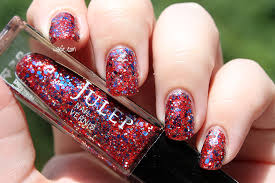 Patriotic or not, this is a gorgeous polish. The red glitters shine like ruby slippers, and the blues and silver stars are bonus. In fact, it's entirely possible I bought this just because it has star glitter in it. With or without top coat, this polish is very shiny, especially in sunlight. It's just a ton of fun to wear. The following photos were taken with top coat.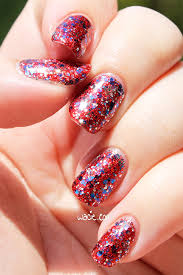 America may be discontinued by Julep, as it's out of stock on their website.
I bought this polish myself.