Happy Monday, reader! I did a great time doing today's manicure, and I hope it shows! For this look, I used OPI's I Just Can't Cope-acabana and Live, Love, Carnaval with Blue-Eyed Girl Lacquer's Get Too Close to the Flame. All nails are topped with one coat of Gelous. Because of a chip that occurred in the polish between photography sets, I'll be showing you the daylight photos first. These were taken in direct sunlight outdoors.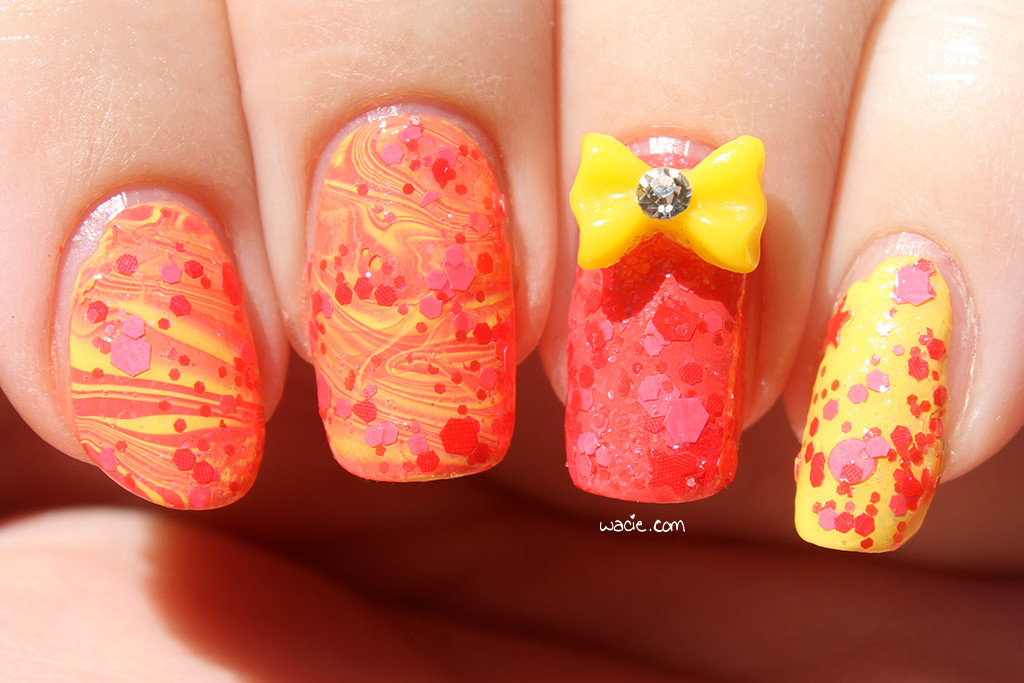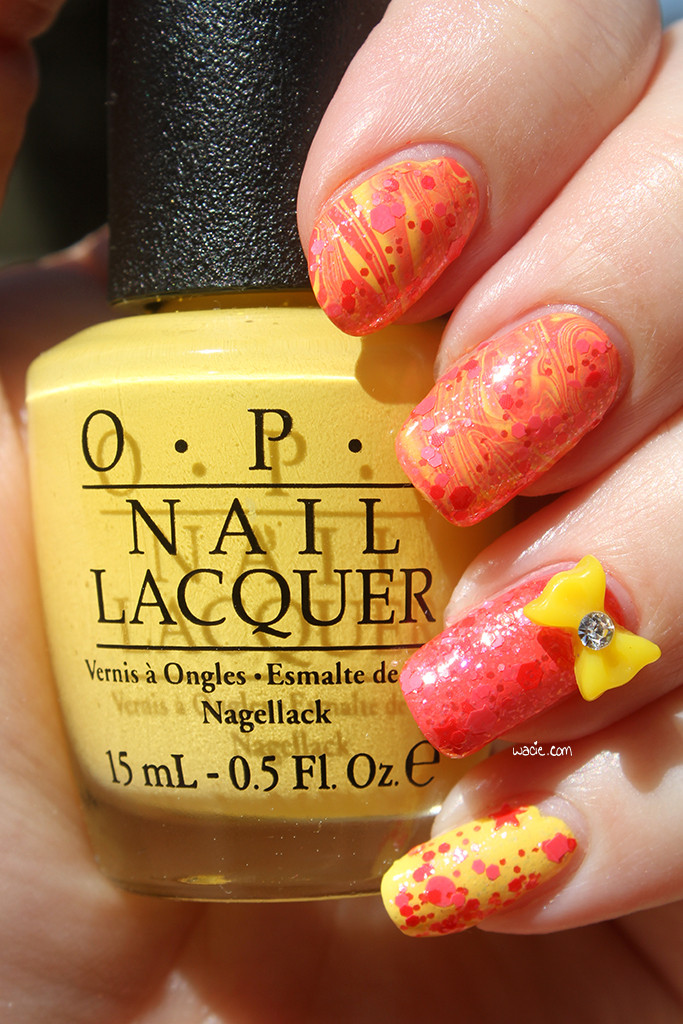 I Just Can't Cope-acabana has been on this blog a lot lately; I've used it as the undies for glitters on at least three different swatches, and I've used it so much that it's starting to show the fill line. Yellow can be hard to work with sometimes, what with the streaking and failure to level itself, and this is no exception, but it's a really nice color. It's a pretty neutral yellow and works with just about everything. I love the way it looks here with Live, Love, Carnaval; I didn't think to pair these two until the last minute, and I like the way they look together. I mean, they should, they came from the same Brazil collection. They set each other off in just the right way, and they both marbled like a dream.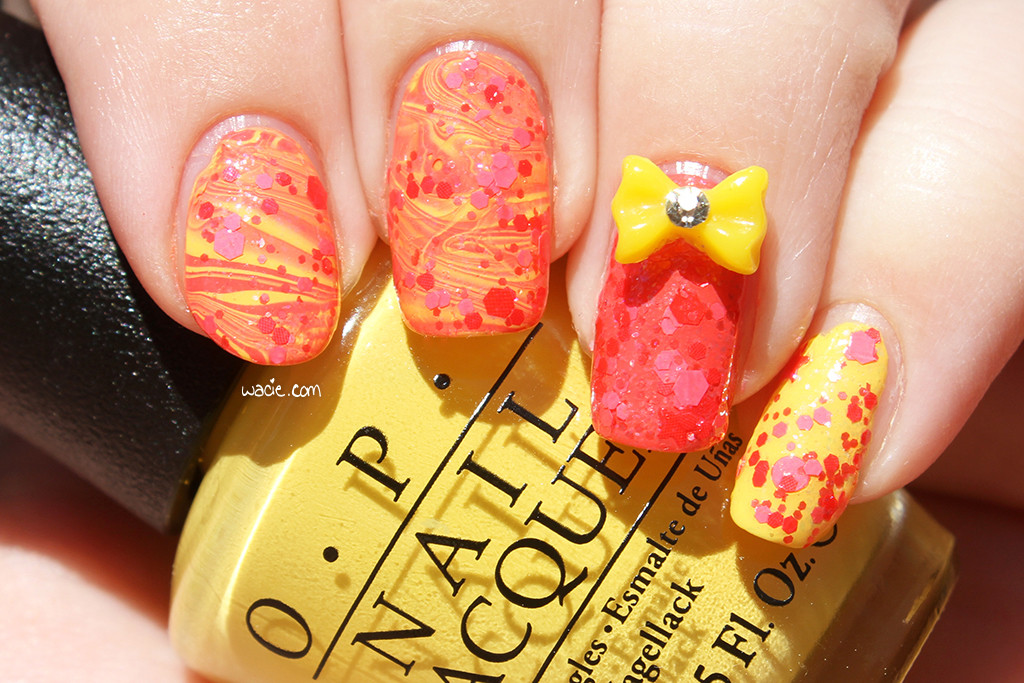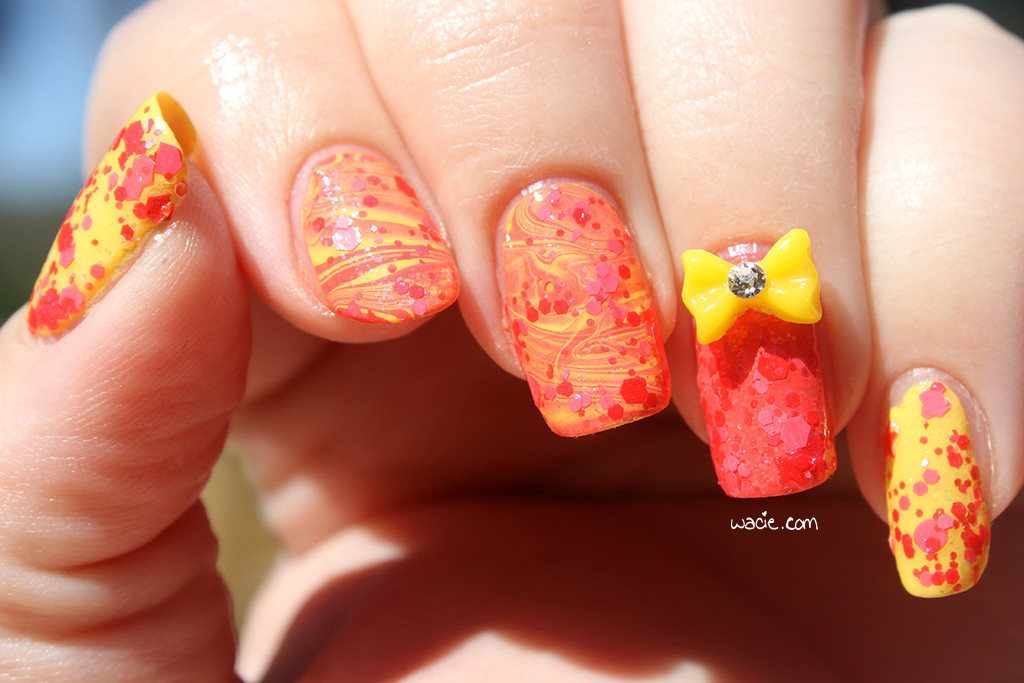 So let's talk about the chip on my index finger. I have no idea what caused it, only that it appeared sometime taking the daylight photos and taking the indoor photos. I'm pretty sure it's a problem caused by Gelous. I know it's not really meant to be used as one, but I ran out of Seche Vite and I don't know when I'll be able to get another bottle. It's incredibly frustrating, because it takes a century to dry on its own and I keep smudging it hours after I thought it was dry. I miss Seche Vite so much.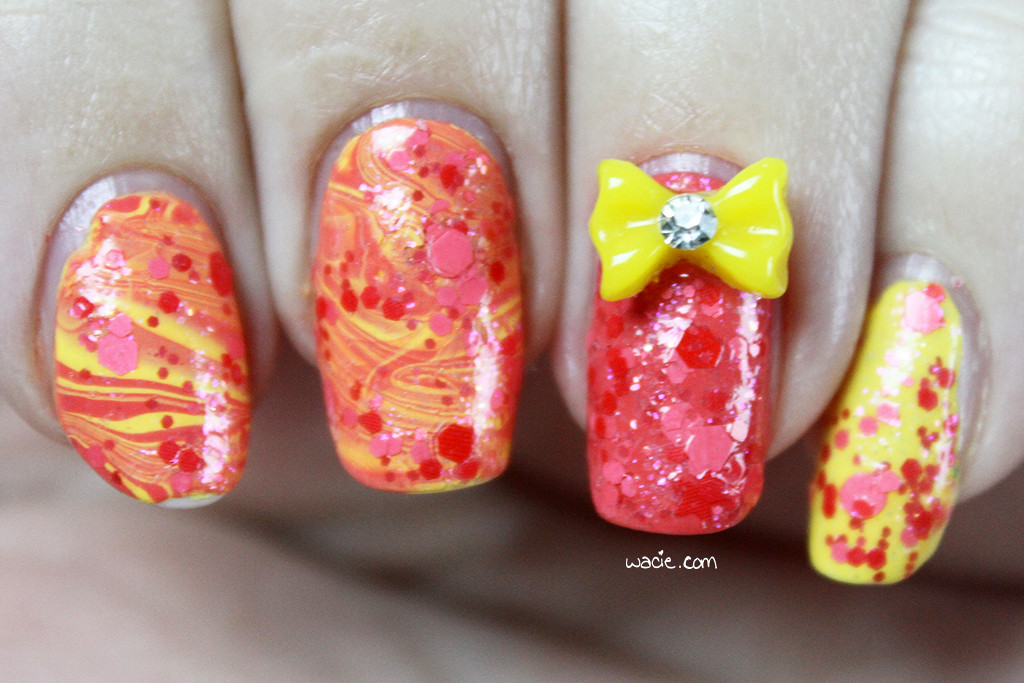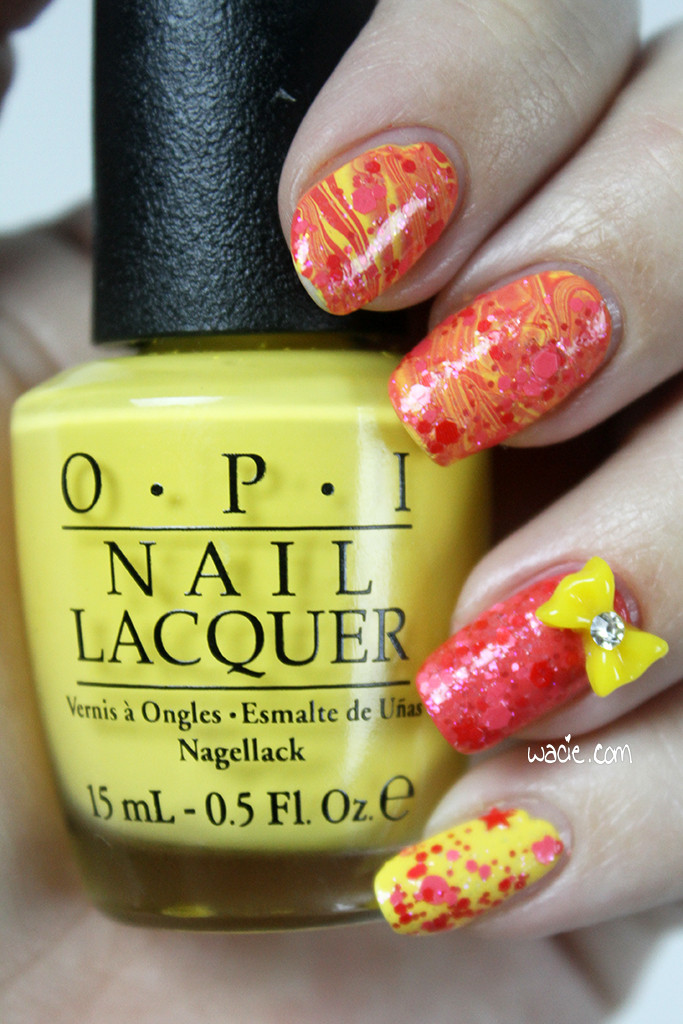 I've watermarbled before, but this is the first time I've tried the horizontal swirl; usually I stick to the flower or the pinwheel. I don't think it looks too bad. I think I used too many rings, or maybe I made too many strokes in the polish, but it can be pretty tough to tell the colors in the marble apart; from far away, it just looks orange. I still like it, though.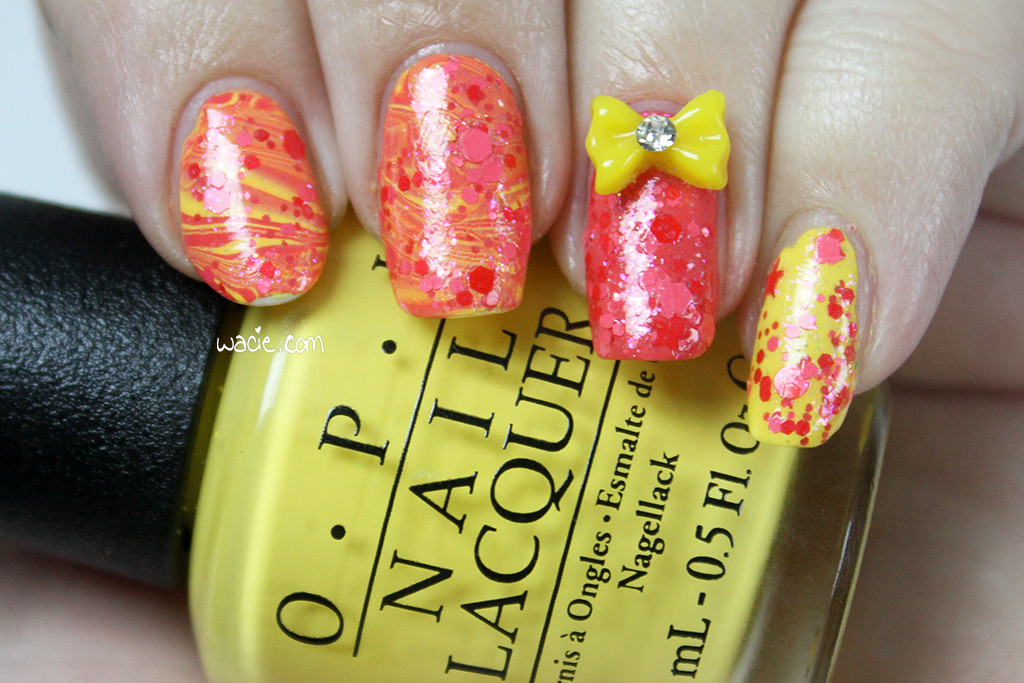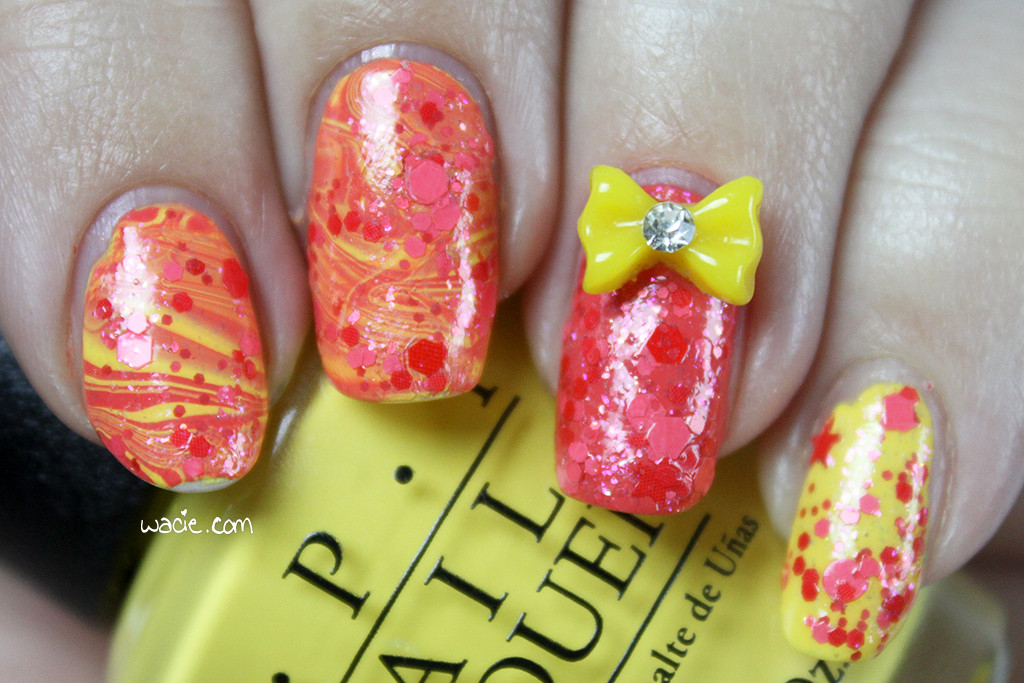 Get Too Close to the Flame works so well with I Just Can't Cope-acabana that I couldn't not use it. It was actually the first polish I picked out for this mani, and the ideas about the pink and the watermarble came later. I kind of struggled with how to use the glitter, since I still really wanted to, and I ended up just doing one allover coat with it, even over Live, Love, Carnaval, where there isn't much constrast and all you see is some shimmer and faint glitter shapes. It's a fun look, I think. Over the yellow, it's bright and cheerful, over the pink it's mysterious, and over the marbling, the word that comes to mind for me is planetary. It reminds me of the swirls around the red spot of Jupiter. It pleases me.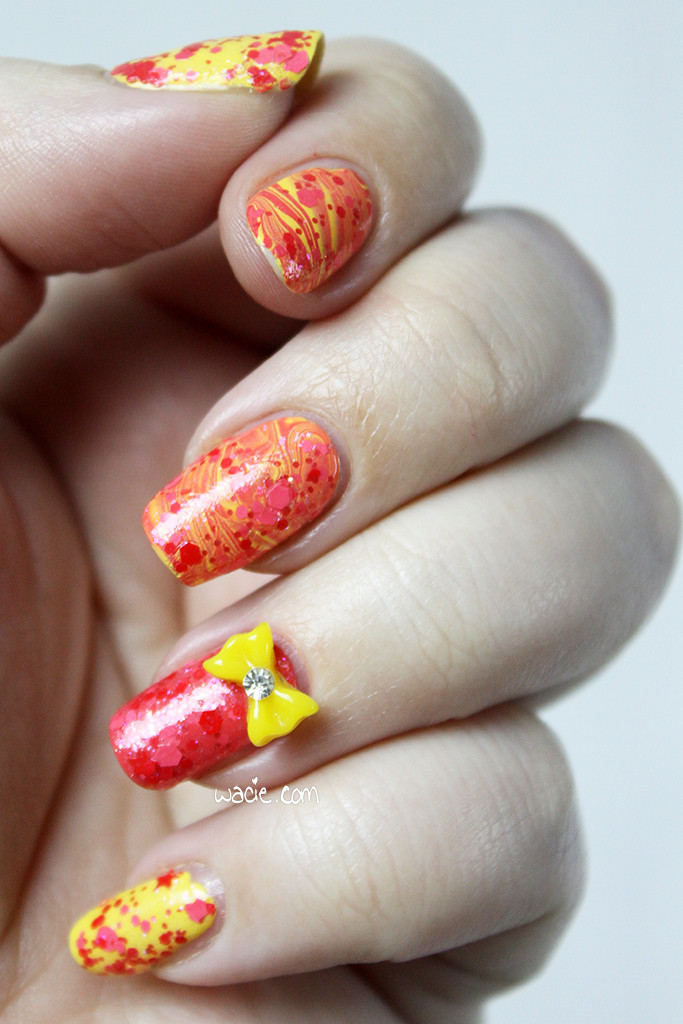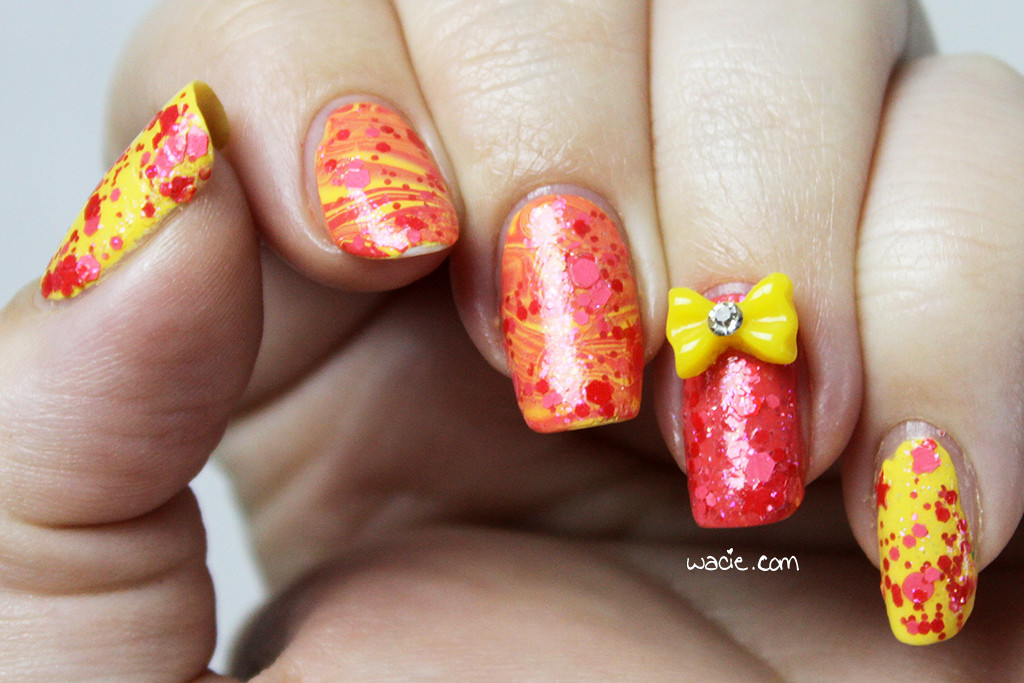 I got I Just Can't Cope-acabana and Live, Love, Carnaval from Sally Beauty Supply. I got Get Too Close to the Flame from the Blue-Eyed Girl Lacquer online shop; it's been discontinued.
I bought these polishes myself.