Hi reader! This is the first new swatch I've done since I got the camera back. It feels so good to be doing this again! This Saturday, I'm wearing a new-to-me brand called A Rhyming Dictionary Polish. This is Heathendom; I'm wearing three coats with one coat of Seche Vite. All photos were taken outdoors in direct sunlight.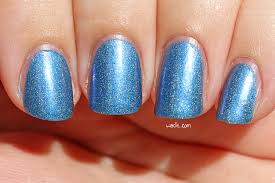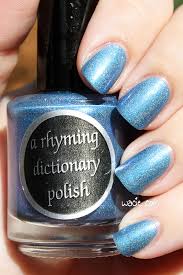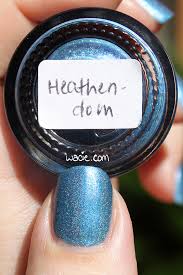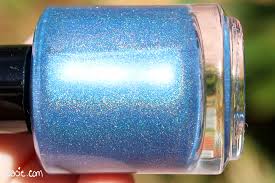 Heathendom is a medium blue linear holo with silver flakies. Application was a breeze; my first coat was sheer, the second evened out the color, and the third achieved full opacity. The holo effect is most visible outdoors, though it does appear in any lighting condition. The silver flakes are more easily seen indoors. It also seems to have a purple shift in some lower lighting conditions. Drying times were very fast, and the polish dried with a satin finish. I used top coat for extra shine and smoothness.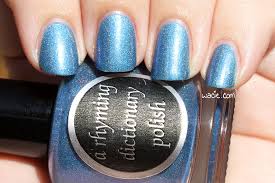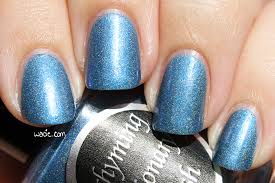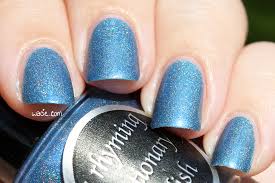 Heathendom was released as an installment of Blue-Eyed Girl Lacquer's Destination Duo collaboration series. It and its sister polish, Foss Idols from BEGL, were inspired by the spectacular Goðafoss, or Waterfall of the Gods, in northern Iceland. Both polishes do a very nice job of evoking images of clear, deep, cool water, but I think this is my favorite of the two. The fact that it's a holo helps a bit. I'm also really impressed with the formula and the presentation, so I'm also pretty likely to check out A Rhyming Dictionary's other polishes.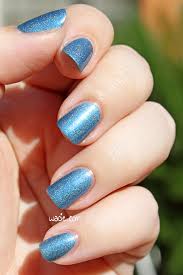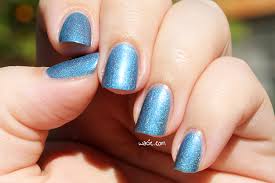 The Goðafoss Destination Duo is available from the Blue-Eyed Girl Lacquer shop. Other A Rhyming Dictionary polishes are available from their shop.
I bought this polish myself.