Happy Sunday, reader! 2016 is off to a great start, isn't it? I hope you're all having a fantasic weekend. Yesterday, we looked a summer polish, and today we're looking at an autumn polish. From a destash mystery bag, the same one that yielded this beauty, this is Darling Diva Polish's The Pumpkin Queen. I'm wearing one coat of The Pumpkin Queen over Nails Inc.'s Eaton Terrace and Baker Street and OPI's I Just Can't Cope-acabana, as well as one coat of Seche Vite top coat.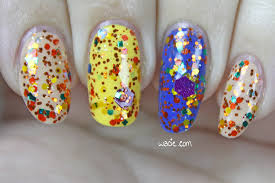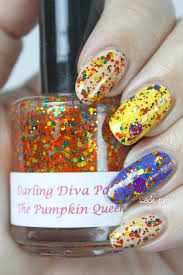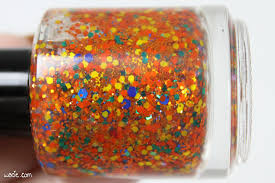 The Pumpkin Queen is a clear-based glitter topper with a mix of glitter that is predominantly matte and metallic orange hexes and metallic green hexes and squares. Though these colors are the focus of the polish, it's actually quite colorful; there are glitters in red, yellow, and blue, as well as very large purple hexes. The glitters brushed on easily, though sparsely at first. The base consistency is good; it carries the glitter without goop. It dries quickly and with a smooth finish, though the purple hexes don't lie flat on the nail.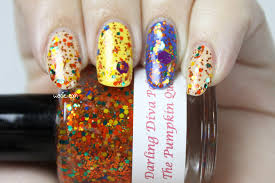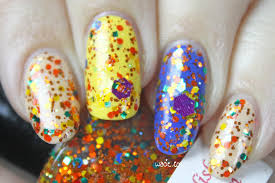 Though the glitter mix is inherently autumnal, wearing this polish in January doesn't feel completely out of place. Because there aren't any seasonally-shaped glitters, and because the mix is so colorful, it's not strictly a fall polish, even though it's intended as one. I like the blue glitters best; they stand out from the rest of the glitters, but they also make the orange bolder. I really love the purple hexes too, but they feel just a tad out of place. Overall though, I like this polish, even though it's not something I would have bought myself.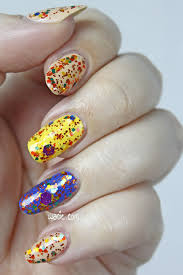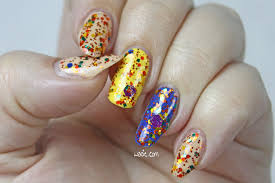 I did a little bit of homework on this polish; it's a polish from 2012. I don't even know if I have any others that old, because I didn't get into indie polish until 2013. How cool, it's vintage! I also love the printed label, it's like a bootleg.
The Pumpkin Queen is no longer sold by Darling Diva Polish; other polishes are available from their shop.
I got this polish in a grab bag.