Did I mention how happy I am to be swatching again? I have missed it so much. I know I'm out of practice, so please bear with me while I get back into the swing of it. This Sunday, I'm wearing my first Lynnderella polish, Chef Kitty; I'm wearing one coat over Mac's Queen's Honor (red), Essie's Roarrrrrange (orange), OPI's I Just Can't Cope-acabana (yellow), Revlon's Posh (green), and Nails Inc.'s Baker Street (blue) with one coat of Seche Vite.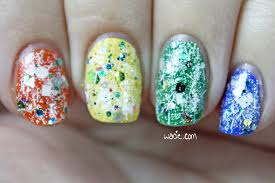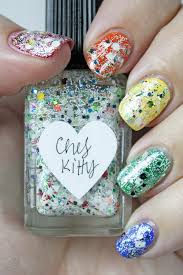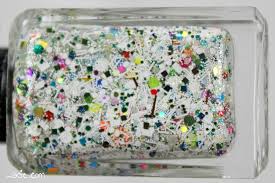 Chef Kitty is a shimmery glitter topper with mostly white glitters in various shapes and sizes, as well as accent glitters in various colors and finishes. The maker describes it as an "'everything but the kitchen sink' approach to cuisine", and I have to agree with that; the variety of glitters in this polish is staggering. Considering the amount of glitter in this bottle, it spread very well over the nail; I had no trouble getting even coverage at all. It dried pretty well, all things considered. I used to top coat to smooth everything down and really bring out the shimmer in the lacquer base.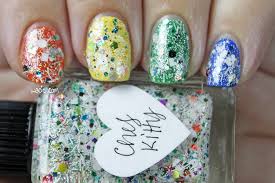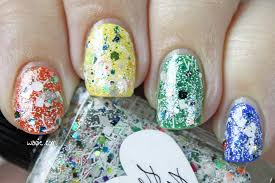 I know Lynnderella is old news for most people, but I had to see what the fuss was about and, last March, purchased Chef Kitty. I loved the mental image; I pictured my own fat fluff wearing a chef's hat and knocking every herb and spice I own into a bowl. I was amazed by this polish and its quality, so impressed that I bought 24 more since then. They're just so gorgeous! Lynnderella's been in the indie polish game a long time, but everything they make is still creative and gorgeous.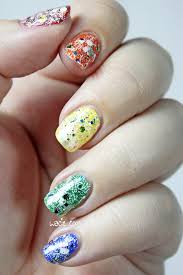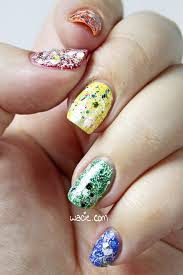 Chef Kitty is available from Lynnderella's Storenvy; other Lynns can be purchased via eBay auction.
I bought this polish myself.