Hello, reader! Welcome back to the blog! I've got a pretty basic glitter look this week, and it's one I'm really into. Neons and glitter are pretty much my whole summer, and I'm ready to get it started. For this look, I used Blue-Eyed Girl Lacquer's Look at These Assholes and Lynnderella's Are You Bouquet?.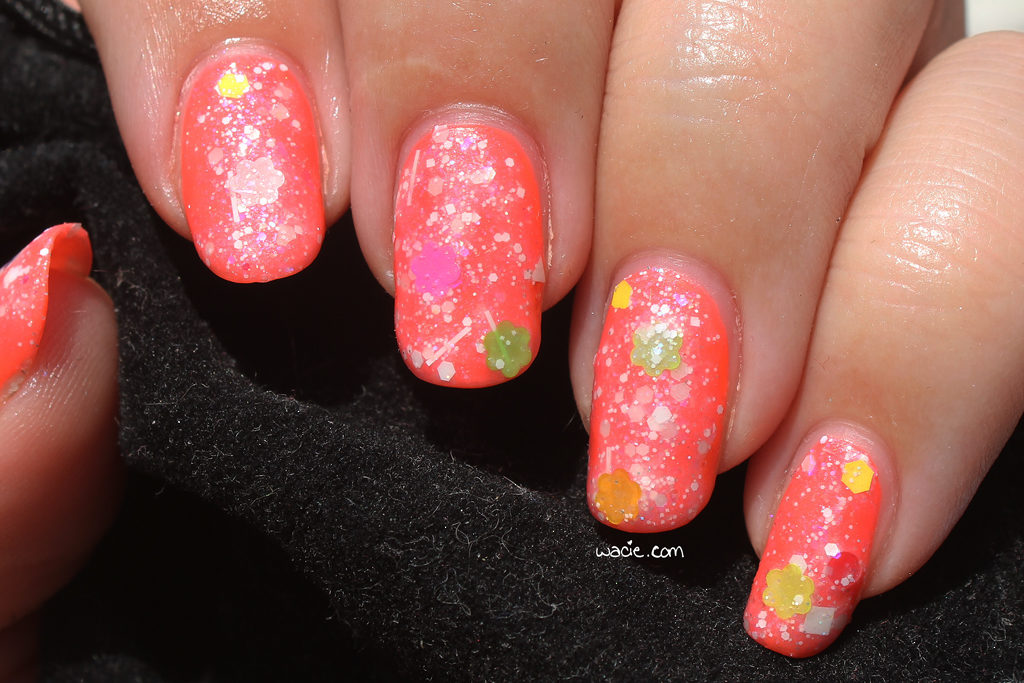 Let me preface this by saying that my camera did not want to cooperate with the neonness of Look at These Assholes. At all. I did some color correction and got it pretty accurate, which in turn makes my skin look a little weird, but I'll take it. This is a deliciously bright neon.
Are You Bouquet? actually watered it down a little. Even though it's a glitter topper, it's in a slightly milky white base. I'm a huge fan of white glitter toppers, and I love this one in particular for the random pops of color. Also, you can't really tell, but I used a matte top coat over this to highlight the iridescent glitters in there too.
Look at These Assholes has been discontinued by Blue-Eyed Girl Lacquer; other BEGLs are available in their online shop. Are You Bouquet? was a limited edition from Lynnderella; other Lynns are sold on their website, eBay, and Amazon.
I bought these polishes myself.