It's Wednesday, and right on schedule, we're looking at something new from Wacie Nail Company. This is Dang, a blinding glitter topper, named for the first thing I said after I created it. I'm wearing one coat of it over The New Black's Black, e.l.f.'s Smokin Hot, and Essie's Aruba Blue.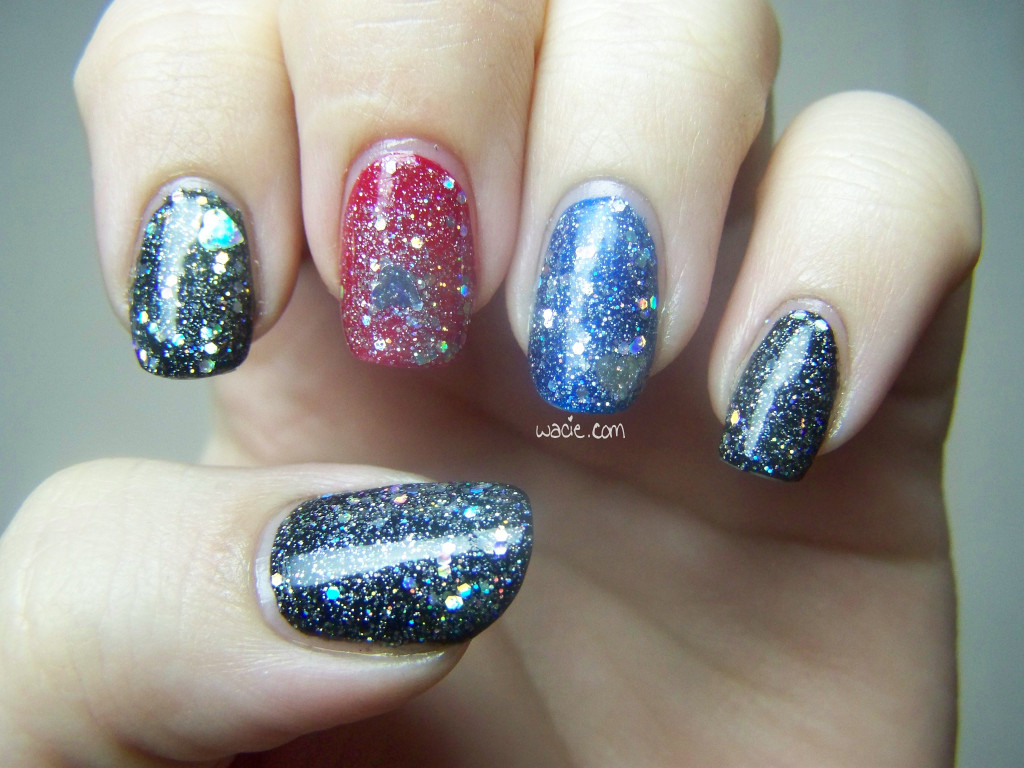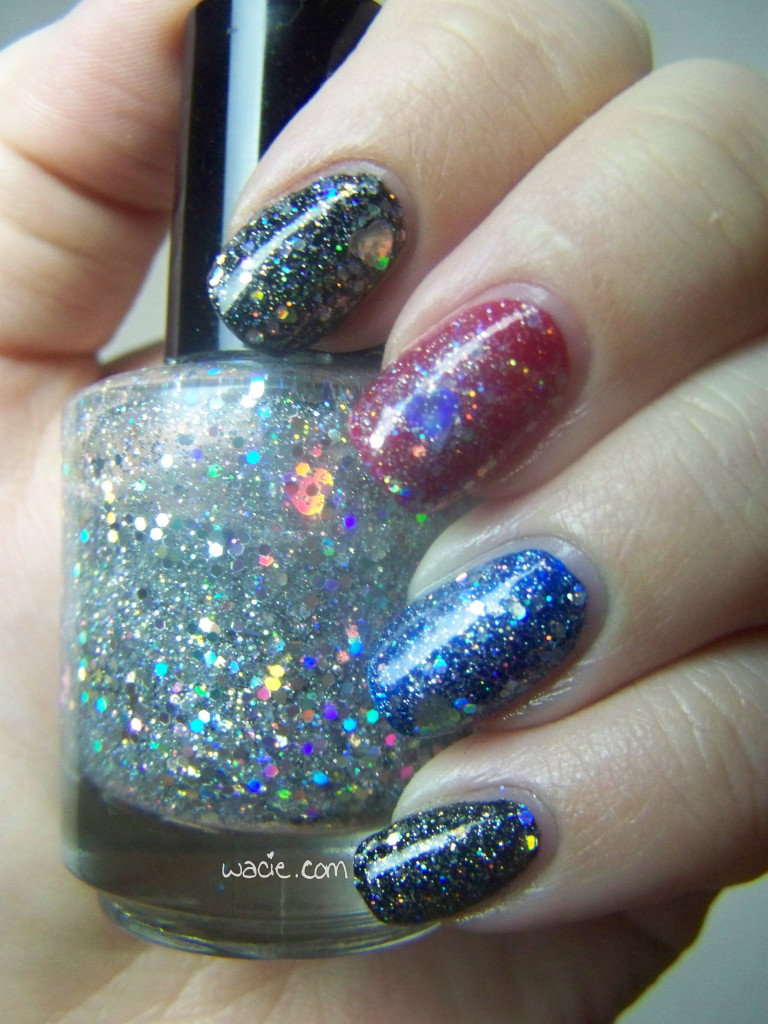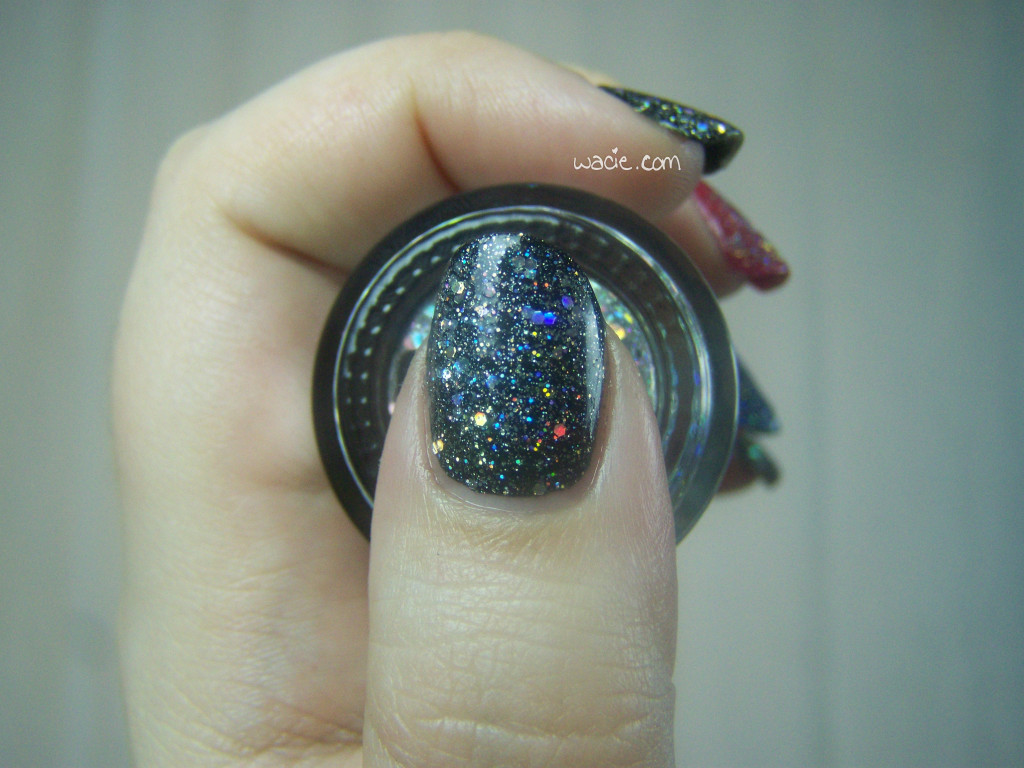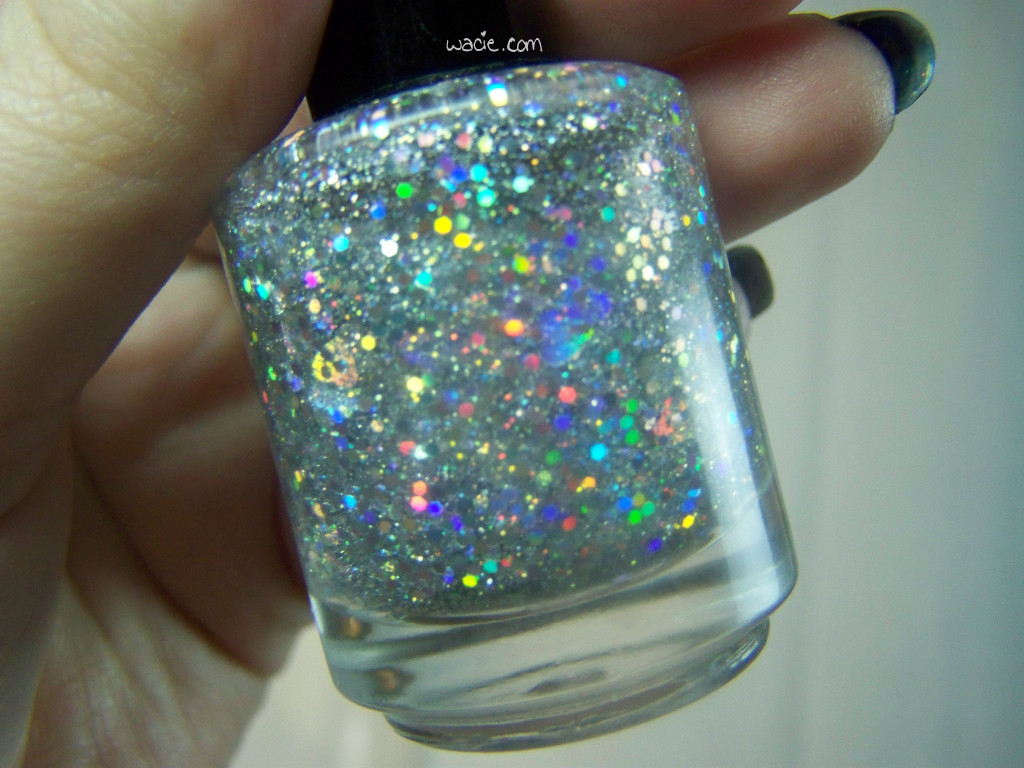 Dang is another happy accident; it's the result of mixing glitters together without intention. It's a clear base with various sizes of holo silver hexes and holo silver hearts. Because there's so much glitter in it, it's impossible to not get a good glitter payoff. However, the hearts don't come out very frequently; as you can see, I didn't get one on every nail. It doesn't even matter if the hearts are scarce, though. There's tons of glitter to make up for it.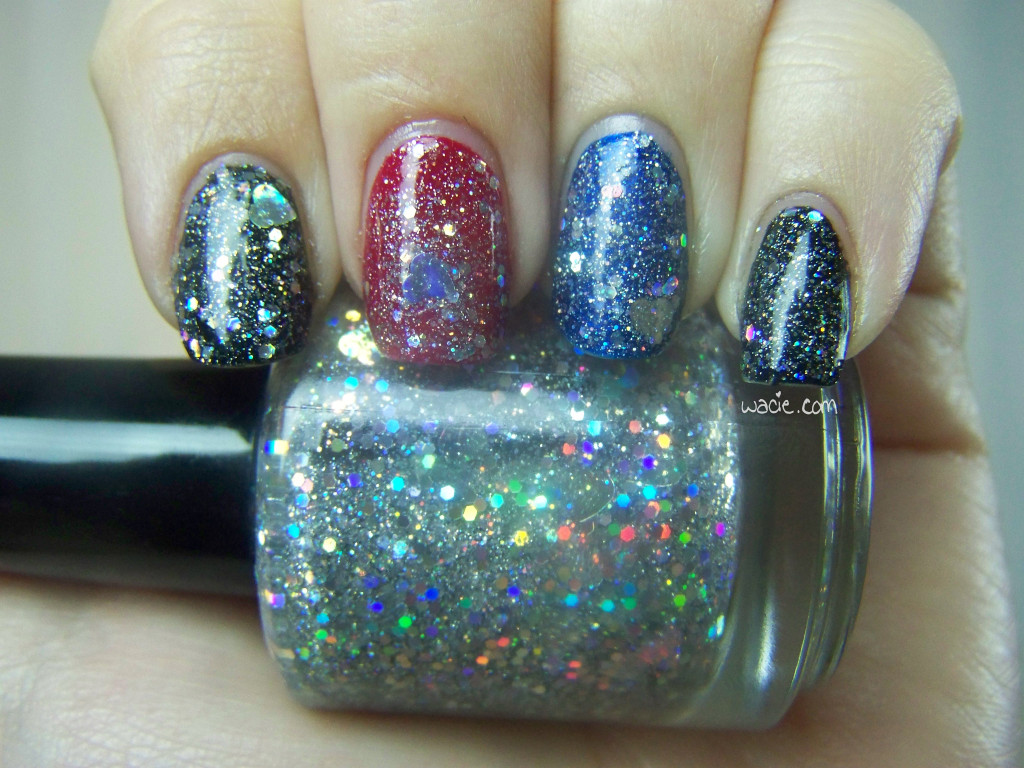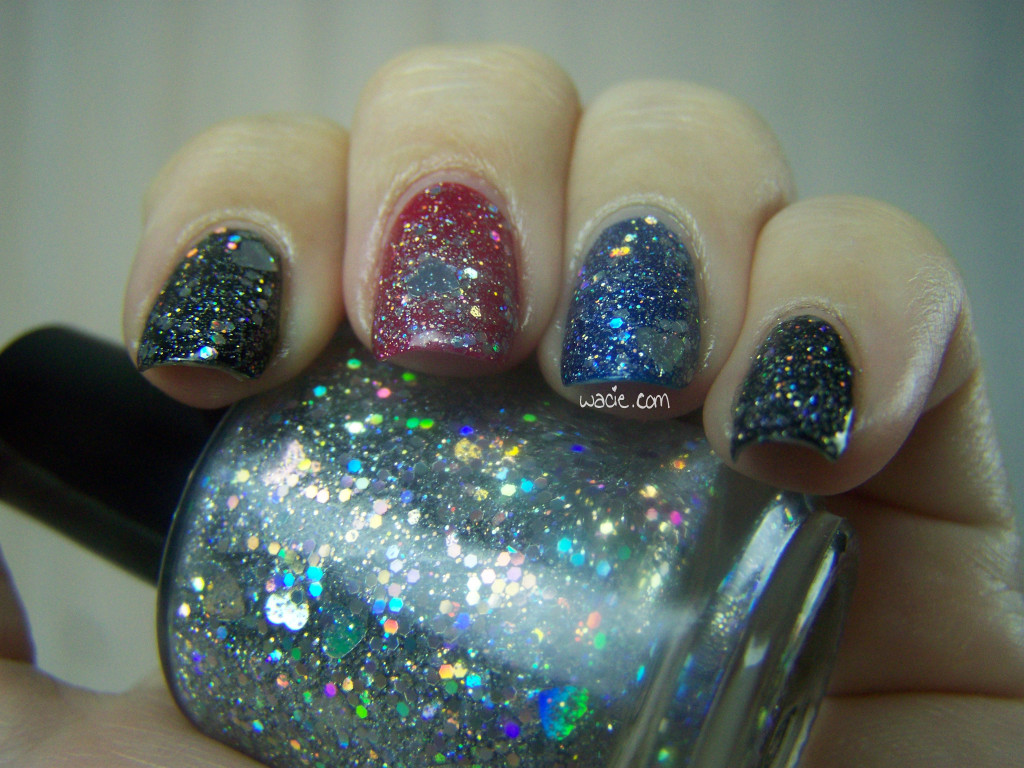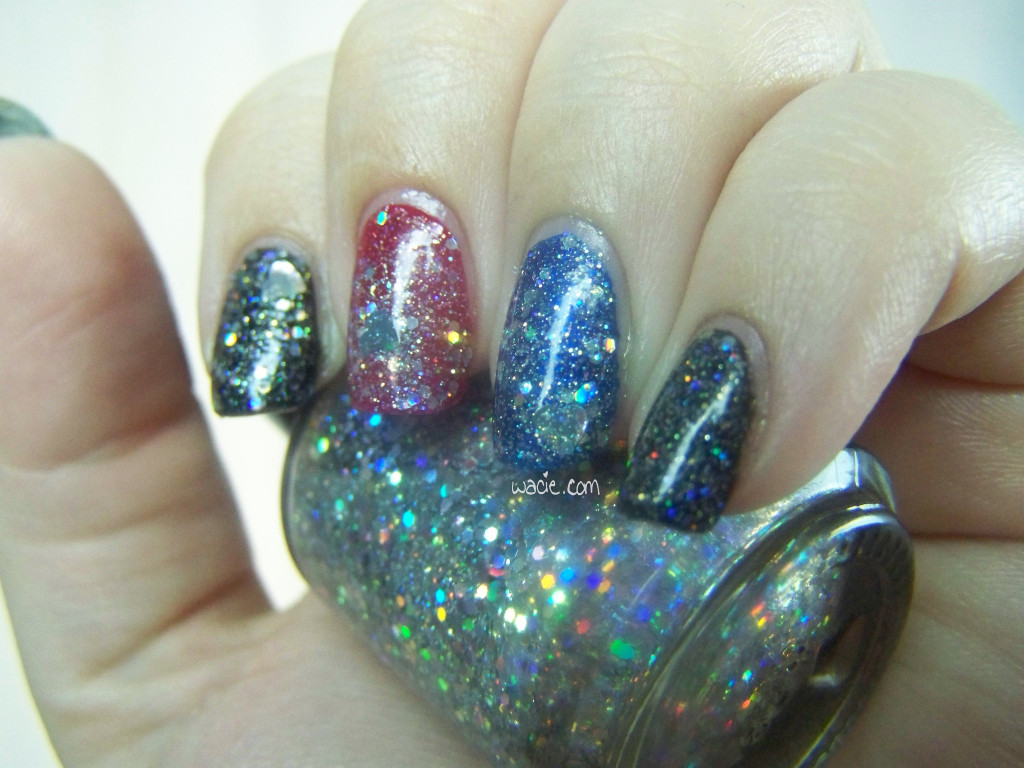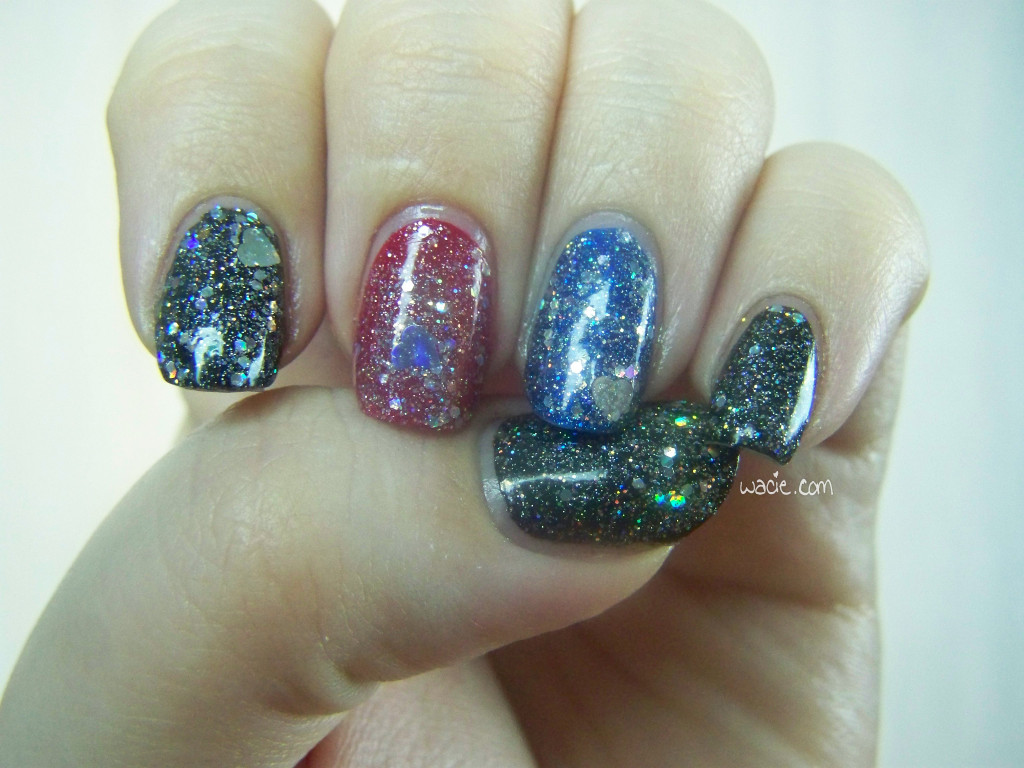 Something I like about this mixture is that it's sparkly (to the point of blindness in the sunlight), but it's not trying too hard for it. There's not a ton of different shapes and colors and craziness jumping out at you for attention. I'm not saying there's anything wrong with that kind of polish; those kinds of polishes are what drew me to indies in the first place. No, this is a glitter that glitters. It's like a formal gown for your nails. Like diamond earrings for your nails. They're your nails, but glitterier. I actually wore this to a red carpet party during awards season. My nails were dressed better than anybody.
I admit, I thought Wacie Nail Co. would have launched by now. Other projects I'm involved with are taking priority over my nail polish business, and it might be a while before I have a chance to reclaim all the time and money I'm putting into other things. My time is going to schoolwork and other entrepreneurial things; my money is all going to the vacation I'm taking next month. I'd planned eight polishes for the Wacie Nail Co. first-ever spring line, but as of right now, there are only seven; I haven't had the time or means to save one from prototype limbo. Hopefully, there will be a launch before summer. If not, the spring line will become the summer line, which actually works out since I don't have plans for a summer line. Either way, it will be soon. Please continue to watch this space for more Wacie Nail Co. news.