Hello hello, reader! Today's a special Hobby Polish Bloggers link-up post. Every month we get together and do a themed mani, and the theme for March is spring. The mani can be as simple or elaborate as we like as long as it fits the theme; as a personal challenge, I try to use polishes I haven't used before. For this look, I used Elevation Polish's The Merchant's Son, Ellagee's Breena, Essie's Tart Deco and Sunday Funday, L'Oreal's New Money and Hyde Park, and Revlon's Sunlit Grass and African Tea Rose, all topped with one coat of Seche Vite top coat.
Of course, flowers are the harbingers of spring, and as beautiful as they are, I didn't want to do a floral mani for spring because I knew everyone else would be doing it. I did it anyway. Boyfriend and I are very into tropical plants, and we wanted to make our backyard space even more tropical, so we got a few new hibiscus plants. I snapped a photo of this beautiful peach hibiscus, and I knew I had to make a mani out of it. Boyfriend is also quite the connoisseur of Hawaiian shirts, and this look is inspired by those as well.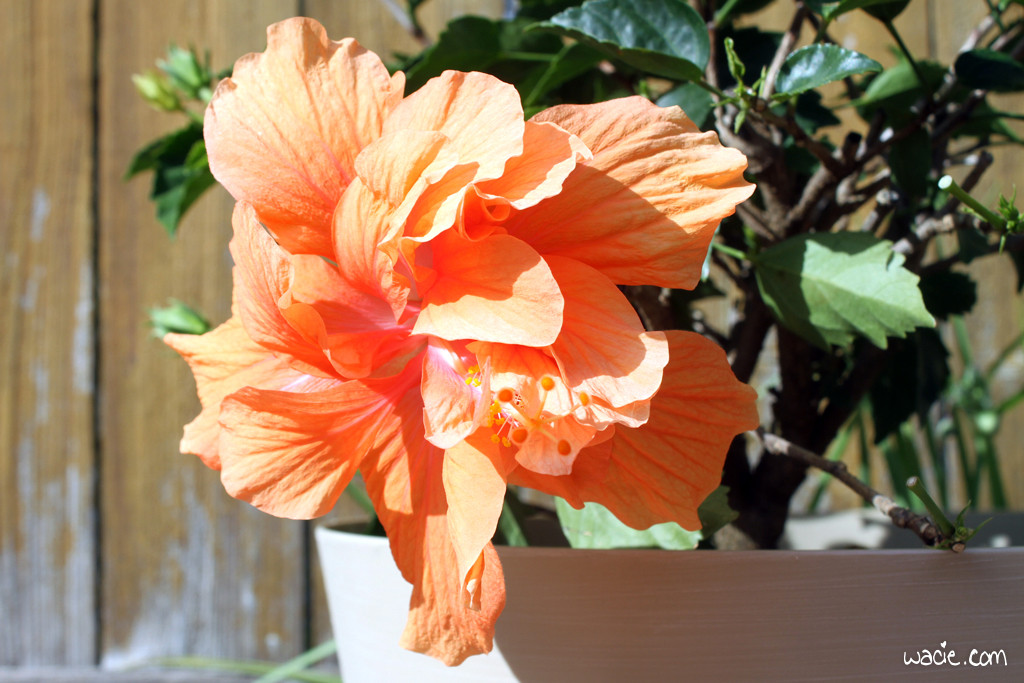 I started this look out with two coats of The Merchant's Son, three on some nails where it was still a bit translucent. The Merchant's Son is a thermal, but you can't really tell under all the flowers. I didn't even bother to show the thermal effect in action because it would be impossible to see. I picked a thermal because my original idea was to use a gradient. I also used a thin coat of Breena — that's where the flakie holo comes from — just to add a bit of sparkle. When you can see the thermal effect of The Merchant's Son, it shows right through Breena. The addition of Breena was probably unnecessary, but I needed one more polish to make an even eight.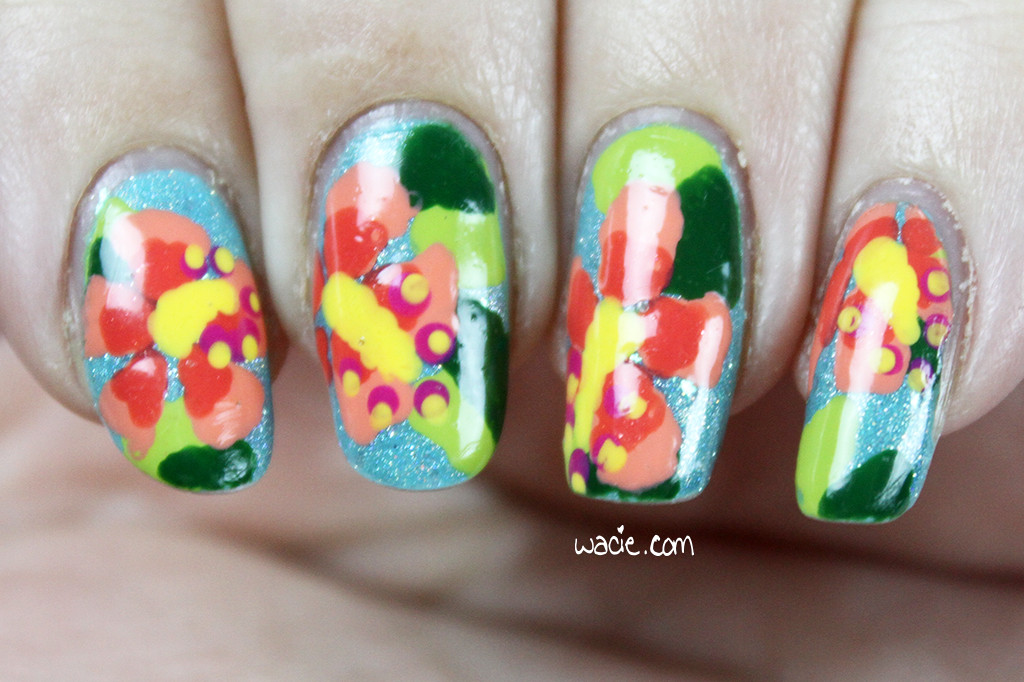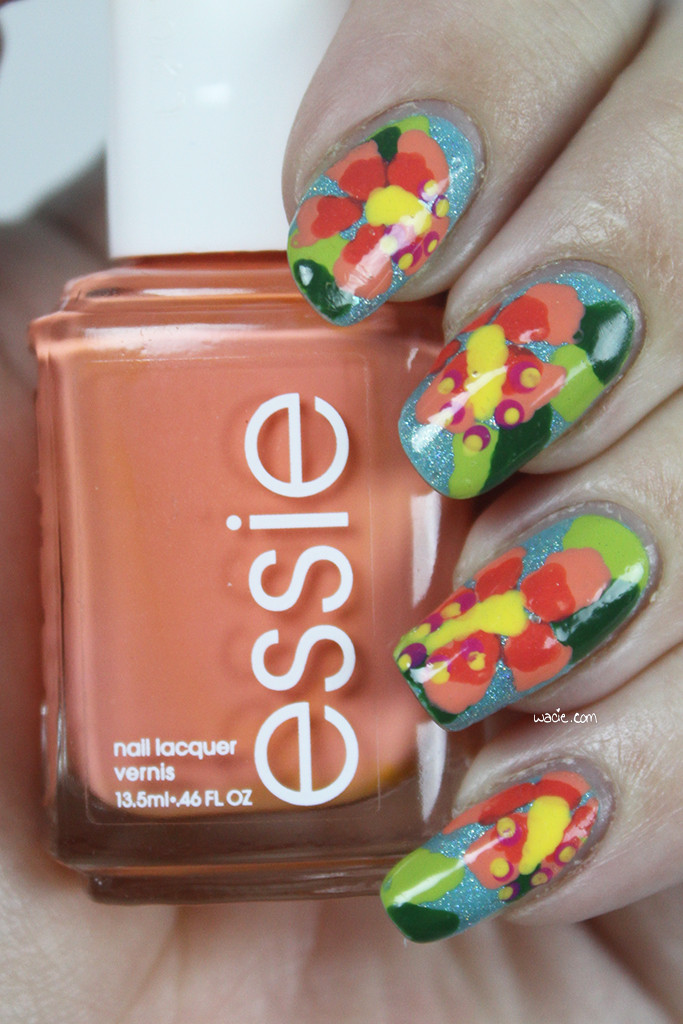 I did the leaves before I did the flowers, but I did them exactly the same way; instead of brushing the polish on, I stippled it on with a dotting tool. I don't know what it is, but I'm much more comfortable with the dotting tool as a method. Brushing never works for me. I have small nail beds, and often the brush feels too large or unwieldy, even when my nails are quite long. For this reason, there's not a lot of intricate detail in the foliage and flowers; I took a cruder colorblock approach to this. I stippled the leaves on — two colors for variety — and then the flower petals, and then the pistils and stamens. For reference, I used Nailstorming's hibiscus nail art tutorial video. I actually picked my colors before I sought out the video, and I love that we both chose pretty similar colors.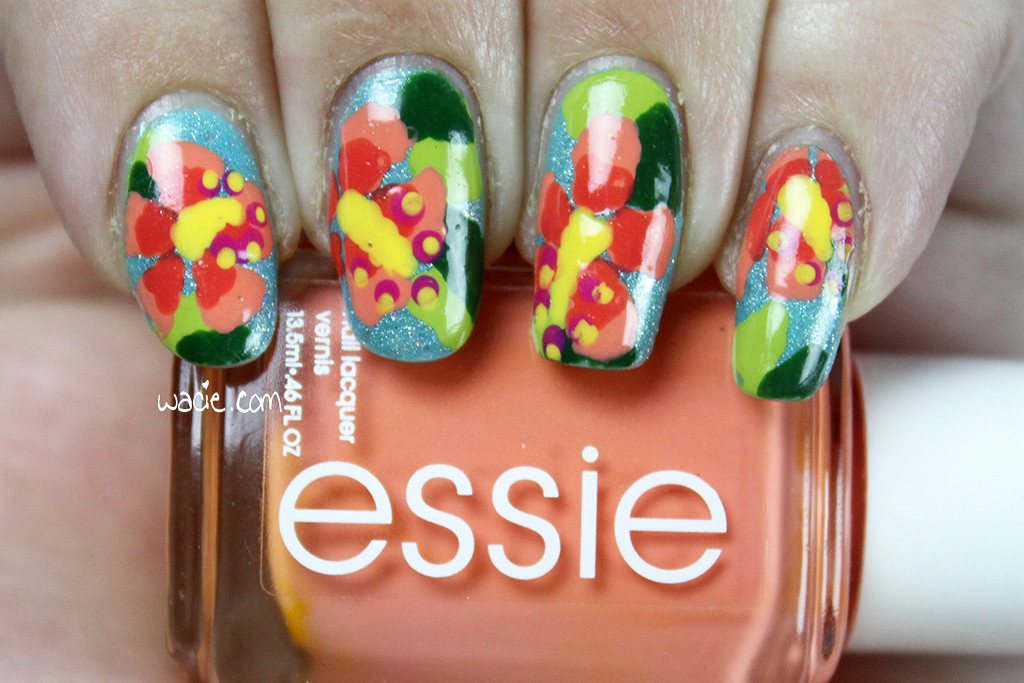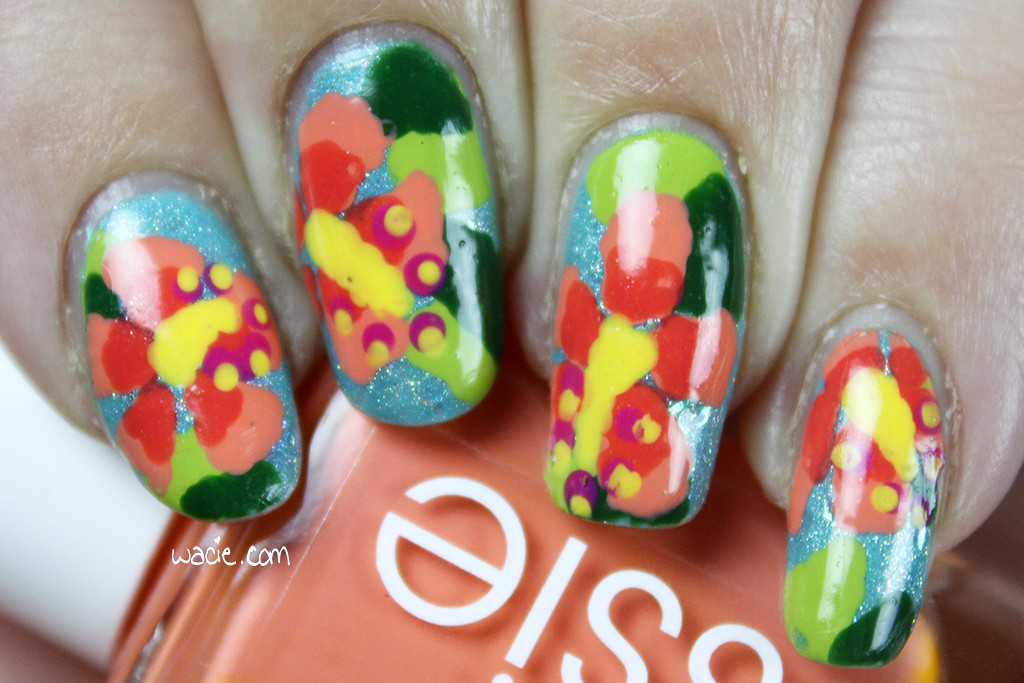 This was my first attempt at this kind of nail art, and I'm happy with how it came out. It's rough, sure, but I didn't screw it up or anything, you can tell what it's supposed to be. It's super in your face. Boyfriend accused them of being stick-on nails and that was kind of satisfying. I got to use a whole eight unused polishes, that's pretty nice too.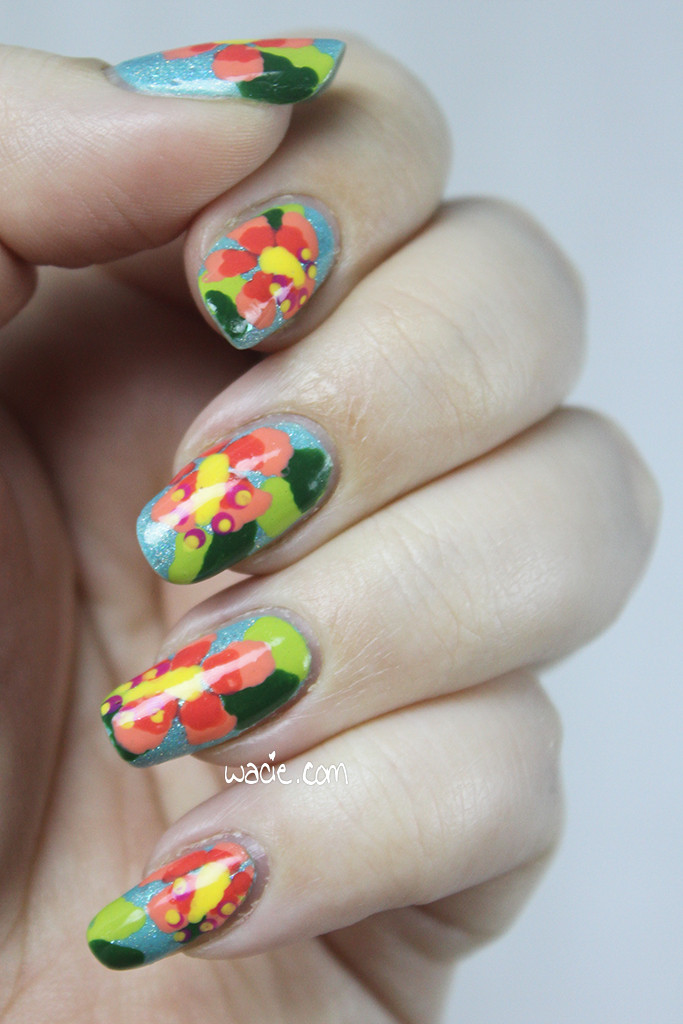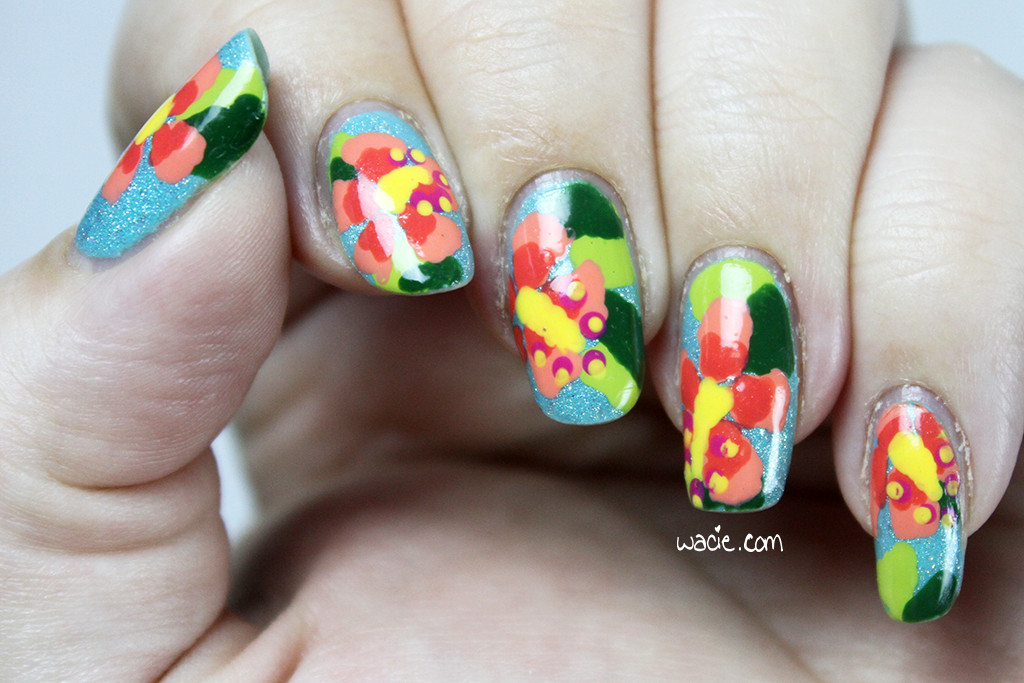 The truth is, spring came long ago to Florida. I know other parts of the country are still thawing out, but we've been enjoying it for some time now. That's kind of the reason I didn't want to do a spring flower mani, I was just so over spring flowers that I just wanted something summery and fun, something that really reflects Florida in March. Speaking of which, here's some sunlight photos! The holo, or what you can see of it, looks amazing out here. I'm not sure if the Elevation or the Ellagee is my favorite of this look, but they look so beautiful together I couldn't possibly choose.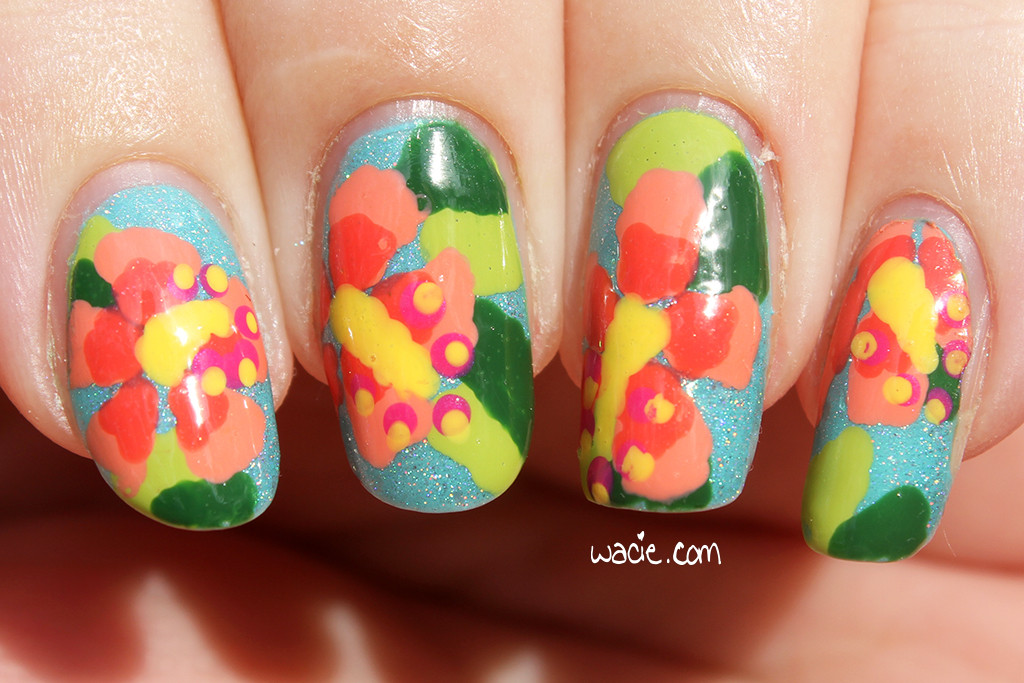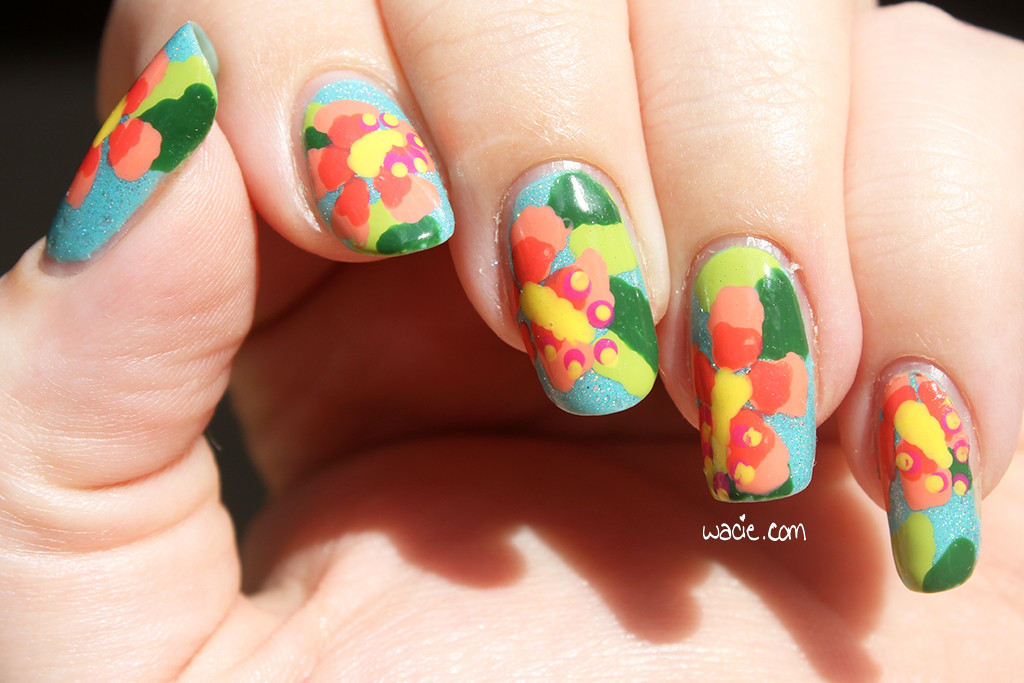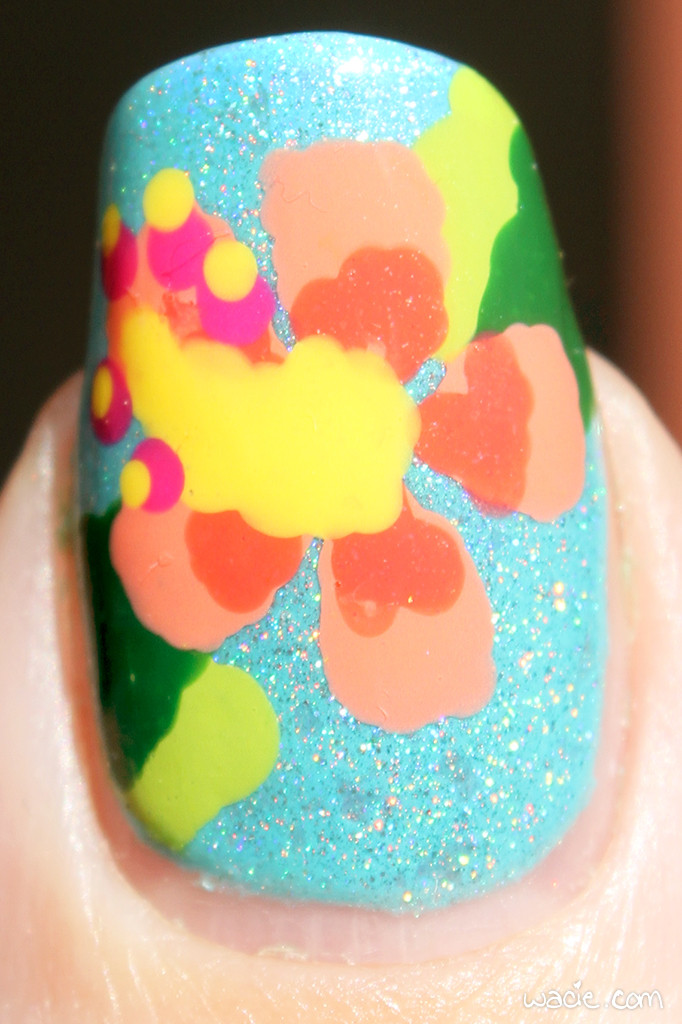 Here's a product roundup, just for reference. I rarely do this, but I rarely use so many polishes for one mani.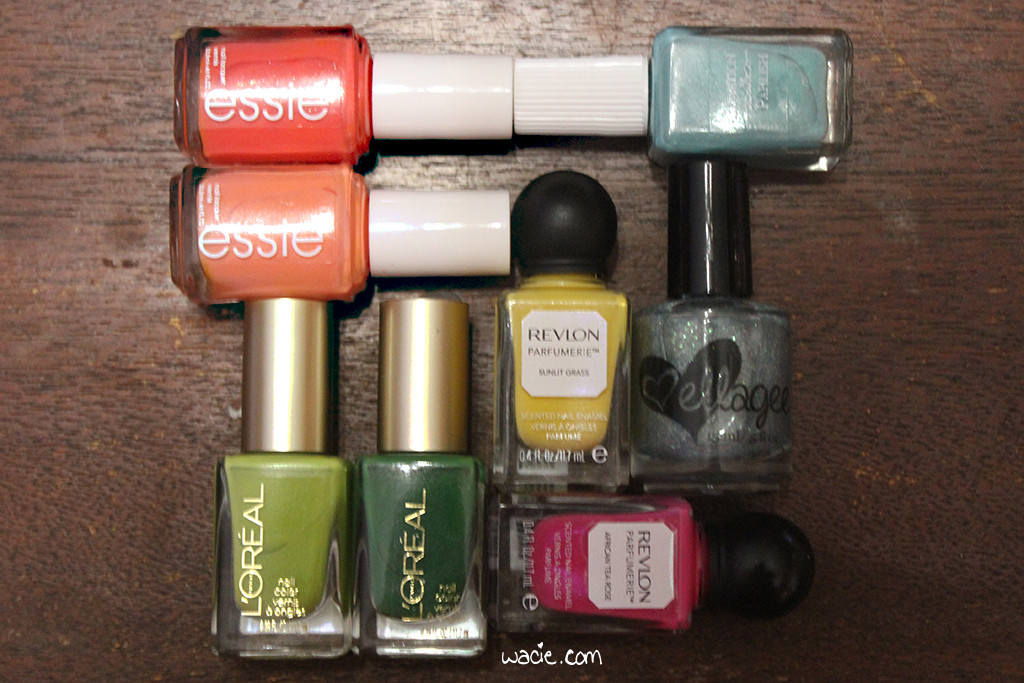 Elevation Polish has discontinued The Merchant's Son, but you can find their other polishes in their shop. Breena also appears to be discontinued by Ellagee; other polishes are sold in their shop. Revlon, L'Oreal, and Essie are sold in stores nationwide.
I bought these polishes myself.
Loading InLinkz ...