Happy Monday, reader! Today's look was done because I realized I don't do watermarbles as often as I should. I used Sinful Colors's Timbleberry (pink) as the base, Essie's I'm Addicted (darker blue) and Mint Candy Apple (lighter blue) in the marble, and Blue-Eyed Girl Lacquer Prototype PCFS 1.0 as the glitter accent.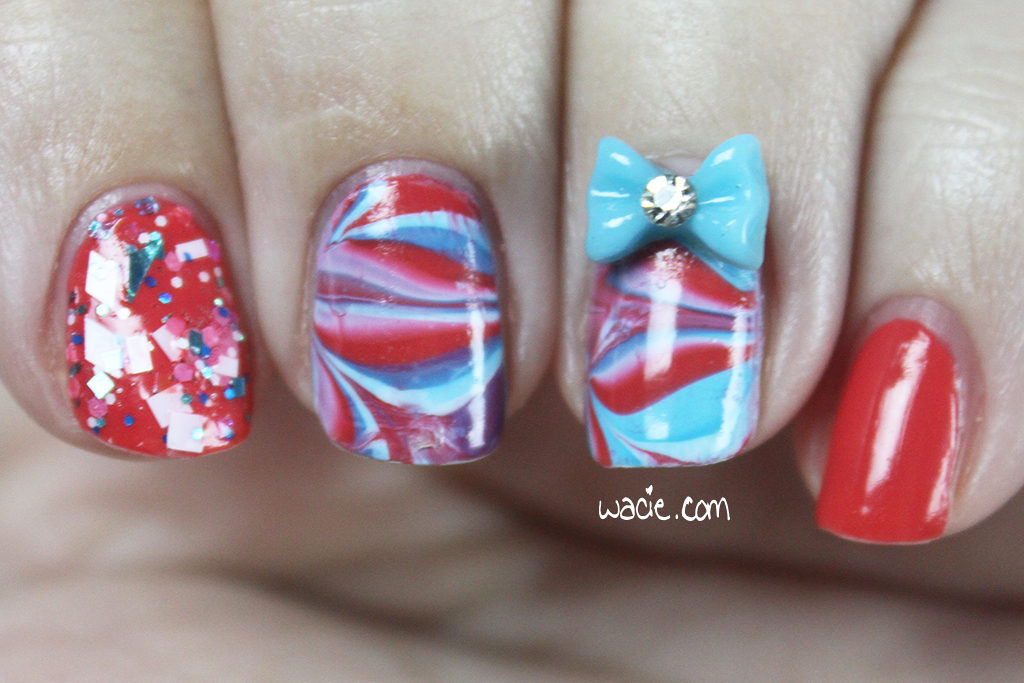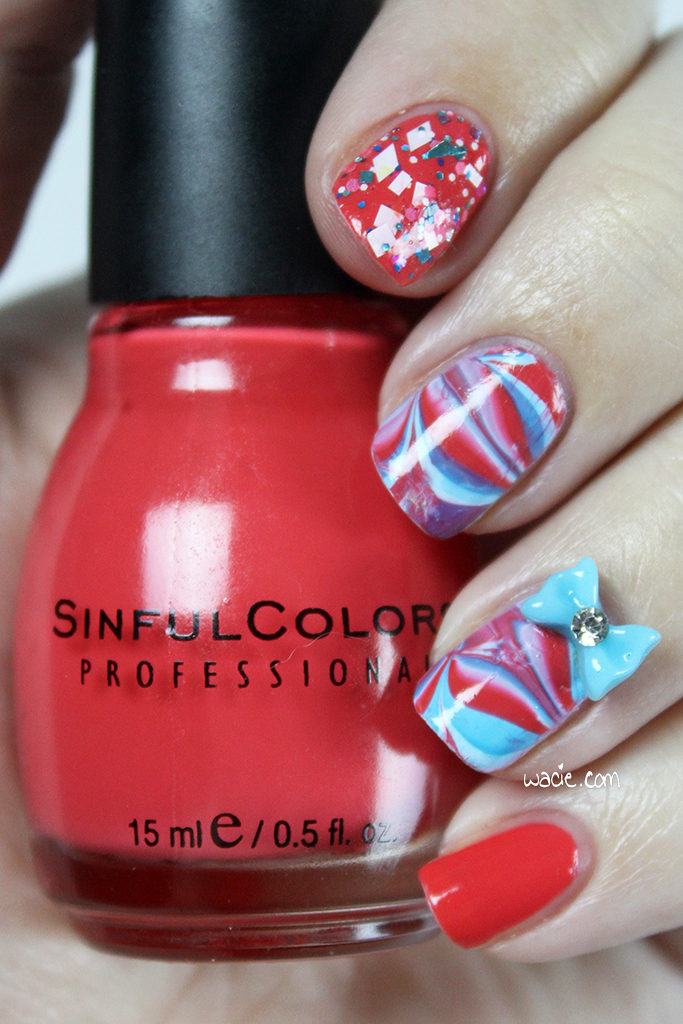 In a future post, you'll read about the lack of watermarbling on the blog; basically, when I plan a mani, I'm thinking about what glitters will pair best with cremes, and other cremes are rarely considered. The fact is, I love watermarbling, and sometimes it's just so hard to find a cool color combination, and also formulas that lend themselves to the process; nothing's worse than discovering a polish doesn't spread over the water and knowing I've wasted polish. I'd been planning to use Timbleberry for a while, and I had a Lynnderella topper set aside for it. At the last minute, I decided that I was going to watermarble instead.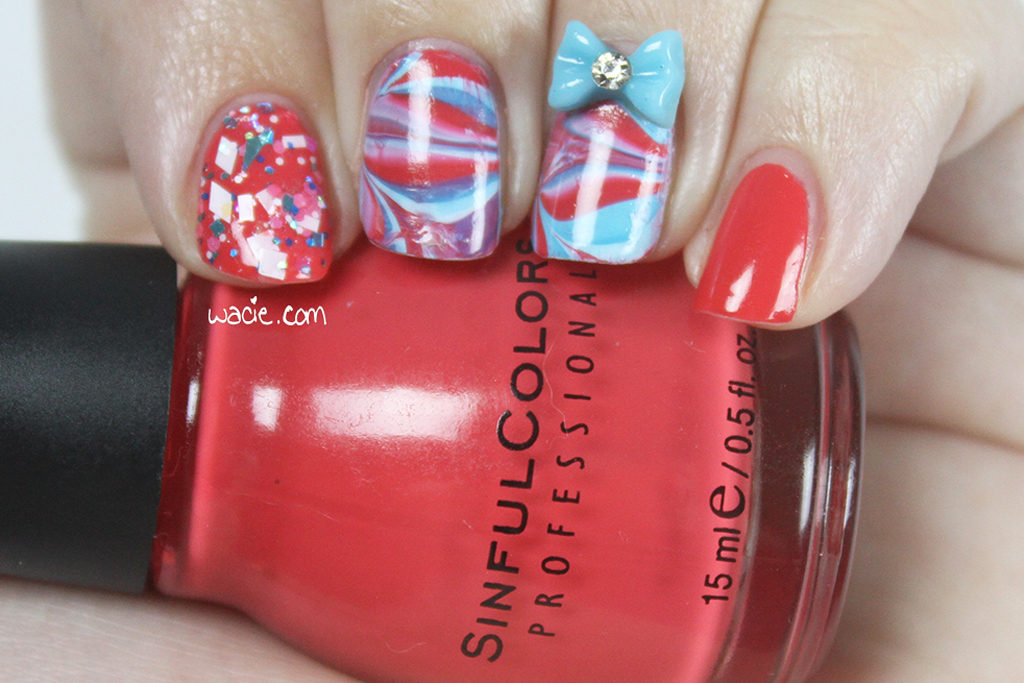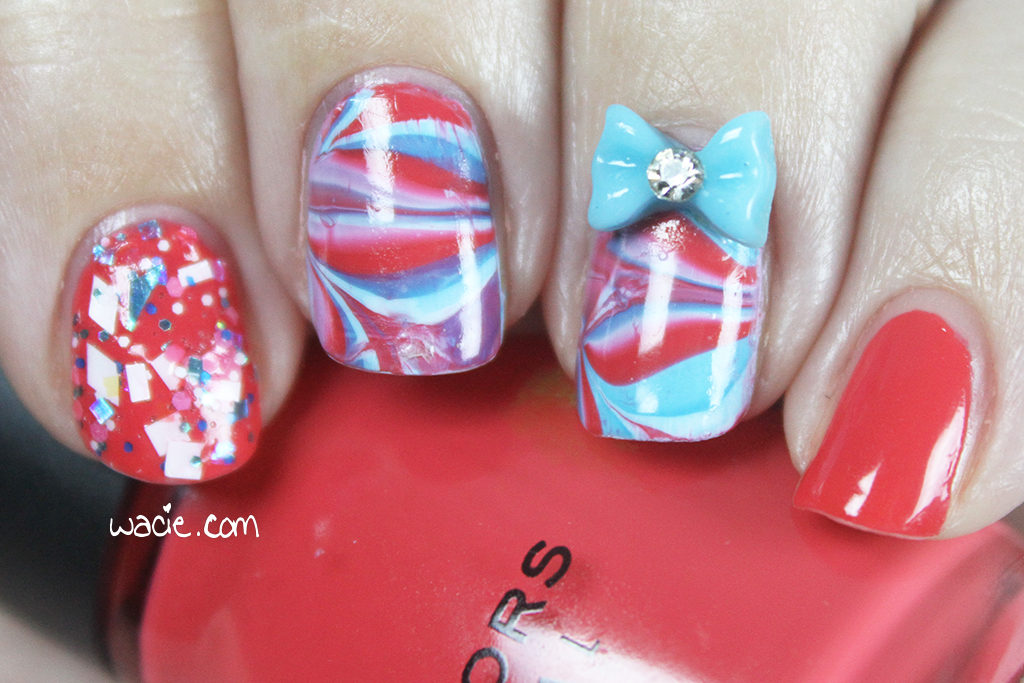 Mint Candy Apple and I'm Addicted were chosen because they just happened to be on my desk. I have them set aside for swatching some glitter toppers in the future. I saw them alongside Timbleberry and thought "Why not?". The final outcome looks a little like a rocket pop, and more than a little like toothpaste, but I'm really happy with how it came out. My top coat smudged it a bit, but this is barely visible in real life.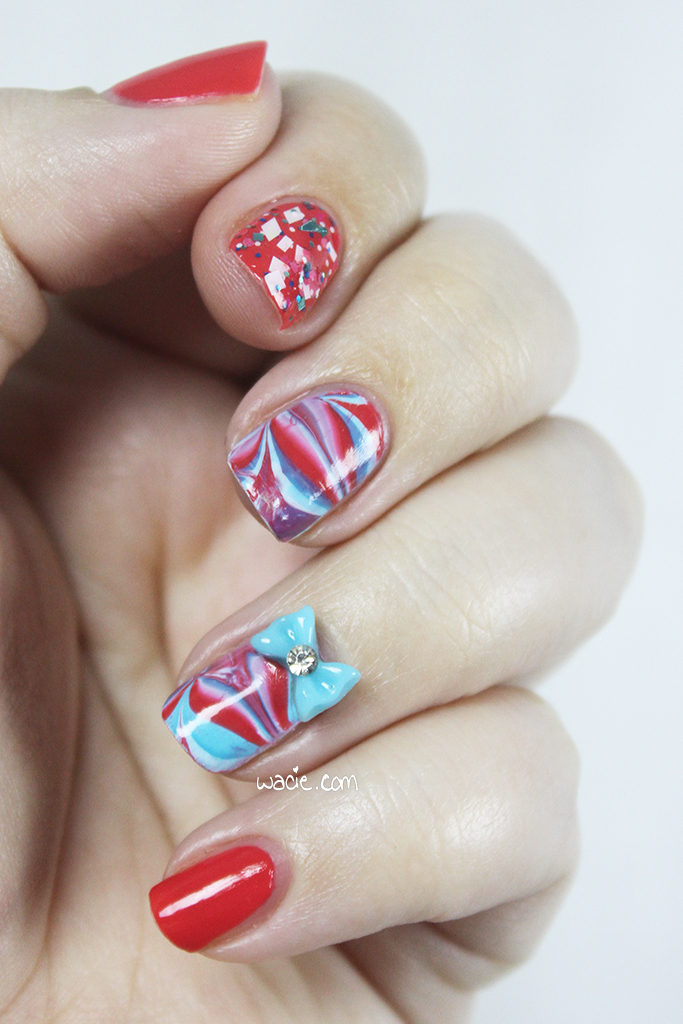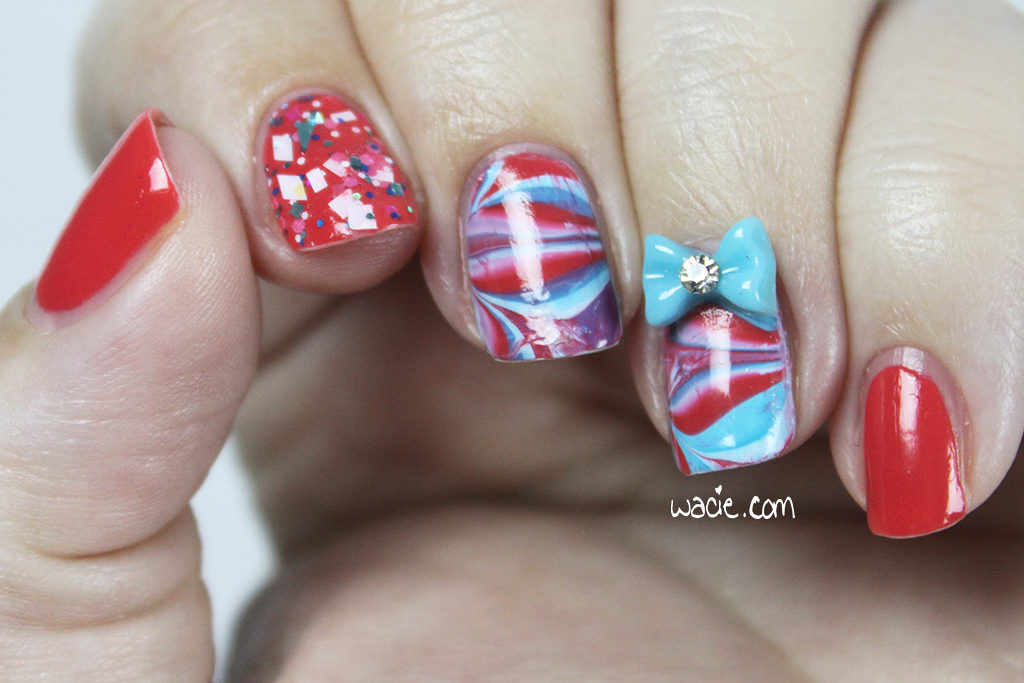 The glitter was the very last piece the look needed, and to me, it brings the whole thing together. I couldn't stand the thought of not using any glitter, so I picked this one. The colors aren't a spot-on match, but it's pretty close. Overall, I think this ended up being a pretty cool look; you've got the bright-but-not-totally-neon bright pink, the cool blues, and a tiny bit of sparkle. I also lucked out having the bow be the exact same color as the blue in the mani.
Outdoor photo time! There's no large difference among the colors here, but I got some okay macros. Try to see past the smudges. I also got a photo of a nail on my right hand; I always get the best swirls on the nails on the other side of the camera.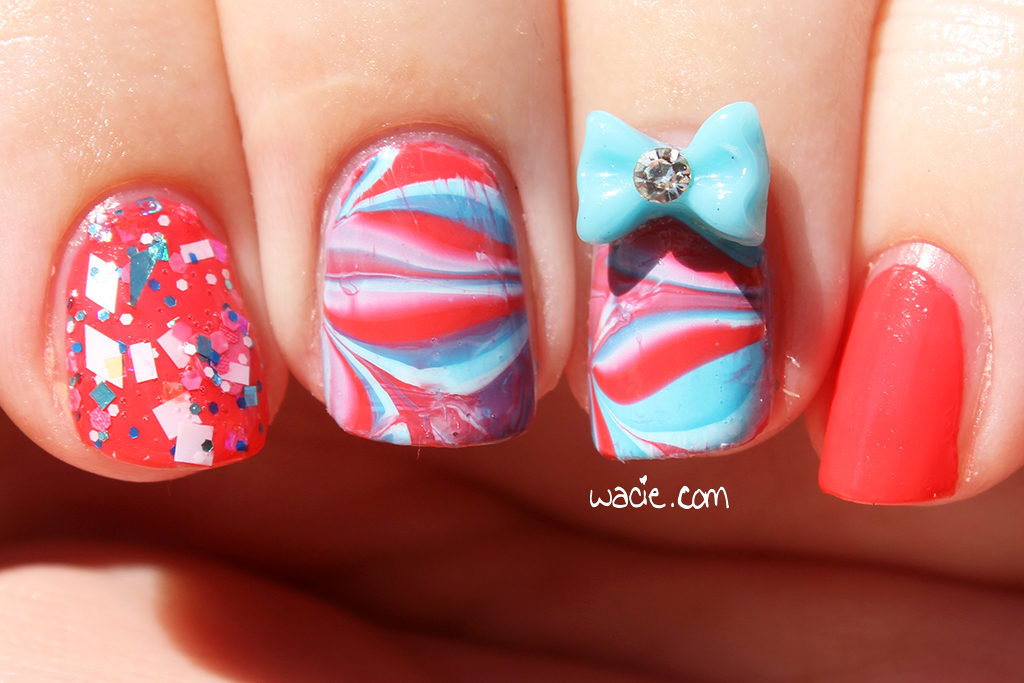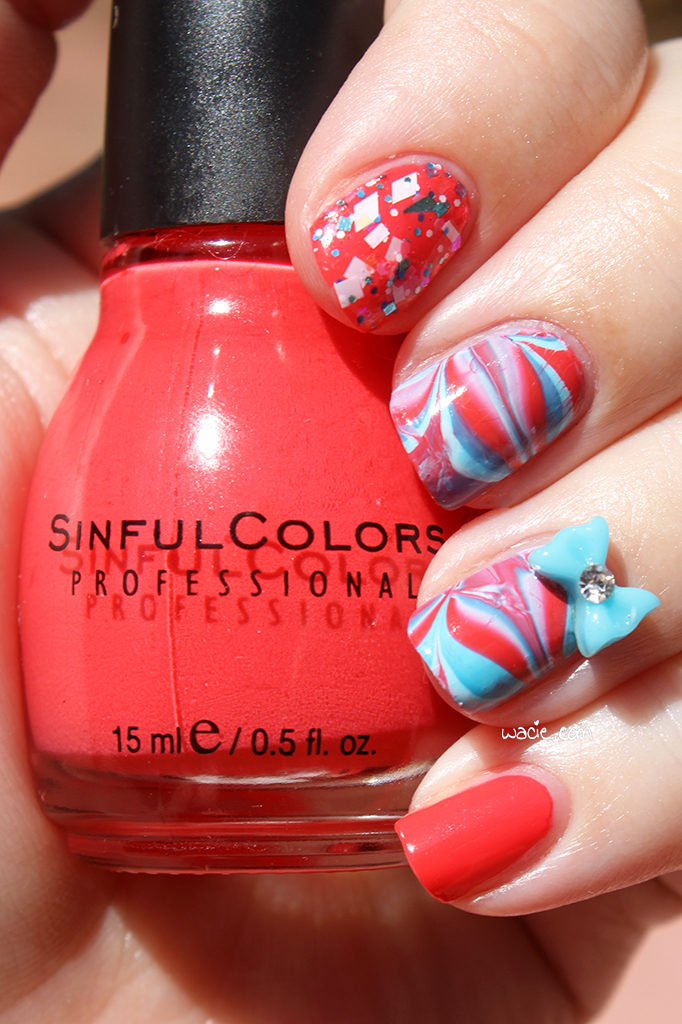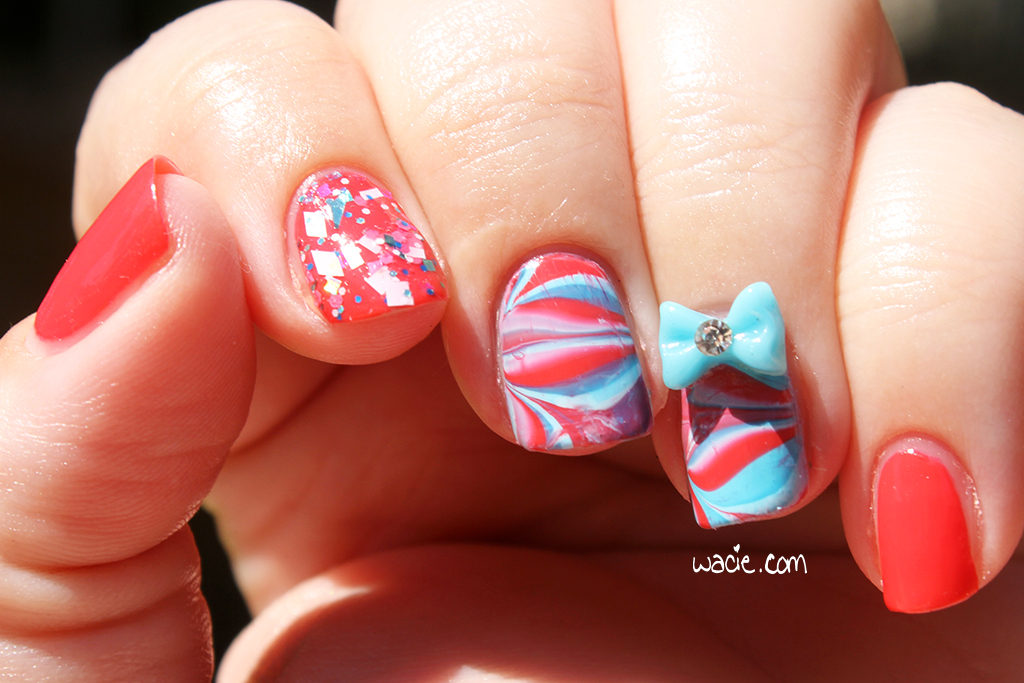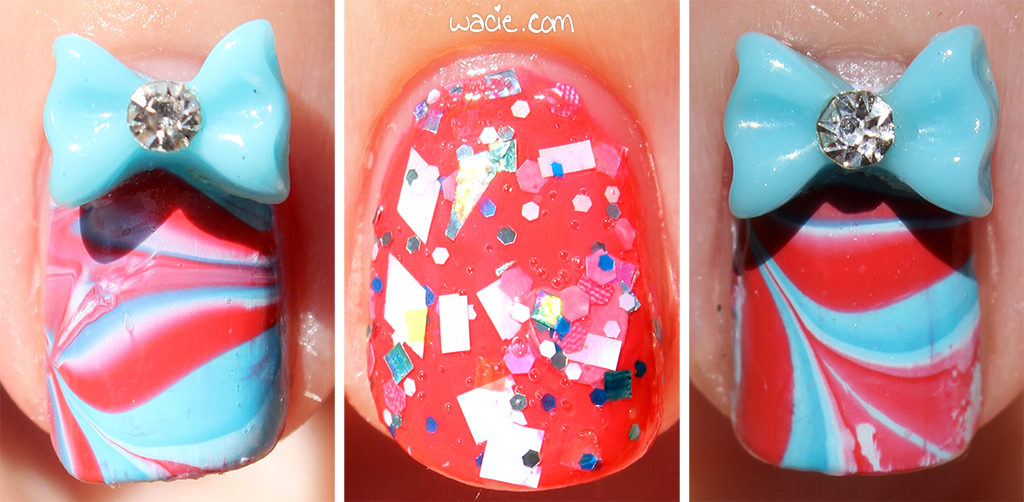 Timbleberry might be discontinued by Sinful Colors. I'm Addicted also may have been discontinued by Essie. Both brands are sold in stores nationwide. Prototype PCFS 1.0 is a Blue-Eyed Girl Lacquer one-off; other BEGL polishes are sold in their online shop. My bow charm is from Claire's.
I bought these products myself.