Happy Monday! This week I did some time-intensive nail art — by my standards at least — and I love it. For this look, I used Butter London's West End Wonderland with American Apparel's Moon. I wish I did nail art like this every week!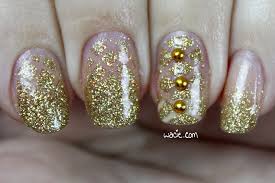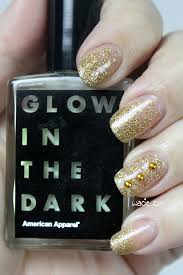 The idea for this mani was to have a negative-space mani with a secret glow-in-the-dark effect. I loved the idea of just having a fun polish paired with "naked" nails, and then having the "negative" parts of the design glow. Obviously, if you look closely, you can tell they're not totally naked, because Moon has this grainy look in it, but that's only if you look up close. From a perfectly reasonable distance you wouldn't be able to tell at all.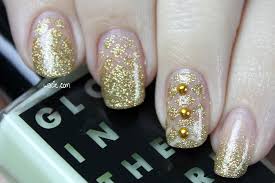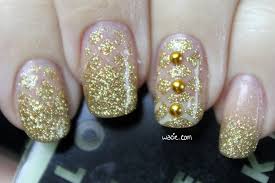 This is one of the more intricate designs I've ever done, because I rarely do anything with more than two steps. First, I put down a coat of Moon. Next, I did a gradient with Moon and West End Wonderland. I left my thumb and pinky with just the initial gradient. When that was dry, I put strips of striping tape over the gradient in a criss-cross pattern, then sponged West End Wonderland over the entire nail. I finished with Seche Vite top coat. On the accent nail, the one with the studs, I used two coats of Moon and skipped right to the all-over sponging of West End Wonderland. I think it turned out pretty well!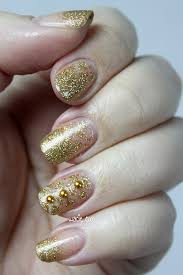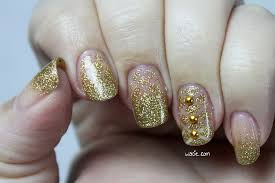 The only thing I would do differently — I do plan to do this again — is to use a polish with greater contast. It's a little hard to see the negative space because it's so similar to the glitter polish. I may also consider just using striping tape for greater contrast in the dark, because I did fail to take that into account. You can see in the glow photos where the lines are, but I think it would be cooler if the contrast was higher.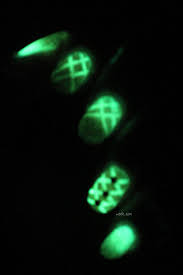 Moon has been discontinued by American Apparel. West End Wonderland and other Butter London polishes are available at sephora and Ulta. I got mine in a swap, lucky me! I don't know where the studs came from.
One of these polishes were purchased by myself. The other was received in a trade.