Welcome back, reader! It's Monday again, and I have another mani. I'm pretty fond of this one; it looks like I put some actual effort into it. I mean, I did; it took me a long time to glue these studs on. I'm wearing two coats of Color Club's Pucci-licious, two coats of Deborah Lippmann's Boom Boom Pow, and one coat of Rica's Glossy Glam top coat.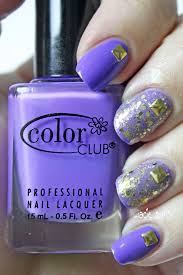 I always end up putting purple and yellow together. I am quite the fan of complementary color combinations, but purple and yellow might be my favorite one. Purple is such a bold and stately color, and adding gold to it just makes it even more luxurious and even more beautiful. I can't tell you how I pleased I am with myself and my manicure right now.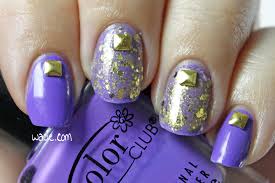 Pucci-licious is fantastically creamy, so I knew it could stand up on its own. Boom Boom Pow, however, wasn't the glitter beast I anticipated, so I put on a second coat and added the studs. I think the studs really make this look; it ties in the gold on the accent nails, which was kind of incongruous to the rest of the mani. The studs add much-needed balance and squares off the look. Get it, because the studs are square.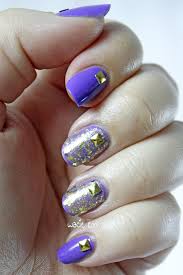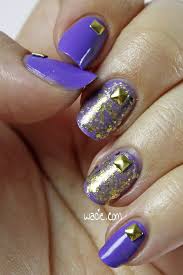 I got my Pucci-licious from an outlet store. The Deborah Lippmann is from Sephora. The studs are by The New Black, which I purchased from Ulta.
I bought these polishes myself.