After last week's accidental Italian food manicure, I knew one thing was true. I probably couldn't do much worse than pizza nails, and if I did, I would really have to screw up for that to happen. I was in a tricky spot, though. After seeing many of the nail artists on Reddit doing designs with dots, I wanted to try one. I wanted this magnificent waterfall of polka dots cascading down my little nails. After searching for tutorials, I found a tutorial from Chalkboard Nails and followed it as well as I could.  It's not quite there, but it's not bad for my first attempt.
These are some of the saddest looking bottles of polish I have. The Claire's polish doesn't have a name, but it's chunky and thick and even though there's some light glitter in the bottle that doesn't apply well to the nail, making it bumpy and coarse instead. The old Maybelline polish was an outlet store find about eight years ago; I can't believe I even still have it. Wait, yes, I can, because I use everything until I lose it. The orange/yellow LA Colors is part of my paint your nails so you don't go crazy shopping binge. It's kind of watery, kind of uneven, but it looks nice against the white. I was worried it wouldn't show up well at all.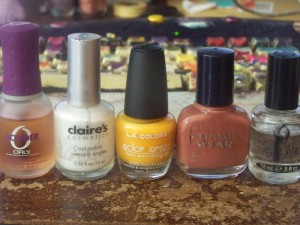 I always feel weird using Orly and Seche Vite with these old and cheap polishes. It's having Dom Perignon with my Big Mac. Earlier manicures with that white polish were never successful; it would always slough off in flakes like dandruff by the second or third day. Of course, that was before I discovered that there was a purpose for top coat after all.