So I'm really excited about this week's manicure. There are some things I would do differently, but I'm pretty happy with how it turned out. Also, I'll be wearing my first indie polish this week, and mostly I'm excited about that.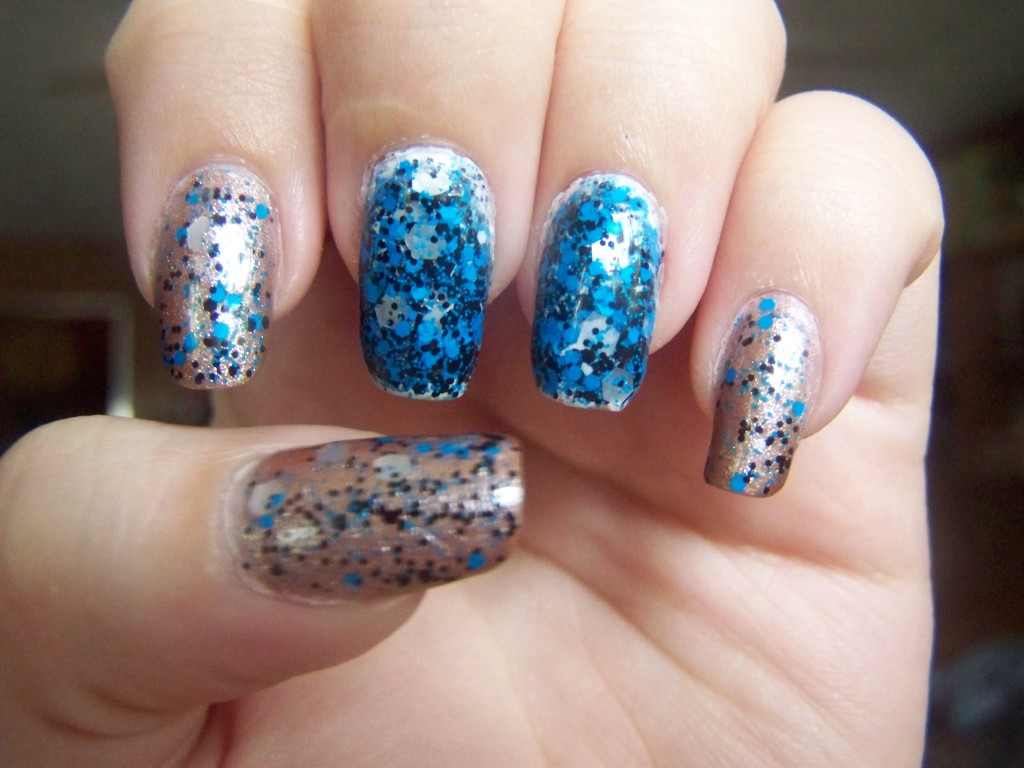 I really love my polishes this week. Outrageous is a soft taupe with a lot of metallic shimmer that goes on opaque in one coat. I'm pretty impressed with it, considering I paid a dollar for the bottle. I really loved it before I put the glitter on over it, and I might regret it a little. The real star here is the glitter anyway.
Boy Bleu from Pretty & Polished is one of the first indie polishes I ever bought. It's meant to be a full coverage glitter, giving a granite-like appearance. Here's where I messed up. I thought that dabbing the glitter on instead of brushing it on would give me the most coverage, and I was a little heavy-handed in my application. My accent nails already had two coats of white polish before I added the glitter, just to make up for any bare spots that might have occurred. Thankfully, I didn't need it, but because the coarse glitter made cleanup difficult, you can now see it around the cuticles. I'm not even sure why you can see it at the tips. Shrinkage, maybe? I don't know, but there it is. So with the two coats of underwear, the two very thick coats of glitter, and three coats of Seche Vite, the accent nails are much thicker-looking than the others. It kind of bothers me, but it's not that bad. I actually put so much on that I could shape and mold it with my fingers. Good thing I did, I would have had some strangely shaped nails.
Next time I'll apply the glitter in thin coats and hope to build coverage that way, rather than trying to load it all on at once. I'll still probably end up with fat nails again, but it won't be so problematic.