Manicure Monday is finally here! Today's post is late because somebody (me) failed to charge the camera battery. It's still Monday somewhere, so let's get this post rolling. I went for a French manicure-inspired look with inlaid glitter. For this look, I used Zoya's Chantal, L'Oreal's Raven's Dream, Lynnderella's Something Old, and China Glaze's White on White.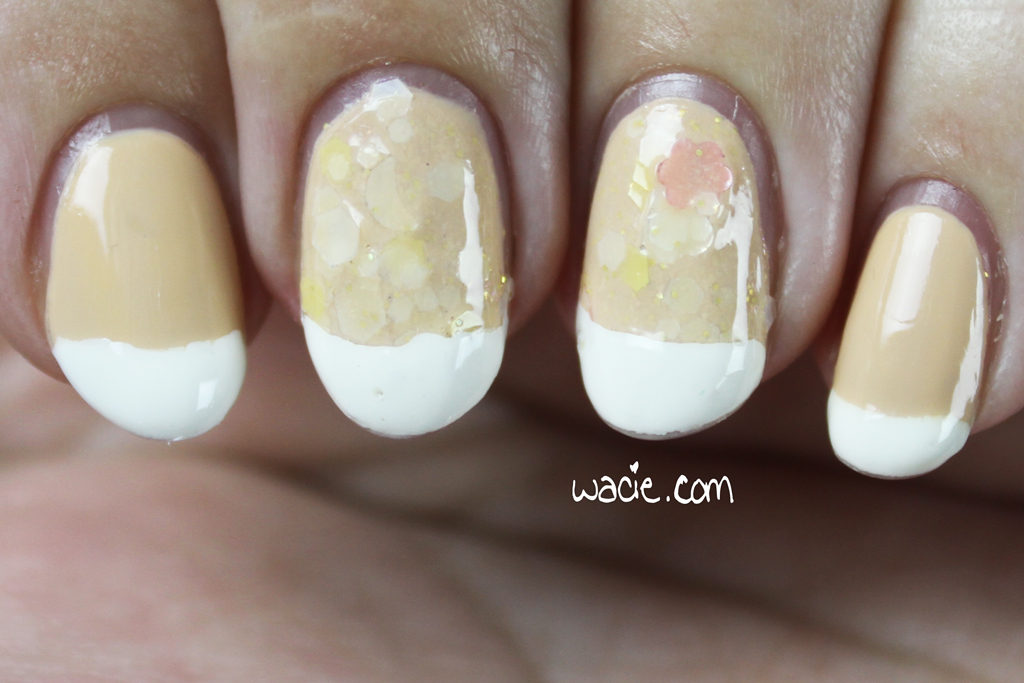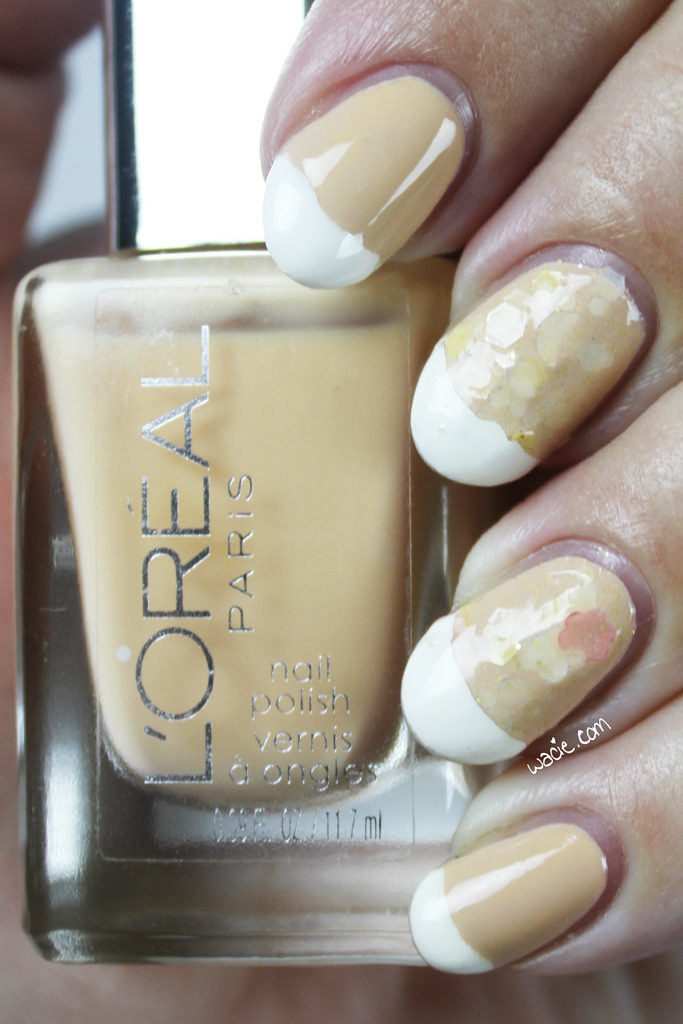 I used two nudes in this look. I planned to use Raven's Dream — a nude called Raven's Dream, what? — is a sheer nude that's ideal for a French mani, but I really suck at applying these sheers. I can never get them to look not-streaky. I love the look when it's applied well, but I can never get it right, so I used Chantal as undies, and then a couple coats of Raven's Dream on top. As it turned out, the color you're seeing here is Chantal, but the shine, as well as the sheer painted over the glitter, that's all Raven's Dream. It has the most gorgeous gloss finish.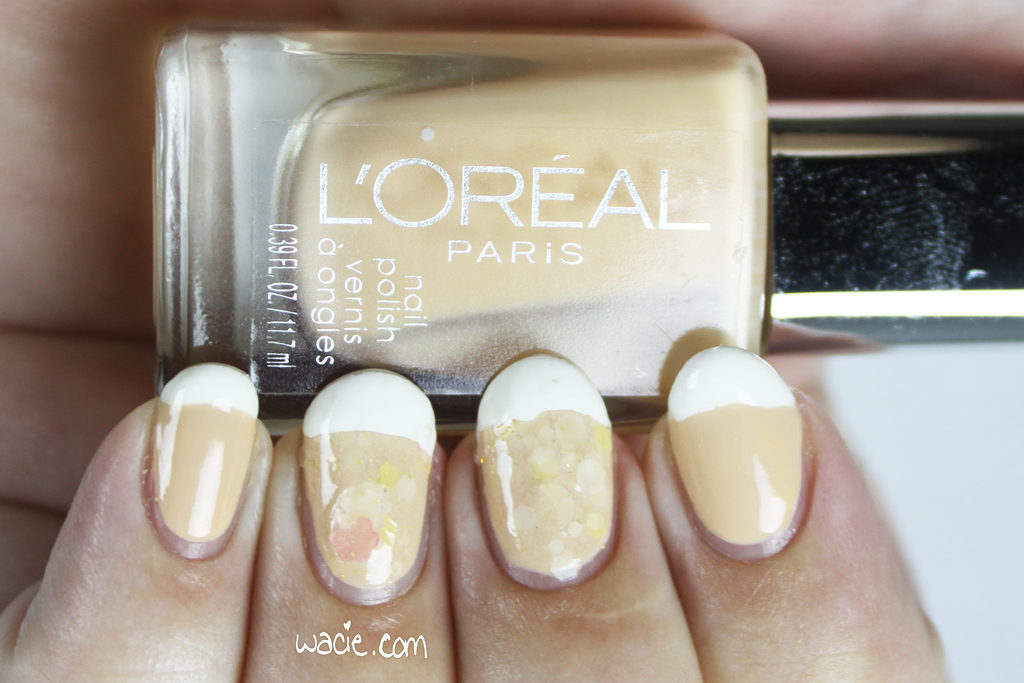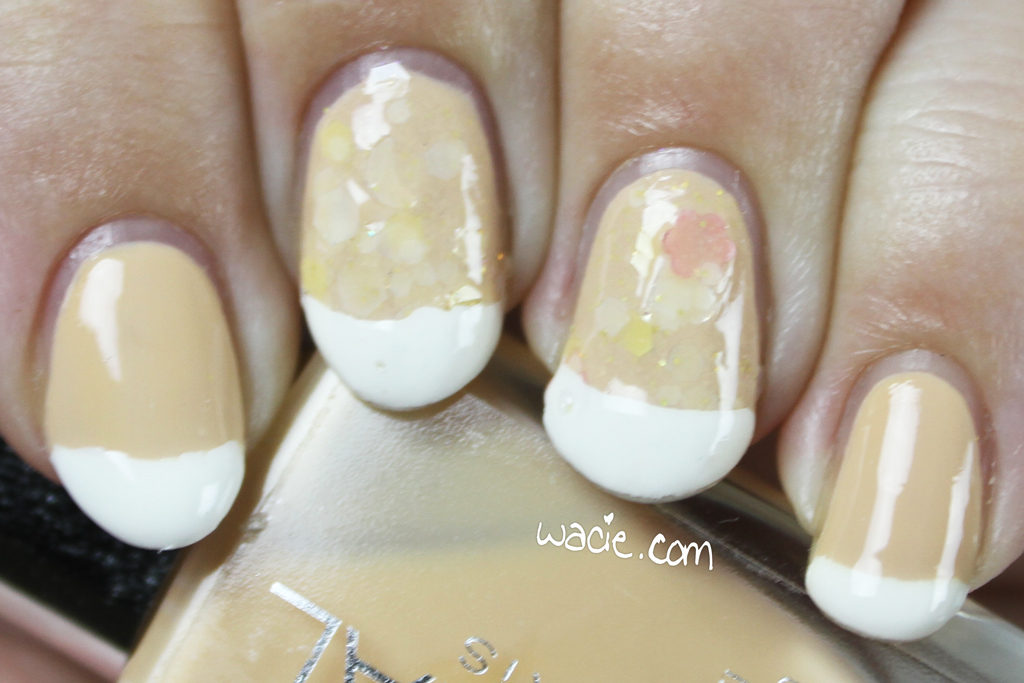 I picked Something Old to go in this look because it has this great vintage feel. It's got white and pink, the best hallmarks of bridal-themed polishes, but also incorporates a soft yellow, really making it seem faded and well-loved. Of course, this look kind of takes the beauty out of the polish. You can see some colors and shapes, but any sparkle gets cancelled out. The colors in the glitter are just soft enough to be obscured, so unless you know the glitter is there, it's easy to overlook.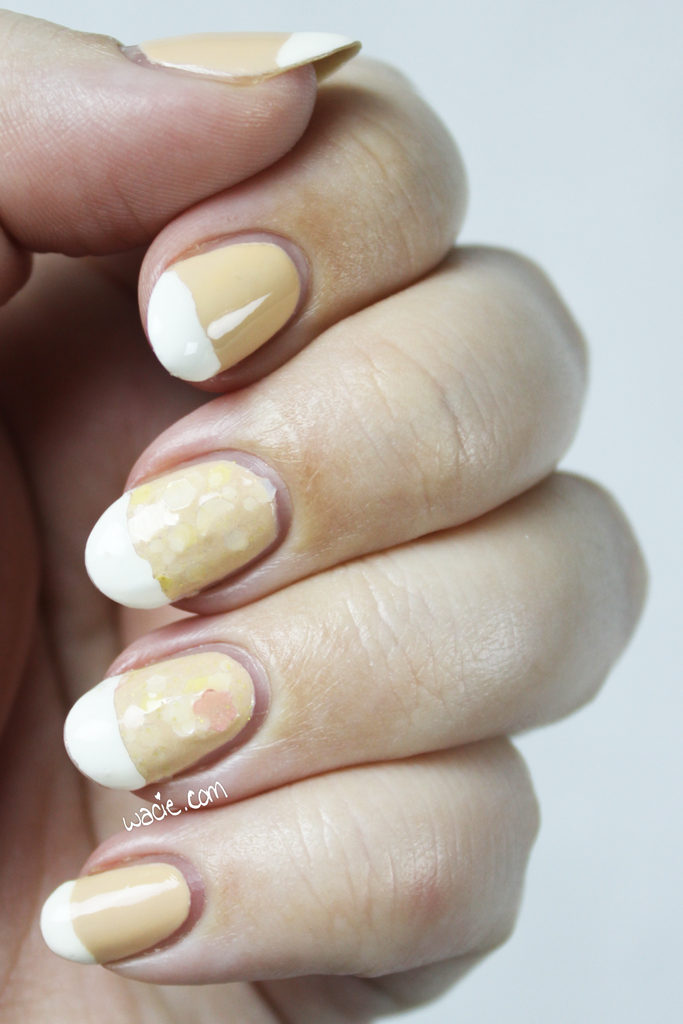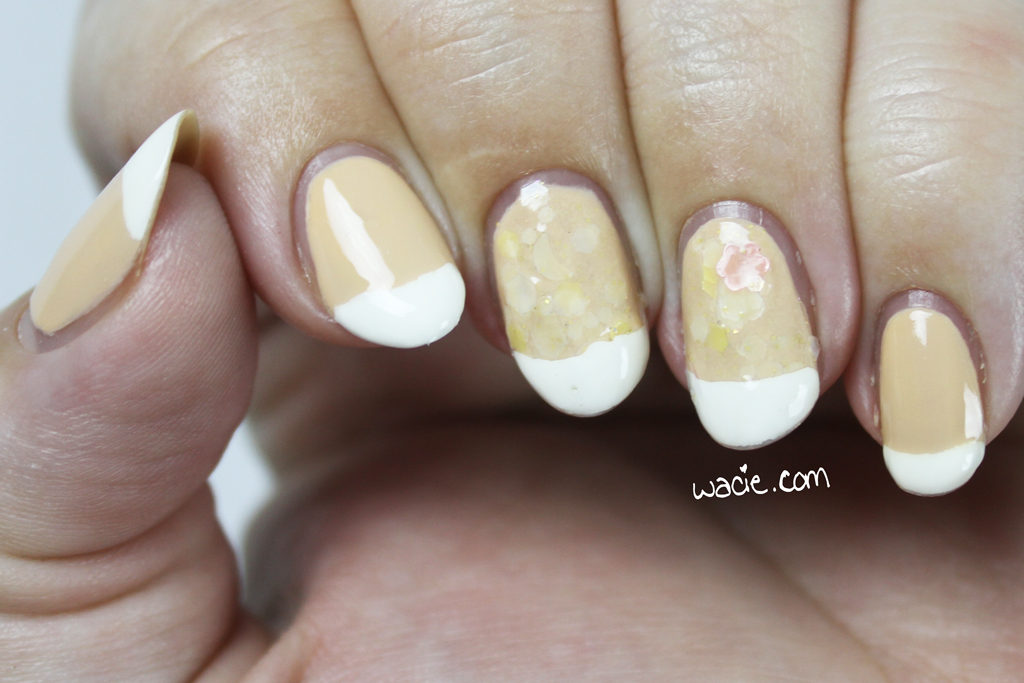 I always suck at painting tips on. They always look so thick! My bottle of White on White is really low, so it took a lot of polish to get an even white tip on every nail. Some of them look and feel flat, but others have a visible bump where the tip is. It happens every time. It ties the look together, though. It's not a true French by any means, but it does the job. The following photos were taken in direct sunlight outdoors. The glitter looks really nice out here, you can even see a bit of sparkle.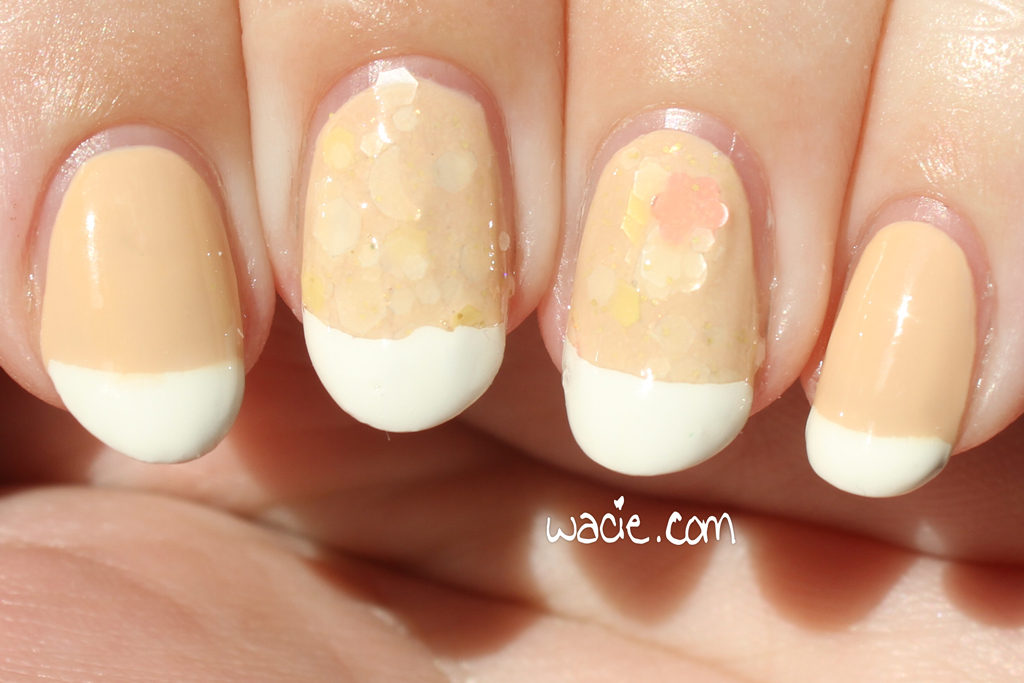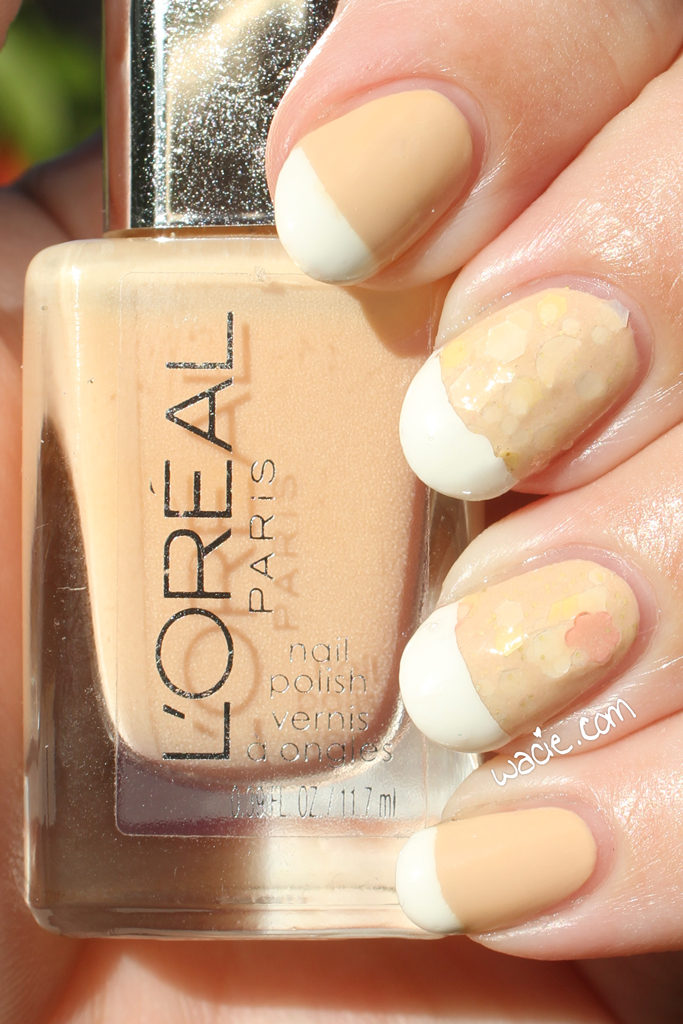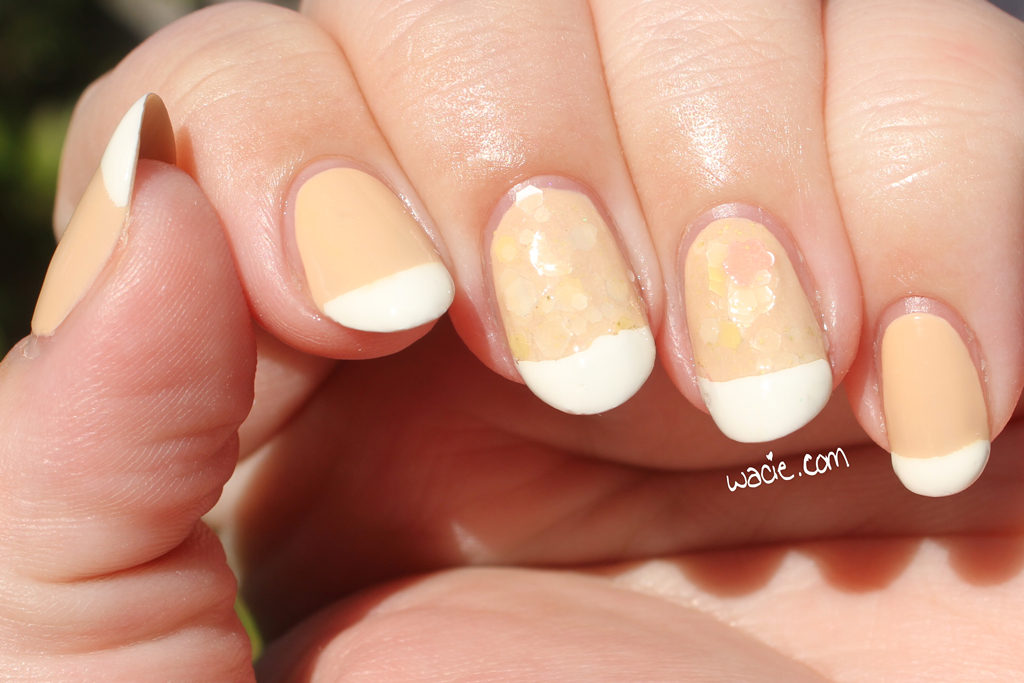 Chantal and other Zoya polishes are sold at Ulta. Raven's Dream has been discontinued; other L'Oreal polishes are sold in stores nationwide. Something Old was a Lynnderella limited edition and has since sold out; Lynnderella polishes are sold on eBay and on lynnderella.com. China Glaze is sold at Sally Beauty Supply.
I bought these polishes myself.